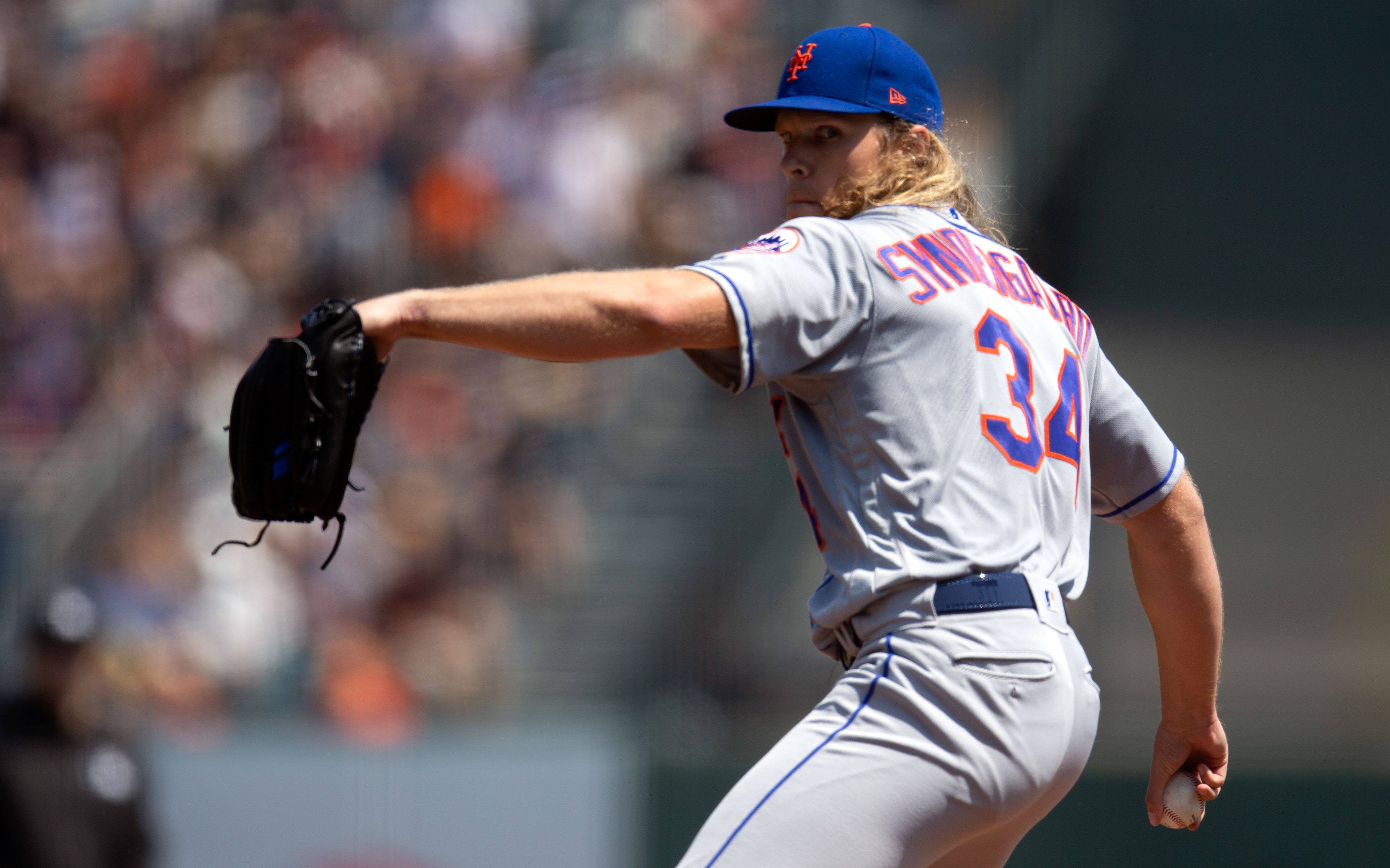 The Major League hot stove season produces rumors and theories from well beyond the realm of possibility. Noah Syndergaard to the Colorado Rockies as part of an offseason blockbuster is just another example.
A product of the Coors Field effect, the Rockies are constantly in need of pitching, regardless of who you consult. No longer can the team outhit its opposition, rather they are being relied upon to provide a balanced roster.
Syndergaard coming to the Rockies for prospects is not the acquisition the team needs.
Dubbed "Thor" for his 6-foot-6 frame and a triple-digit fastball that dwarfs all other MLB starters, Syndergaard has become more myth than reality.
Once acclaimed for his All-Star season in 2016 in which he pitched to a 2.60 ERA in 183.2 innings, the New York Mets' right-hander has begun a descent. No, Syndergaard has not fallen to the bottom of the pack, rather his reliability has become questionable.
Last season, due to a finger injury and a bout with hand, foot and mouth disease, Syndergaard accumulated 25 starts. In those starts, he pitched to the tune of a 3.03 ERA and a career-high 1.21 WHIP. The one stat that put Syndergaard atop the National League was his pair of complete games.
In 2017, Syndergaard made only seven starts the entire year after suffering a partially torn latissimus muscle in his throwing shoulder. Spanning four years, Syndergaard has only started 86 games. For comparison, his teammate Jacob deGrom has started 117.
Syndergaard is not a bad pitcher, nor has he ever been anything less than a good to great MLB starting pitcher. Therein lies the problem.
In the current MLB landscape, finding a starter with team control for multiple years and the upside of Syndergaard is not only rare but borderline unheard of. The only name in recent memory is that of Chris Sale. Both had three years left before unrestricted free agency as well.
The former ace of the Chicago White Sox was dealt to the Boston Red Sox as part of the club's rebuilding effort. Seeking the control of young players from atop the Red Sox farm system, the franchise garnered a large haul.
Headlined by the No. 1 prospect at the time, Yoan Moncada, the White Sox also acquired three other prospects including flamethrower Michael Kopech.
Using the Sale deal as a template, with Syndergaard serving as a smaller overall piece, the Rockies clearly lack the minor league flexibility to pull of a deal.
Led by infielder Brendan Rodgers, a top-10 prospect for much of 2018, the Rockies farm system has graduated several members in recent years. Headlined by German Marquez, Kyle Freeland and David Dahl, the club's farm system has gone from elite to middle-of-the-pack, by no fault of their own.
Rendered relatively untouchable by the franchise, Rodgers would likely avoid trade talks.
Left for the Mets to choose from are Riley Pint, the Rockies' fourth-overall pick in the 2016 Draft and a slew of infield and outfield prospects headlined by Ryan McMahon and Raimel Tapia.
Pint figures to be multiple years out, but McMahon and Tapia are slated to make an impact last year, pending any free agent acquisitions. With Rockies' veterans Carlos Gonzalez and D.J. LeMahieu set to depart in free agency and Ian Desmond struggling at first, bats are in demand for the club.
A package for Syndergaard would likely require the inclusion of Pint, along with a bat like McMahon and likely a smaller prospect along the lines of Yency Almonte. That package is far too rich for the Rockies to let go.
Syndergaard would figure to take control of the top of the Rockies' rotation, with the aforementioned Freeland and Marquez set to take the next two spots. That trio atop the rotation would surely set the Rockies' pitching staff up for longterm success.
Pitching was not the teams' problem last year though, nor does it project to be a glaring hole in the near future.
An offense that ranked 23rd in OPS+, a stat that adjusts to the given teams' ballpark, is the problem. Led by Desmond as a glaring hole at first, with their production from their catchers at the plate lacking as well, the offense has large needs.
If the Rockies are looking to make a large move in the trade market, J.T. Realmuto, with two years of team control remaining would make more sense. A trade with division rival Arizona for Paul Goldschmidt or Jose Abreu from the aforementioned White Sox to fill their hole at first would also be a greater addition.
Seeking to improve their fourth-best team ERA in franchise history, with nary a notable starter departing, is a far less pressing concern, especially when considering Syndergaard's price tag and injury problems.