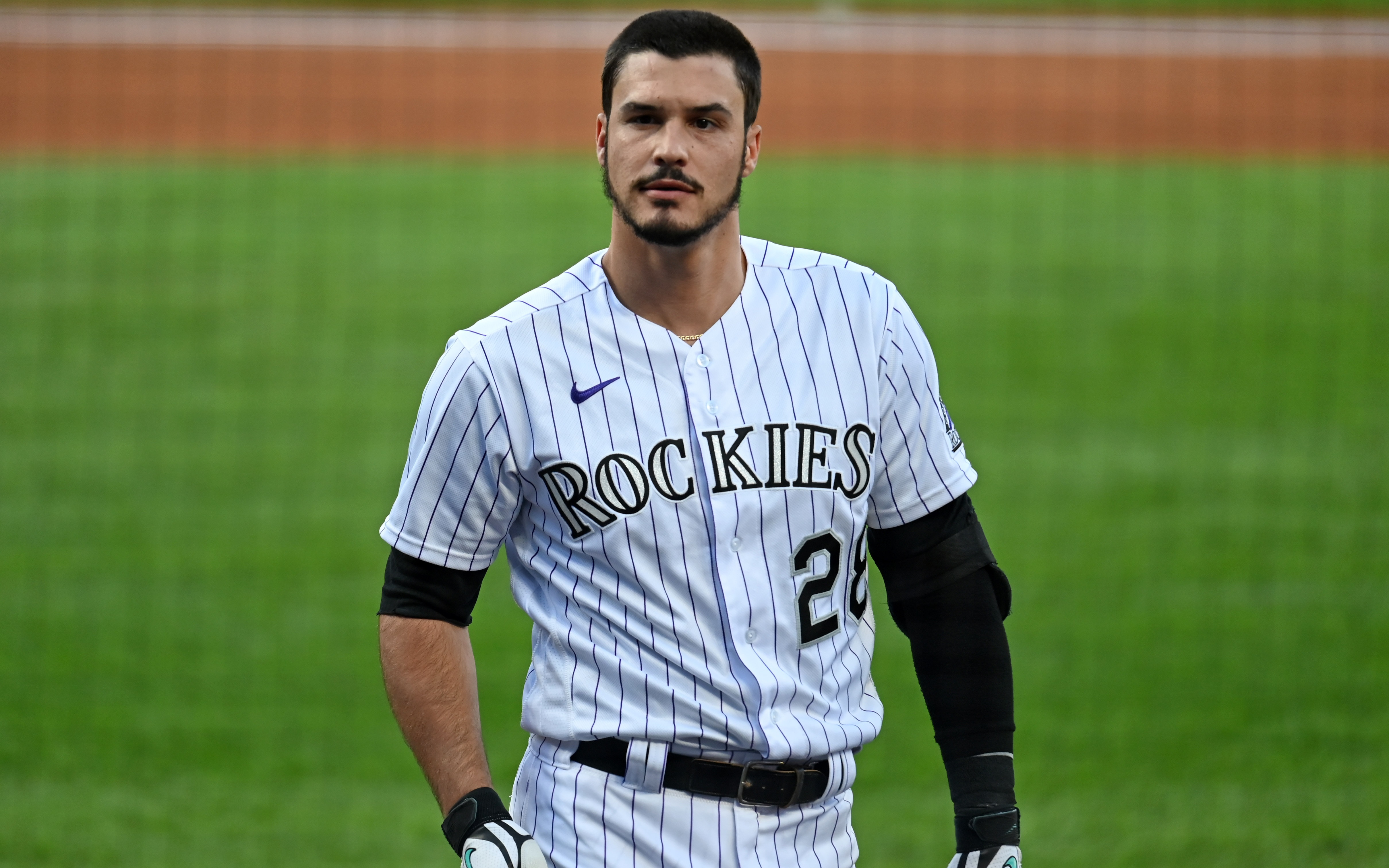 The Colorado Rockies on Monday placed Nolan Arenado on the 10-day injured list with a shoulder injury, meaning he'll miss the remainder of the regular season. The Rockies recalled Sam Hilliard from the team's alternate training site to take Arenado's place on the active roster.
Arenado sat out the Rockies' 2020 home finale on Sunday after going 1-for-10 at the plate in the first three games of the team's series against the Los Angeles Dodgers. The Rockies lost all three contests before salvaging Game 4. The struggles were indicative of a 2020 season that was mind-bogglingly poor offensively for Arenado; in 201 plate appearances across 48 games, the five-time All-Star hit just .253/.303/.434 with eight homers, production that equates to roughly 16 percent below league average.
For all of his problems offensively, Arenado was as good as he's ever been in the field. He's basically guaranteed an eighth Gold Glove award in as many seasons after accounting for a league-leading 15 Defensive Runs Saved; the next-best player is sitting at 10 DRS. Statcast's new metric was just as bullish on Arenado's defense, crediting him with six Outs Above Average, which is best among all major league third basemen.
Unfortunately, this season can't be considered anything more than a disappointment for Arenado, who is able to opt out of his contract at the end of next season. He was vocal this past offseason about his concern regarding the direction of the team, and missing out on an extended 16-team postseason—as the Rockies are currently on pace to do, barring a miracle finish to the season—isn't making things any better. Thus, it's fair to ask whether Arenado has played his final game in a Rockies uniform.
History, as well as a quick look at the makeup of the roster, shows that the Rockies will give contention another go in 2021. Arenado (should he opt out), Trevor Story, and Charlie Blackmon, who owns a player option for 2022 and 2023, could all hit free agency after next season. Jon Gray is in that mix, as well. Those names make up the majority of the team's current nucleus, so it's not a stretch to say that 2021 marks the end of Colorado's window.
The problem is, the Rockies have—in a major way—failed to build around their core, so they'll either need to spend a lot of money or part with a lot of prospects to field a team that can truly contend with the likes of the Dodgers and San Diego Padres. That idea becomes especially far fetched when considering general manager Jeff Bridich has already spent hundreds of millions of dollars on free agents that have been a net negative in terms of fWAR, and even harder to will into reality upon one look at the Rockies' farm system, which ranks 28th in baseball according to MLB.com.
In short, Arenado will probably suit up for the Rockies again. But unless the team is back in contention come next July, it could be a short run—not only for Arenado, but for several other Rockies stars.
Enjoy it while it lasts.