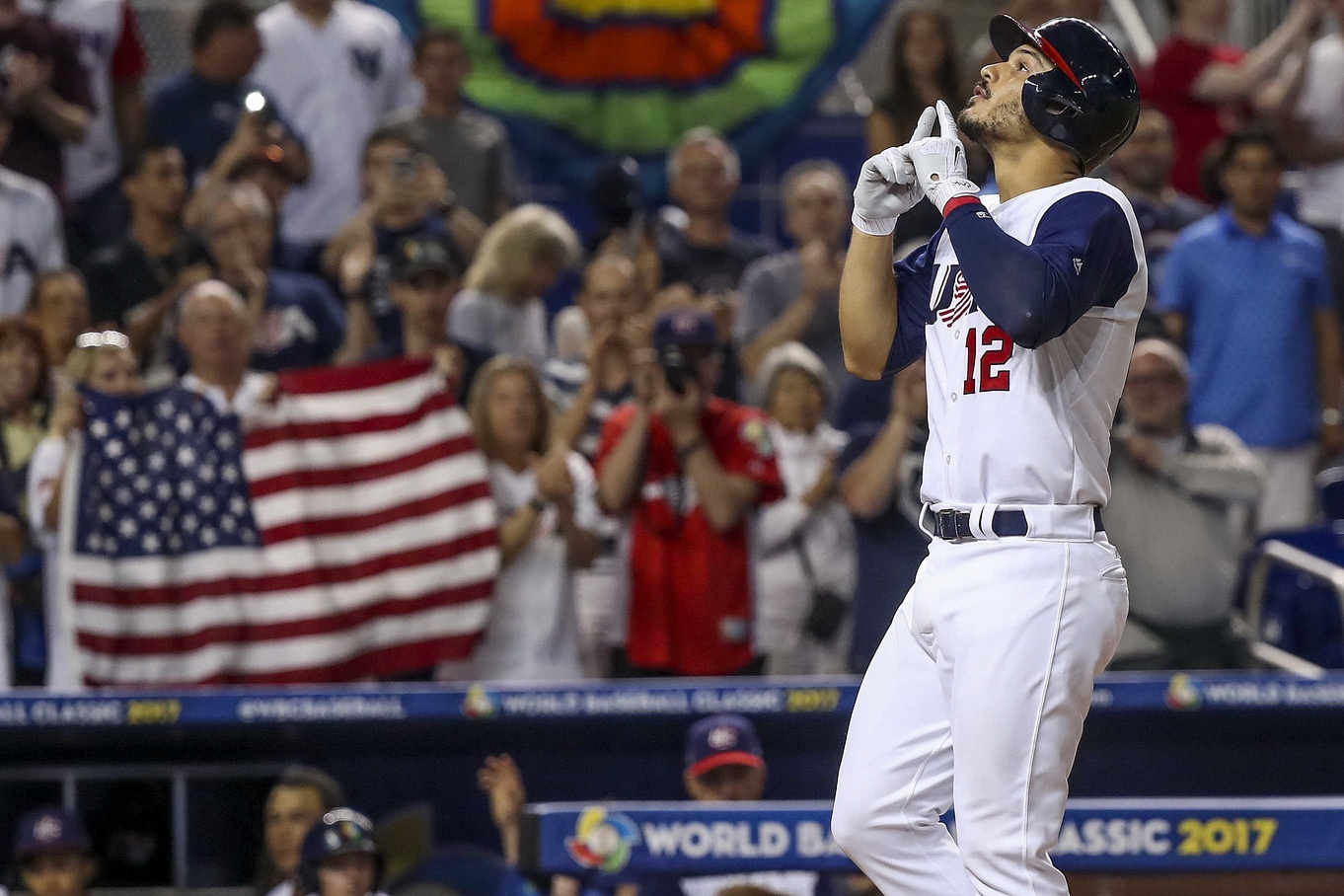 At just 26 years old, there's little that Colorado Rockies third baseman Nolan Arenado can't do on a baseball diamond. This past March, he embarked on a journey he'd always dreamed of as a young slugger when he helped Team U.S.A. to its first title in the World Baseball Classic.
Right before he joined his new All-Star caliber team, Arenado penned an article for the Player's Tribune annotating his baseball-obsessed family's deep roots in the tournament, which began in 2006 and has been played every three to four years since.
"In my family, the World Baseball Classic is a big deal," Arenado wrote. "We've been huge fans of this tournament from day one."
Already a decorated infielder in his first four seasons with four Gold Gloves, two Silver Sluggers and two Wilson Defensive Player of the Year accolades, Arenado wasn't done raking in the achievements.
"I'm playing in this tournament because I love baseball, and I love my country. I want this team to do something that hasn't been done before," he wrote. "Baseball is our national pastime, and the U.S. has never won this tournament. That's gotta change."
And that's exactly what he and Team USA. did. The U.S. paired off with Puerto Rico in the finals and decimated it to an 8-0 victory, adding its name to the history books alongside two-time winner Japan and the Dominican Republic.
"It was great, obviously," Arenado said. "It was a fun time winning it, that's what made it even better. It was a great experience being around those guys, talking about hitting, talking about the game."
On Team USA, there was no shortage of experience or grandeur. The roster included the likes of San Francisco's Brandon Crawford and Buster Posey, Miami's Giancarlo Stanton and Christian Yelich, Colorado's own Jake McGee, and so on and so on. As any young fan of the game and legendary player-in-the-making would do, he capitalized on the opportunity to learn as much as he could from his elite teammates.
"You learn a lot," Arenado said. "You talk to those guys about the game. You know, you might take certain things from different people, but that's how it goes. Sometimes you're put in situations where it's not in comfort zones.
On top of his short-lived camaraderie with guys that are generally his rivals seven months out of every year, Arenado got the chance to witness the game the way it's played outside of the States, which added to his perspective that much more.
"To play teams around the world like Venezuela, Japan, and all those teams, it was definitely different, but it was fun," he said. "And then playing with guys I play against all the time, like playing on the left side with Brandon Crawford–he's like our rival–but it was the best, every part of it. All those guys are first class. I just had a great time."
Throughout the tournament, Arenado struggled to get much going at the plate, but excelled on the defensive side as usual. As baseball is a game of ups and downs and the occasional slump, he said he's at least glad he got his rough patch out of the way before the regular season began.
"I wish I would have performed a lot better, but it didn't go my way," Arenado said. "They picked me up and that was the best part about it, but that's the thing with baseball, it's a hard game. You've got to stay as even keeled as you can. It's hard to get going in March, but it is what it is. I'm swinging the bat okay right now."
Over the first 14 games of the 2017 season with the National League West-leading Rockies (9-5), Arenado is leaning on his newfound wisdom of the game as he helps lead the Rockies at the plate with a .327 batting average off of four home runs, eight runs, eight RBIs and 17 hits.
No matter how the rest of his season pans out, nothing will compare to the Southern California native's time during the tournament, which reached its acme in Los Angeles, not far from his home and his family.
"It was huge, and to do it in L.A. made it even better," Arenado said. "I got a lot of family members there. And it was cool. I didn't play the way I wanted to, but those guys picked me up. That's what good teams do. They pick each other up. That's why we won."