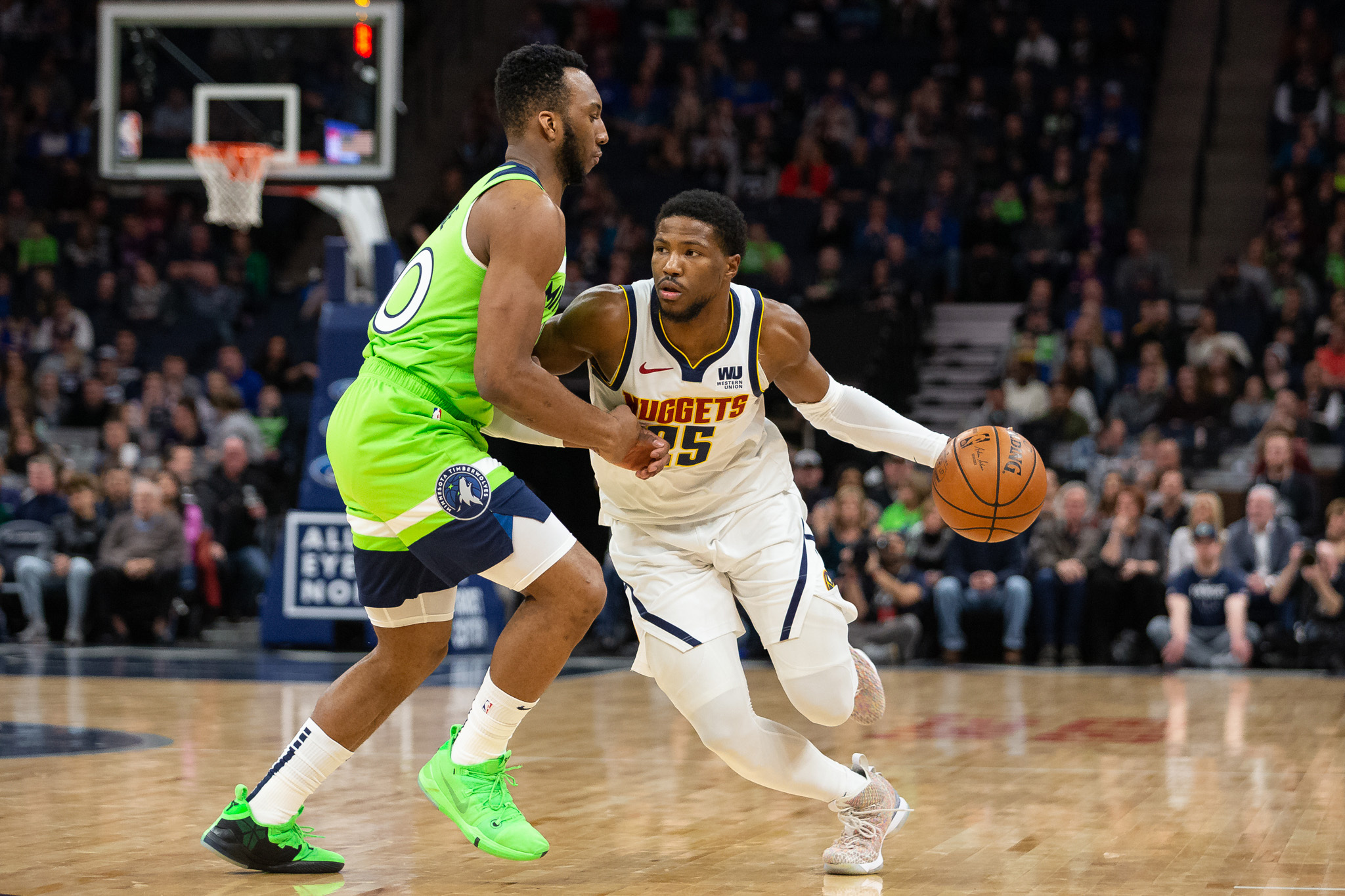 After a statement victory over Houston on Friday night, the Denver Nuggets followed it up with a 107-106 grind-it-out victory over the Minnesota Timberwolves on Saturday.
On the second night of a back-to-back, Denver took care of business to push its record to 37-15 on the season. The Nuggets record is good for first place in the Western Conference and ensures Michael Malone and the rest of Denver's coaching staff will coach Team LeBron in the All-Star game on February 17th.
The Nuggets went into Saturday night's game a little short handed as they were without regular starters Jamal Murray and Gary Harris. But, Denver was riding the hot hands of Malik Beasley, Torrey, Craig, and Monte Morris, who all came up big once again on Saturday night.
Morris and Beasley drew the start, but it was Will Barton who really set the tone for Denver from the get-go. Barton had five of the Nuggets first 12 points, before Beasley took over for Denver. Beasley had seven early points — including a 3-pointer — as the Nuggets led 16-13 with 6:38 remaining in the first quarter.
Malik staying hot! 🔥#MileHighBasketball pic.twitter.com/FOUoYNGqkO

— Denver Nuggets (@nuggets) February 3, 2019
Barton and Beasley were not the only ones rolling early though as Nikola Jokic was on his way to another monster performance. Jokic had five points, four rebounds and two assists in the first 7 minutes, but it was Minnesota that held the lead as they were up 22-17 with 4:21 left in the period. Minnesota only built on that lead as the quarter wore on as they led 38-29 after the first quarter.
Through one quarter, the Nuggets were shooting 56 percent (13-of-24) from the field, but their defense allowed Minnesota to shoot 64 percent (17-of-26), which was the difference after 12 minutes of play. Denver's defense stepped up in quarter number two though as the Nuggets — led by Morris — were able to regain the lead at 45-42 with 7:25 left to play in the half. This was around the same time when Denver's starting unit subbed back in, which was bad news for Minnesota.
Whether it was Barton or Jokic, the Timberwolves had no answer for either of them, but the same could have been said for Denver and Karl-Anthony Towns. At the 4:31 mark of the second, Towns was up to 15 points as the Nuggets had no recipe of how to stop him. This was the same part of the game where Jokic took over though as he scored four-straight points to give the Nuggets a 57-56 lead with 3:03 remaining in the half.
Minnesota immediately went on an 8-0 run before a Beasley 3-pointer got the Nuggets back on track offensively. Still, it was not enough to regain the lead for Denver as the Timberwolves led 64-61 at halftime. At the break, Barton led the way with 13 points, while Jokic and Beasley chipped in 12 points a piece. Jokic was on triple-double watch after two quarters of play as he had eight boards to go along with his five assists. Trey Lyles also had a solid first half for Denver as he had 11 points in his eight minutes off the bench.
The Nuggets came out of the halftime locker room firing as Beasley scored five quick points to help Denver regain the lead. Beasley drilled two 3-pointers in the first 6 minutes of the third as Denver held a 76-75 lead with 6:47 left in the quarter. Things started to go south for Denver a few minutes later though as Jokic picked up a technical foul and Towns finished a massive poster dunk over Mason Plumlee. The Nuggets were able to weather the storm though as trey trailed by only one-point with 3:50 left in the third.
Denver closed the quarter extremely well as they were able to take a 89-88 lead into the final quarter of play behind big third quarter from Lyles. After coming into the game around the 2:00 mark of the third, Lyles hit a big 3-pointer and finished off an alley-oop to help Denver regain the lead. Through three quarters, Lyles had 16 points and provided the Nuggets a massive spark off the bench.
That spark carried over into the fourth quarter as the Nuggets bench unit was doing everything in their power to help Denver steal a victory. The Nuggets second unit just could not separate themselves from Minnesota though as the game was tied at 98 with 6:24 left to play. With Jokic back in the game, Denver started to take control as they went on a quick 4-0 run to give themselves a four-point lead with just under three-minutes to play.
Minnesota cut Denver's lead back down to one before Jokic hit Beasley for a lay up to give the Nuggets a three-point lead with under a minute remaining. The Timberwolves made a dunk the next possession though as Denver now had the ball, up by one-point, with 40 seconds remaining. After 26 seconds ran off the clock, Denver came up empty on their possession as Minnesota had the ball with 14 seconds and a chance to win the game. The Timberwolves would come up empty though as the Nuggets captured a 107-106 victory in Minnesota.
Stat leaders for the Nuggets were Jokic, who finished with ninth triple-double (15 points, 16 rebounds, and 10 assist). Beasley had another huge night for Denver as he poured in 22 points on an efficient 9-of-14 shooting from the field (4-of-7 from 3-point range). Morris also had a great night as he finished with a double-double of 17 points and 10 assist to go along with his seven rebounds. Other Nuggets who finished in double-figures were Barton and Lyles as they finished with 20 and 19 points, respectively.
Denver now has a day off tomorrow before they take the court against Detroit on Monday.