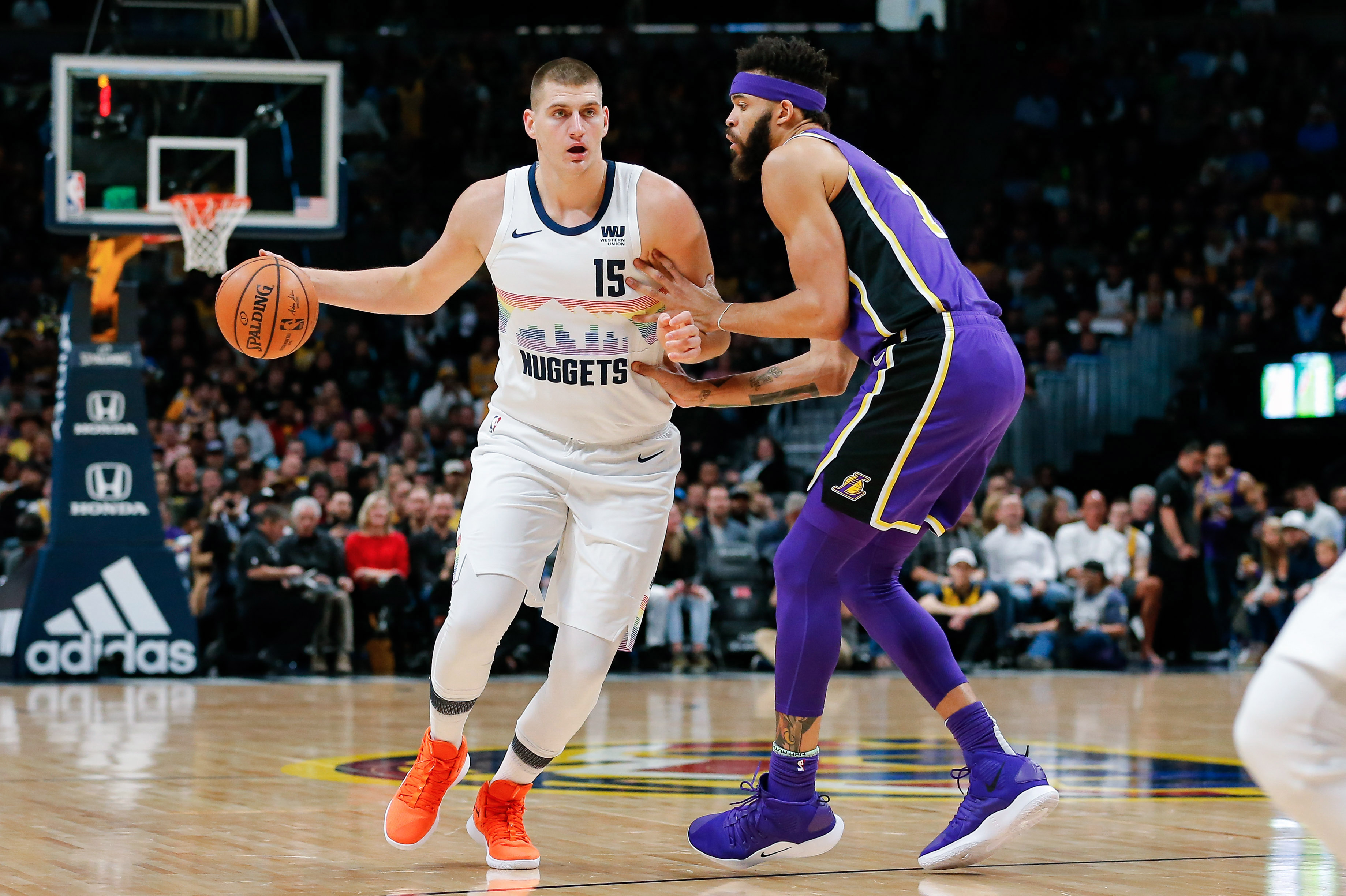 The Denver Nuggets were on a three-game winning steak heading into their home game on Tuesday night, but to continue their winning ways they had to beat the LeBron James and the Los Angeles Lakers without their starting shooting guard Gary Harris.
Denver, who led by as many as 26 points, sealed up their victory in the third quarter as their bench unit — plus Jamal Murray — carried Denver through the final 12 minutes of the game. With Denver's 117-85 win over the Lakers, they improve to 14-7 on the year and have now won four-straight games.
Denver's battle with the Lakers began with everything going right for the Nuggets. Nikola Jokic was throwing dimes to every open cutter or shooter on the floor for Denver, Paul Millsap was throwing down dunks and posting up LeBron James effectively, Juancho Hernangomez threw down a vicious poster dunk on JaVale McGee and Denver's defense continued to play well.
Then the Nuggets decided to stop defending in transition and it directly led to a 6-0 run for the Lakers which tied the game up at 17. One of the points of emphasis for Denver was to get back on defense at all costs, but they failed to do so to finish the first quarter. James continued to push the pace each and every possession and Denver was having trouble keeping up in the first 12 minutes of the game, but the Lakers were ice cold from 3-point range and that allowed Denver's bench unit to give them a 30-26 lead heading into the second quarter.
Jamal Murray came out firing like a gatling gun in the second quarter. He scored Denver's first seven points of the quarter and helped Denver jump out to a nine-point lead before eventually finishing the first half with 15 points.
Even more noteworthy than Murray's first half scoring total was that he continue to steer into the skid when it came to the Lakers having beef with him. Everyone remembers Murray dribbling around Lonzo Ball to end a game last season. Against the Lakers on Tuesday night, Murray leaked out in transition, received a pass directly under the rim, pump faked, and sent Kentavious Caldwell-Pope flying by him before hitting the uncontested layup. After converting the bucket, Murray waved at Caldwell-Pope as if to wave goodbye as he flew by him. Murray continues to try to get under his opponents skin and he accomplished that against the Lakers once again.
Denver finished the second quarter on a high note with a 7-2 run that gave the Nuggets a 58-50 lead heading into halftime.
While it was Murray who came out firing in the second quarter, it was Jokic who came out and began the third quarter aggressive and assertive. He hit back-to-back 3-pointers and scored eight points in the first three minutes of the second half. He helped Denver extend their lead to 18 points and set the tone for the rest of the second half as Denver decimated Los Angeles.
Denver refused to let up for the rest of the third quarter and were able to take an 18-point lead into the fourth and final quarter. Mason Plumlee continued to do all of the dirty work and was huge for Denver's bench unit once again as Denver carried an 89-71 lead into the final 12 minutes of the game.
The fourth quarter was a mere formality as Denver's bench unit continued to eat the Lakers' reverses alive. There was nothing Los Angeles could do to slow the Nuggets attack and the game mercifully ended with Denver going home with a 32-point win.
Nikola Jokic did a bit of everything as usual with 17 points, seven rebounds, and seven assists to go with a steal and a block as well, but he still struggled shooting and finished  5-for-14 from the field and 2-for-4 from 3-point distance. Paul Millsap led the Nuggets starting unit with 20 points and 11 rebounds while shooting 9-for-14 from the field. Millsap also added in two assists, one steal, and two blocks. Off the bench, it was Mason Plumlee doing most of the damage. He was stellar on both ends of the floor and finished with 10 points and 10 rebounds for a double-double on 5-of-7 shooting from the field. Last, but not least, Malik Beasley had a very strong game as well as he put up 20 points, four rebounds, and two steals in 34 minutes.
Next, the Nuggets will have two days before heading out on a five-game road trip. The first battle for the Nuggets will be against a division foe in the Portland Trail Blazers before taking on the Toronto Raptors, Orlando Magic, Charlotte hornets, and Atlanta Hawks to finish out their road trip.
Denver will take on the Trail Blazers on Friday, November 30th at 8:30pm MST.