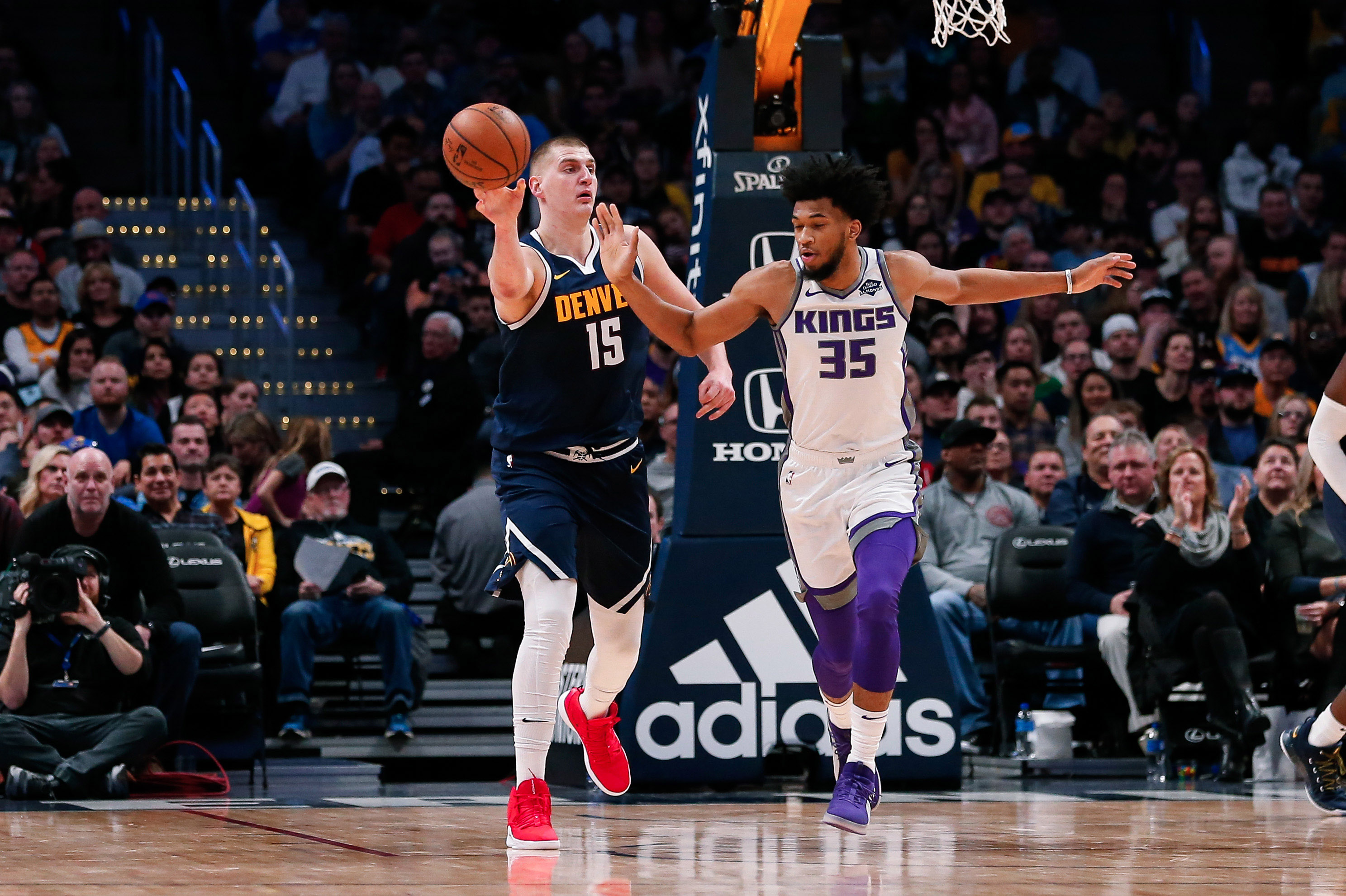 Nikola Jokic finished with another triple-double, while hitting the game winning basket as the Denver Nuggets picked up a thrilling 120-118 victory over the Sacramento Kings.
With the win, Denver goes into the All-Star break with a record of 39-18, which puts them two and a half games behind Golden State for first place in the Western Conference. Denver's victory also pushes their home record to 25-4, which is the best mark in the NBA.
Denver already received some great news before the ball was even tipped as Thomas was officially active and set to make his Nuggets debut. After almost a year of missed time because of right hip surgery, Thomas was playing in his first game since March 22, 2018. Thomas would come off the bench for Denver though as the Nuggets trotted out a starting lineup that featured all their regular starters — Jamal Murray, Will Barton, Paul Millsap, Nikola Jokic — except for Gary Harris (right adductor strain), who Malik Beasley filled in for.
The game started out quickly for both teams as the Nuggets and Kings had no problem scoring the basketball early on. Sacramento started a little quicker though as the Kings led 16-10 with 8:14 remaining in the first quarter. The Kings were just getting started though as their lead was up to 15-points with a little over three minutes remaining in the first.
This was also the same point in the game where Denver subbed Thomas in for the first time, which the Nuggets followed by going on a quick 6-0 run. Denver ended up closing the first strong, but Sacramento still took a 41-30 lead into quarter number two. Through one quarter of play, the Kings were shooting a scorching 66 percent from the field and 55 percent from three-point range. Denver countered by shooting a solid 53 percent from the field, but just 20 percent from three as that was the difference through 12 minutes of play.
Sacramento's fantastic start continued on into the second quarter as their lead grew to 50-33 with just over nine minutes remaining in the half. Denver immediately went to their All-Star in Jokic, who rattled off four-straight points to help the Nuggets find some sort of rhythm offensively. Jokic's min-run ignited Denver as Sacramento's lead was all of a sudden down to seven points with 3:50 left in the second quarter.
Denver's second quarter comeback was in large part to some timely offense by Millsap, who was scoring the ball at will to help Denver cut into Sacramento's lead. Just minutes later though, Nuggets coach Michael Malone was ejected from the game for arguing a foul call, which seemed to light a fire under Denver for the remainder of the half. Because of that, the Nuggets were able to stay in the game, but Sacramento still took a 69-58 lead into the halftime locker room.
Stat leaders for Denver at the break were Millsap, who had 15 points on 6-of-8 shooting from the field to go along with his five rebounds. Jokic also had a solid first half with 10 points, four rebounds, and four assists on 3-of-5 shooting from the field. Denver had no other players in double-figures, but Murray and Beasley were close as they each chipped in eight points a piece.
Going into half number two having to overcome an 11-point deficit, the Nuggets came out on fire as they began the quarter on a 15-8 run, which trimmed Sacramento's lead to four points with 7:40 remaining in the quarter. Denver's solid start to the third was in large part from Beasley, who got the Nuggets going with a big time dunk in transition to go along with his first three-pointer of the night. Beasley was not done as he made an and-one lay just a few possessions later, which cut the Nuggets deficit to one point with 6:30 left in the third quarter.
Malik has been on another level the last month and a half!#MileHighBasketball pic.twitter.com/1l1uiCR4T7

— Denver Nuggets (@nuggets) February 14, 2019
That dunk was the start of what ended up being a 12-5 run for Denver as they continued their stellar play throughout the third quarter. The crowd also started to become a positive factor for Denver as they erupted when Thomas scored his first points as a Nuggets player — a three-pointer — midway through the quarter. That was just the start for Thomas as he hit another three just a few possessions later to give Denver their first lead since the opening quarter. Thomas finished the third quarter with eight points, which helped the Nuggets take a 93-91 lead into the final 12 minutes of play.
IT coming through CLUTCH in his return pic.twitter.com/SDx6fA1IVE

— Bleacher Report (@BleacherReport) February 14, 2019
Like it was all game, it was back and fourth between Denver and Sacramento to start the final quarter, but the Nuggets still held a 99-94 lead with 9:54 left in the game. The Kings quickly went on a 5-0 run, before Denver subbed Jokic back in to help jump-start the offense. Jokic made a basket just seconds upon checking in as Mason Plumlee followed it up Denver's next time down the floor with a nice hook-shot in the lane. That was the start of what was a solid couple of minutes for Denver as they now led 112-108 with just under four minutes remaining in the game.
The Nuggets held onto that same four-point lead for three straight minutes until two Jokic free-throws with 1:10 remaining bumped Denver's lead up to six points. Those two points seemed like the proverbial nail in the coffin of Sacramento's chances, but not so fast they said as the Kings rattled off a 4-0 run to make it a two-point game with 39 seconds remaining. Jokic missed a floater on Denver's next possession, which Sacramento turned that into a lay up on the other end to tie the game at 118 with 15 seconds remaining. The Nuggets went to Jokic on their final possession, who made a tip-in bucket with 0.3 seconds remaining to secure a 120-118 victory for Denver.
GAME. pic.twitter.com/7LIaGCjFU8

— Denver Nuggets (@nuggets) February 14, 2019
Stat leaders for the Nuggets were Jokic, who had another big night of 20 points, 18 rebounds, and 11 assists to finish with his 12th triple-double of the season. Millsap also had a tremendous game for Denver with 25 points on 10-of-16 shooting from the field, while hauling in 13 rebounds to help give him a double-double. Beasley (21), Barton (13), Murray (10) and Monte Morris (10) also scored in double-figures, while Thomas posted a solid stat line in his first game back with eight points on 3-of-6 shooting from the field to go along with his two-three pointers and two assists.
With the All-Star break now afoot, Denver has eight-days off before they are back in action next Friday in Dallas to face the Mavericks.