Trey Lyles is rapidly showing the Denver Nuggets, as well as the rest of the NBA, that the label of 'bust' that was starting to become associated with his name, could not be further from the truth.
After two lackluster seasons with the Utah Jazz where Lyles dealt with injuries and a crowded depth chart at his position, it was starting to look like the former Kentucky Wildcat may not turn into the ultra-versatile big that many had hoped he would become. That no longer rings true as Lyles is showing everyone that he is not just a stretch-four, but that his skill set allows him to already be so much more. This was displayed thoroughly in the Nuggets' win over the Jazz.
"Trey can play the three, four, or five. He really can. He is really skilled," Nuggets' head coach Michael Malone exclaimed while praising Lyles after the Nuggets' 107-83 victory over Utah. "He can put the ball on the floor, finish, and he can make plays for other people."
All of the worries of Lyles potentially being a bust are being put to rest as Lyles continues to help Denver impress. The Nuggets have jumped out to a 19-15 record thus far, which is their best record at this juncture in the season since the 2010-11 season — the year that the Nuggets finally decided to pull the trigger on a Carmelo Anthony trade. That is no small accomplishment for the young Nuggets' team, and Lyles has an integral part in the recent 8-7 surge in Denver's last 13 games.
Just eight wins in 13 tries may not sound impressive on the surface, but the Nuggets were on the road for nine of those games and were without Jokic for seven of them while Paul Millsap missed all 13 contests after getting surgery on his wrist. Lyles has stepped up in a big way while the Nuggets continued to get ravaged by injuries. He has been a big reason why Denver has been able to stay afloat despite all of the chaos.
In the month of December, Lyles is averaging 14 points in 27 minutes of action each game while shooting 53.6 percent from the field and a scalding 49 percent from beyond the three-point line. For good measure, Lyles also adds 6.2 rebounds and 1.2 assists to go with his highly efficient scoring. Every one of those numbers is higher than at any point in his career over a sample size of at least 13 games. Oh, and he has also been a solid defender at the same time.
"I have just become really, really, really comfortable in our system and comfortable playing with the guys and confident," Lyles explained in front of his locker after his 16-point and eight-rebound performance against his former Jazz team. "I am just going out there and taking what the defense gives me."
Lyles has been the saving grace for a bench unit that looks out of sorts and discombobulated far more often than it looked like a competent and coherent group. Before, the Nuggets' bench unit was devoid of spacing while also bleeding possessions due to turnovers. Now, with Lyles spotting up for three on the perimeter instead of clogging the paint, the Denver bench unit has found new life.
Lyles is playing as a small-ball center in the video below and it led to limitless amounts of space for the Nuggets to operate with against the Jazz. Malone elected to roll out a shooter-filled, five-man lineup that including Murray, Gary Harris, Will Barton, Torrey Craig, and Lyles at the center position, which means that every player on the floor can hit threes, attack a closeout, and make the right pass. Because the Jazz has to guard everyone close based on all of the shooting and skill on the floor, look at all of the space there is to work with. Epke Udoh is tasked with defending Lyles on this pick and roll action with Jamal Murray at the top of the key. Lyles sets a screen and pops but Udoh is a step too slow and gives Lyles just enough room to set his feet in rhythm and fire away from three off of an easy pass from Murray. Lyles is always a threat to sink that shot.
Lyles knows that him playing at the center position can be a nightmare of a matchup for opponents.
"It just gives me an opportunity to space the floor even more, and it helps out — I think — my teammates too. I'm not just standing down around the rim and it kind of opens up the floor," Lyles explained. "Other teams don't know what to do when I am at the five sometimes. It worked in our favor tonight."
What was most impressive about Lyles' 16 points against the Jazz on Tuesday night is that he did so by hitting just one three-point shot. Instead, he was able to attack the closeouts of slower defenders by blowing by them off of the dribble from the perimeter and score at the rim like he does below. Lyles completely makes Derrick Favors look like he was sliding on ice as he tried to close out on Lyles. The second that Lyles notices that Favors is late on his closeout, he just gives him a slight shot fake, puts the ball on the floor, and slams it home with two hands as neither Joe Johnson nor Donovan Mitchell could provide help defense in time. Being that Lyles as hit 49 percent of his threes over his last 51 attempts, he is forcing teams to honor his perimeter shooting and taking advantage once he gets them out of position.
It is not like Lyles can only finish if he is wide open either. Look below as Lyles converts one of his best finishes at the rim of the year.
That is not just being able to blow by the defender guarding you. Lyles is able to turn the corner on Johnson using his off-hand, which is impressive in its own right, but what makes this play special is how Lyles finishes over Favors. He aggressively attacks the closeout, jumps like he is going to put up a right-handed layup, contorts his body in the air to put up a left-handed layup instead, and he does so while out-muscling Favors' 265-pound frame in mid-air.
That strength and athletic ability will serve him well in more ways than just one, as evident by the big-time dunk he threw down in transition as seen below. First of all, look at how fluid Lyles is running the length of the court. He looks like a guard and not like someone who is 6'10. Chandler does a great job of attracting as much of the defense to him as he can before dumping off a pass to Lyles. Lyles leaves just enough space for him to take two steps towards the rim as he receives the pass to allow him to load up for the dunk he ends up throwing down.
Lyles did not showcase that kind of athleticism in his first two years often and it seems that there is a reason for that.
"Losing weight helped me with my explosion and being able to move a little better defensively and stuff like that," Lyles explained. "Getting stronger just help me being able to play the five now and not have to worry about guys being that much stronger than me. It has helped out a lot and I am glad I have been able to do that."
Lyles having the extra bounce in his step has been huge to unlocking his versatility. Now, being that he is much stronger and more agile, he is looking like a better rebounder on both ends of the floor and has been impressive on defense. Since losing 12-or-so pounds this offseason — while also adding muscle — Lyles looks like a different player.
It was not just his athletic gifts that shined against his former team. Lyles was even seen running some dribble-handoff actions with Harris later into the fourth quarter for a spoiler of what is possible to come.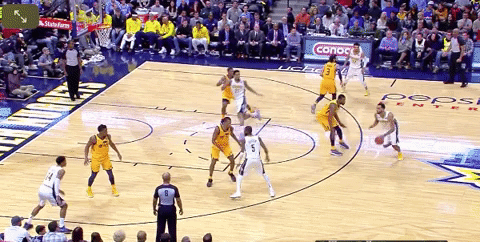 Just to add a cherry on the top of what was already a terrific game from Lyles, he was able to finish his night with this beauty of a play. Lyles dribbles into the handoff with Harris, who immediately turns the corner on Favors. Harris notices that Mitchell is trailing him after going over the Lyles handoff and that Favors and pre-switched onto him to contain the ball. Harris waits until the perfect time to drop a beautiful pin-point bounce pass to Lyles, who rises up and finishes over the player that the Jazz traded for when they sent Lyles to Denver.
While the talk surrounding Mitchell and Lyles was mostly downplayed, it was obvious that this win meant something to Lyles. When he was asked about Mitchell and beating his former team, a subconscious a smile overcame his face and it could not be hidden. Lyles seemed quite proud of how he represented himself, but it was still the betterment of the Nuggets that was on his mind.
"They beat us twice already, so being able to come in and get them pretty good here," Lyles said. "It is a relief."