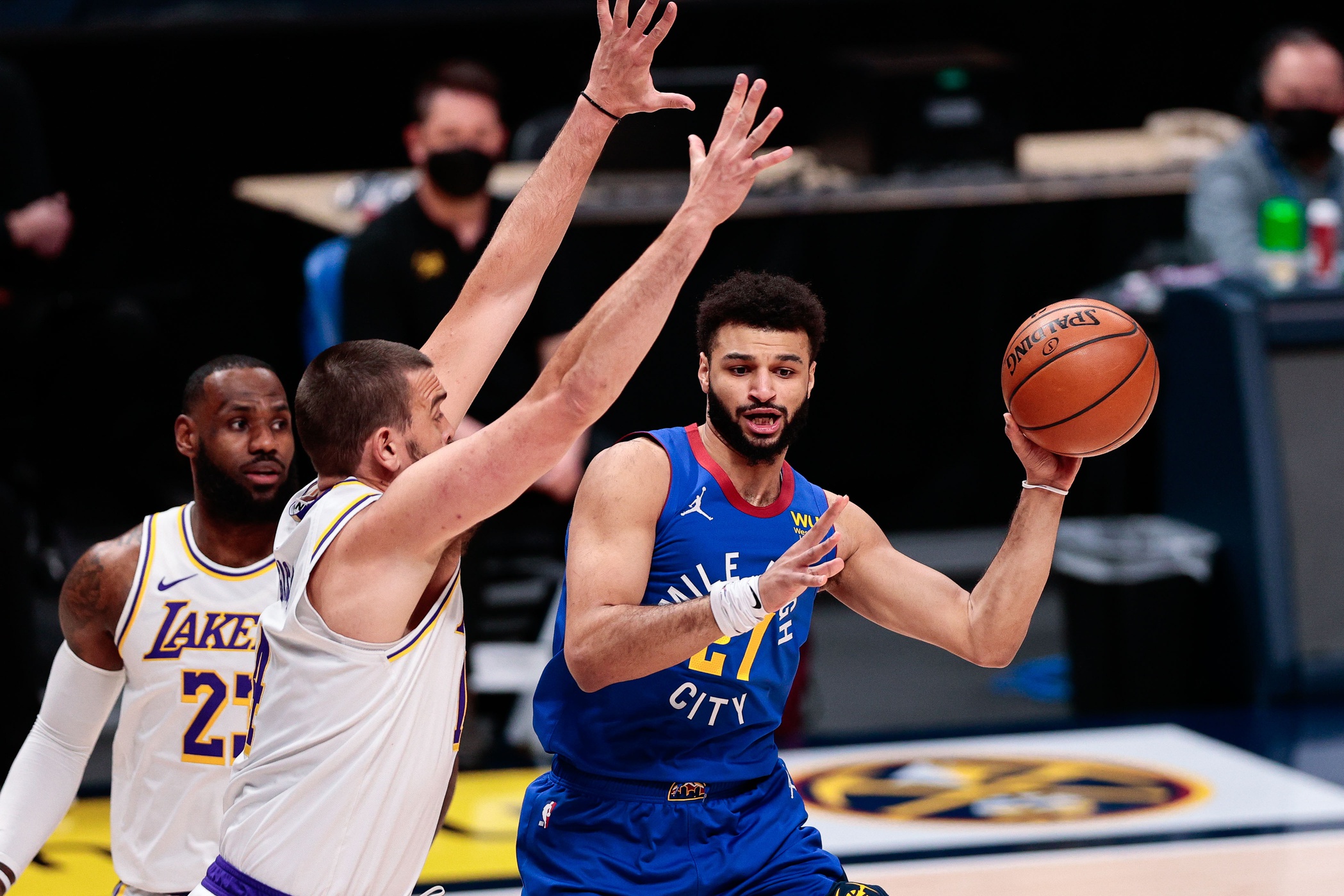 "We just had fun."
That was the biggest takeaway Jamal Murray had from the Nuggets' game against the Lakers on Sunday night.
Each game seems to present a new challenge for the Nuggets whether it's defense, hitting shots, or maintaining second half leads. In their matchup against the Lakers, they were firing on all cylinders against the best defensive team in the league to win it 122-105.
"We put up 122 points, but most importantly 28 assists and only 10 turnovers and they only scored 6 points off those turnovers," Michael Malone said. "So offense will always be the beginning of the defense and we didn't fuel their breaks."
The Nuggets were committed to taking care of the ball and executing on offense. They shot 46% from the field and went 19-of-47 from the three point line, a much better shooting performance than in previous games.
"We committed to our shot tonight," Malone said. "A lot of nights we're hesitating but when the ball finds the open man guys are ready to shoot the ball and we had a good night from beyond the line."
The Nuggets had to play without their starter Will Barton due to personal reasons along with PJ Dozier and Gary Harris who have been out with injuries. That freed up some minutes for the rookie Zeke Nnaji.
"Everyone on this team both coaches and players, everyone has been super supportive of me even when I wasn't playing," Nnaji said. "Really teach me about our principles and the biggest thing was as I said before, just to be ready so when the opportunity does come you can make the most of it."
The 20-year-old Arizona alum scored 16 points on 4-of-5 from three point range in his debut and also had the challenge of guarding LeBron James.
"I was excited," Nnaji said. "I was looking forward to going up and competing against one of the best players in the league and I feel like that was a real fun experience."
The rookie also became apart of a viral video. Point guard Facundo Campazzo threw him a crazy no look pass that nearly grazed Kyle Kuzma's head. Nnaji felt obligated to hit the wide open three.
"My hands were ready but I saw it was a difficult angle," Nnaji said smiling. "All the sudden he just throws the pass and it goes right past Kuzma's head. He couldn't do anything. I was like, OK, I got to make sure this is a highlight for him so I had to make the shot."
Nikola Jokić put up another crazy stat line of 23,16 and 10 in the first half alone, earning his sixth triple double of the season. He went scoreless in the second half but it didn't matter. The big man can impact the game in more ways than just scoring.
"It just speaks to his ability to impact the game in so many ways," Malone said. "He can beat you with his scoring, he can do it with his rebounding and he can do it with his playmaking."
Jokić only scored 13 points on 6-16 shooting from the field in his last matchup against the Lakers and said the biggest difference in this game was his mindset going into it.
"If I'm open, shoot it," Jokić said. "If I see someone is coming just pass the ball. Don't overthink anything."
Denver started striking early and every time Los Angeles answered back, Denver countered. The momentum really shifted for the Lakers though after losing Anthony Davis after he re-aggravated his right Achilles. The Nuggets ran away with the game after that and put a stop to the defending champions' 7-game winning streak.
Jamal Murray had a better shooting night adding 25 points on 7-of-15 from the field to go along with 6 rebounds and 4 assists.
The Nuggets now look to carry the momentum of their 3-game winning streak as they head out east for a 4-game road trip against the Celtics, Wizards, Hornets and Hawks.