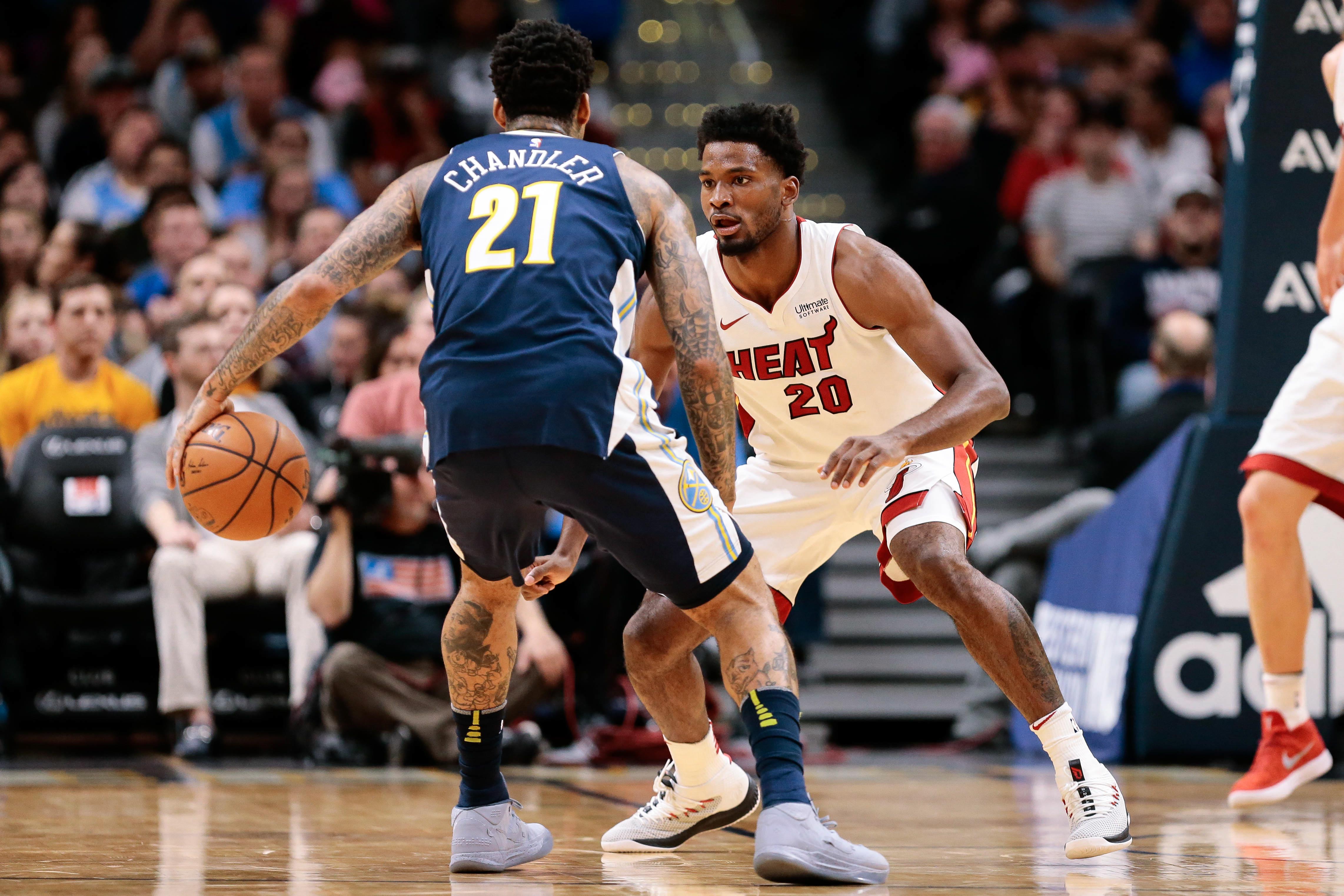 The Denver Nuggets go up against the Miami Heat at America Airlines Arena in what is all but a must-win game for both teams. Here are three things to watch as the Nuggets are on the second game of a seven-game road stretch in which they desperately need wins.
Winning without star players
Miami's best player, center Hassan Whiteside, is out for tonight game against Denver as he continues to nurse a lingering hip injury that's already kept him out 10 days longer than expected. It's his fifth straight game out with no timetable for his potential return, but Miami has gone 3-2 in that stretch and are looking for their fourth win in his absence. Dwyane Wade (hamstring) will also be out of this game, so Miami is definitely shorthanded as they look to extend their winning streak to five games.
The Nuggets have gone through their fair share of injuries on the year, and they're coming off of their most disappointing game of the season in Saturday's loss to Memphis — one that broke the Grizzlies' 19-game losing streak. Denver is without leading scorer Gary Harris, who suffered a right knee injury in Thursday's contest; Will Barton is likely to start in his place, but was atrocious in Saturday's loss.
Stopping Goran Dragic
Denver is going after their first sweep of the Heat since 2008-09 in this two-game season series. The last time these two teams played each other was in November, and Denver escaped with a 95-94 win as Paul Millsap was fouled on a late game three-point attempt. Since then, things have changed, as Miami is without Dion Waiters — and Goran Dragic has stepped up in his absence.. Dragic's floater with 10.5 seconds remaining in the Heat's most recent game against the Lakers ended up as the game-winning shot. Dragic has been in a groove recently, scoring 30 points or more in consecutive games for the first time in his career. For the month of March, he's up to 18.7 points and 4.3 assists per game while knocking down 93.8 percent of his free-throw attempts through March. His constant movement and ability to knock down shots — as well as his ability to create for others — will force Jamal Murray to stay active on the defensive end. Murray will have to be at his best in order for the Nuggets to pull off the victory.
Playoff picture for both teams
This is an critical game for both teams when it comes to the playoff race. Miami is comfortably in the eighth and final spot in the East; 6.5 games up on the Detroit Pistons, but only a half-game back from the seventh-seeded Milwaukee Bucks — who are up against the Cleveland Cavaliers tonight. The Heat can gain important ground with a win. Denver is fighting for their playoff lives after the disastrous and embarrassing loss to the Grizzlies and find themselves at 38-32 on the season, on the outside and looking in at the Western conference playoffs. The Nuggets are only a half-game up on the Clippers and are still within striking distance of the Timberwolves, Pelicans, Spurs and the surging Utah Jazz. For Denver, every game matters now — they must shake off the Memphis loss and get a much-needed win in Miami tonight if they plan on righting the ship and getting back into the fight.