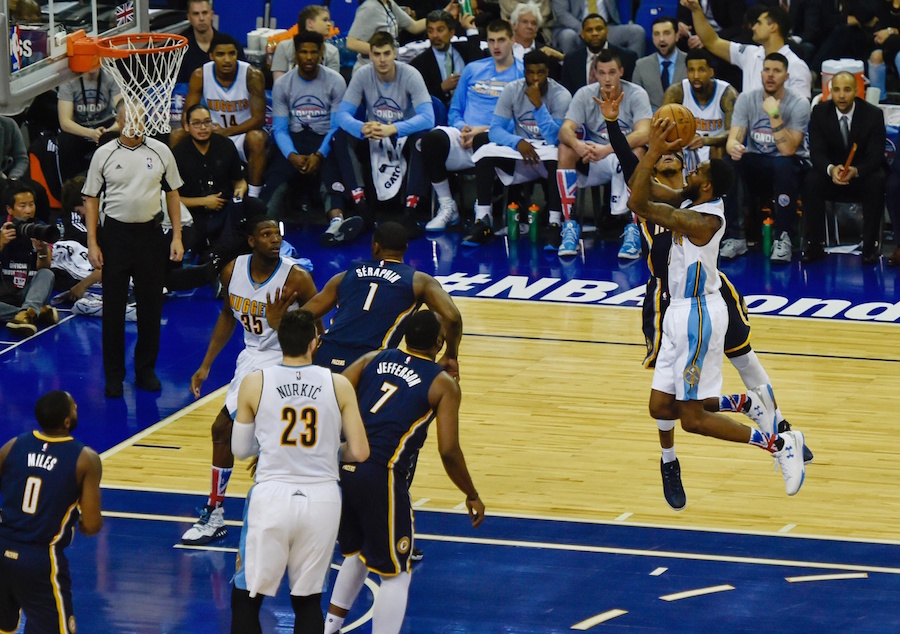 Who would have thought the Nuggets would deliver their best "home" performance on the edge of the River Thames? Well, they did that and more, shellacking the Pacers 140-112 in London Thursday afternoon. Against a playoff team no less. Mike Malone's team finally put up the performance fans and media members have been expecting to see since the season started. One question remains: Can this game propel the Nuggets season in the right direction?
All season the Nuggets have been missing a spark. They haven't stepped up to challenges from the coaching staff, nor have they fed off of great performances from teammates. Any momentum they do manage to grab has quickly faded at the first sign of adversity. This has left coaches, players, fans and even media members searching for answers. Trying to figure out the Denver Nuggets this season has been akin to stubbing your toe on the same dresser every morning – painfully frustrating.
Tim Connelly constructed what looks on paper to be a very balanced roster. The Nuggets have a healthy dose of veterans, but they aren't dead weight. It's a team with tons of developing young players and depth at every position. Jamal Murray looks like the steal of the 2016 NBA draft. Nikola Jokic is quietly budding into a superstar and Gary Harris is becoming one of the best all-around two guards in the league. All and all, the sum of the parts doesn't (or shouldn't) equal a sub-500 record almost halfway through the season. But, that's where the Nuggets are.
There hasn't been much to get excited about this season and the signs of improvement have been few and far between. Emmanuel Mudiay has regressed this season. Jusuf Nurkic is bordering on "complete waste of talent" status. Less than a month ago Malone called out his veterans for their lack of leadership after a lackluster defensive performance. That didn't go over well in the locker room. Denver's offense has struggled as Malone has searched for the most effective lineup combinations. And, the defense has been dreadful at times. This is a team that hasn't been over .500 since their season opening win, needless to say it's been a season devoid of bright spots.
Despite all of that, it still feels like the Nuggets are on the precipice of being really, really dangerous. Since October the Nuggets have been yearning for a catalyst to push them to the next level. Not just a good quarter or a highlight dunk but something to truly rally the team. Dropping 140 on a playoff team could be just that.
It was the first time all season everything worked. The Joker was being The Joker while flirting with another triple-double. Wilson Chandler and Danilo Gallinari both had great offensive games and Kenneth Faried nearly put up a double-double off the bench. There was more to the game then just offensive stat lines. Denver's defense was stellar.
The five Nuggets starters (Jokic, Chandler, Gallinari, Mudiay and Harris) were all at least plus-22 or better. As a team they held Paul George to 10 points (he was 2-for-12 from the floor) and no Pacers starter scored more than 14 points. It was by far the team's best performance.
Thursday's game in London represented more than just a win; it was the Nuggets' first complete team win. The offense was well balanced, they played team defense, Malone's rotations were perfect and each player accepted, and excelled, in his role.
The question remains: Do the Nuggets build on their success on the River Thames or is it just a flash in the pan? If Malone's squad can use this game as a jumping off point, the sky's the limit and the playoffs are in Denver's future. If they can't, the London game will be nothing more than a consolation prize of a lost season.