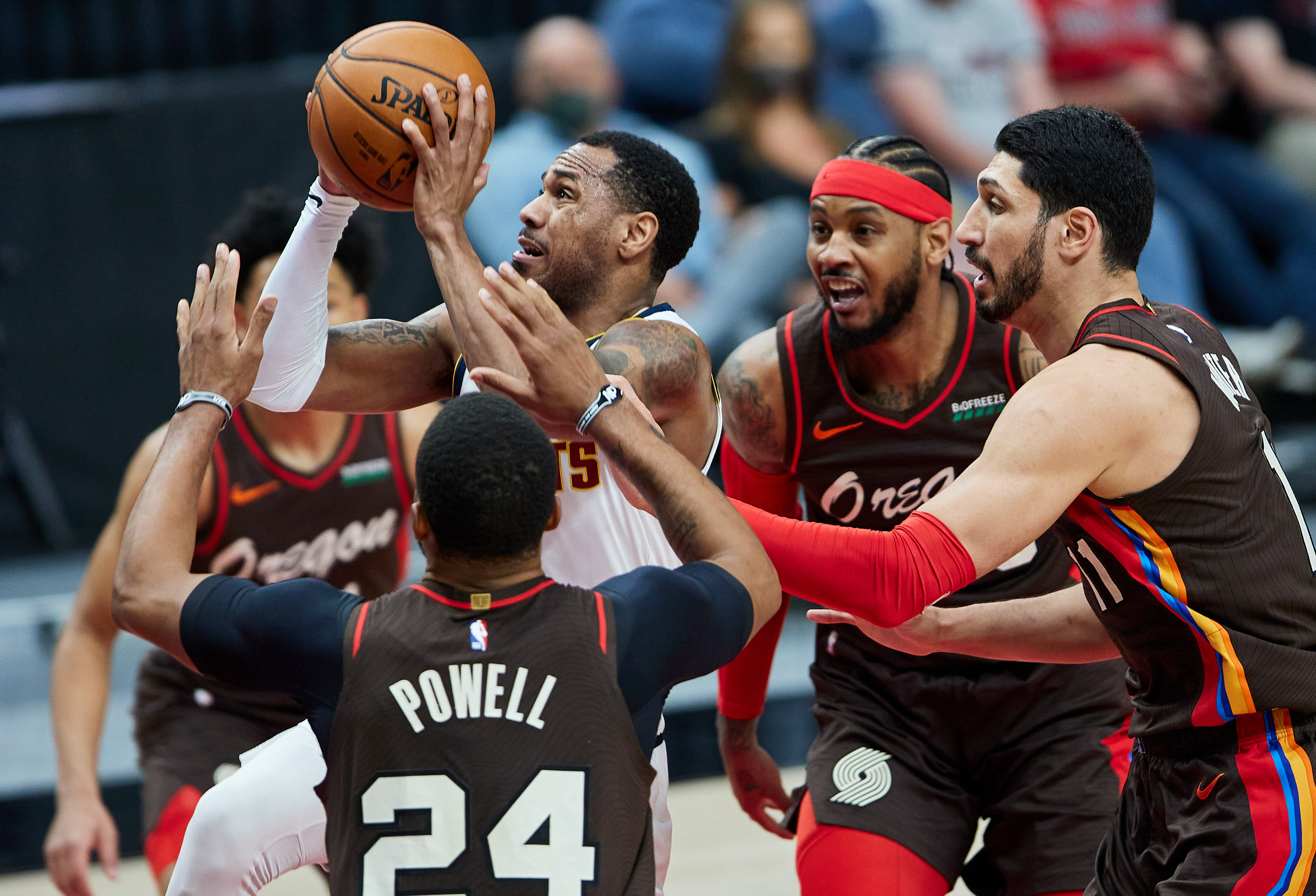 Wow. Just wow. Game 5 was a rollercoaster. Double overtime and two clutch Damian Lillard threes. Lillard finished the night with 55 points on 12 of 17 from long range but it wasn't enough as Denver's supporting cast was just too much to handle in a 147-140 win. 
"The thing I'm most proud about is every time they extended the game we never hung our heads," Michael Malone said. "We never got down on ourselves. I thought the guys who were in the game were phenomenal and also the guys who were not in the game but on the bench the energy, the positivity. We never got down." 
Nikola Jokić led Denver with 38 points, 11 rebounds and 9 assists while Monté Morris lit up the bench with 28 points and fourth threes. Michael Porter Jr. added 26 points on 10 of 13 shooting from the field and 12 rebounds. It was an all around great team performance as the Nuggets take a 3-2 series lead before heading to Portland for game 6. 
The Nuggets kept their celebrations to a minimum, however, because they know there's still unfinished business left to take care of. 
"We were really excited because we needed this win but we know the job is not over," Porter Jr said of the mood in the locker room. "Not even close. We got to go to Portland which is a super tough environment so next game is going to be more intense." 
Fourth quarter the Nuggets led by as much as 7 points with just over seven minutes left in regulation. Lillard then hit a big three to ignite a 7-0 scoring run for the Blazers. They tied it up at 105 with 6 minutes left. It was back and fourth with 5 lead changes down the stretch until it looked like Denver might be able to close the game out after two straight buckets for Jokić in the paint with 1:23 left. 
Fast forward to 30 seconds left, Denver up by four, and CJ McCollum drills a triple. He then fouled Morris at the other end who made both free throws with 12 seconds left to put Denver up 121-118. And then the shot of the night, Lillard, goes up for a three to tie it at 121 to force ovetime. 
First overtime, Lillard nearly outscored the Nuggets all by himself scoring 12 of his teams' 14 points. Morris scored 7 of the Nuggets 14 points going 2 of 2 from downtown and found himself at the free throw line with 16 seconds left. He went 1 of 2 to give Denver a 135-132 lead. 
"I just wanted to take on the challenge to play in a hostile environment game 5 with a chance to go up 3-2 and be myself," Morris said. "Go out there and have fun. Miss or make, just be aggressive. It helps the team a lot and all the guys told me that."
Then, to no one's surprise, Lillard drains another three to tie it up once again at 135 to force another overtime. 
"He was not missing for s**t," Austin Rivers said via Instagram. "One hand in his face, 2 hands in his face. I'm like wtf is this. Banking threes and s**t. In all seriousness, it's really fun to guard him. He's as tough as they come. No lie." 
"We expect that from Dame man," Morris said. "He's a hell of a player. Got to give him a lot of respect. He made some crazy shots. Really not crazy for him because he's been hitting them for his whole career. Guys like him and CJ can get it going really quickly but we just had to keep our composure."
Lillard attempted a three in double overtime with Rivers on him and he missed. Moments later you can see Rivers praying to the man above that the shot didn't go in. It was an historical night as Lillard became the first player in NBA history with 50 points, 10 assists and 10 3-pointers in a game, regular season or playoffs according to SportsCenter. He also set the NBA record for the most three-pointers made in a playoff game with 12.
Double overtime, Denver took over by going on a 9-0 run including a clutch three from Porter Jr to give the Nuggets a 143-140 lead with 1:32 left to go. Porter contributed to a few stops at the other end to help seal the win 147-140. The Nuggets outscored Lillard 12 to 5. You read that correctly. Outside of Lillard's 5 points, the Blazers went 0 of 7 from the field in the second overtime. 
Porter struggled in game 4 only scoring 3 points in 23 minutes of play. He promised game 5 would be different and he delivered in a big way. 
"That's who I am and I trust in that," Porter said. "I can't let games like that happen especially in the playoffs when my team is depending on me so I just tell myself, be yourself out there. Be aggressive. Everybody on the team was telling me shoot the ball. They believe in me so that definitely helps me out as well." 
It was a quality win for the Nuggets who had as much as a 22-point lead at one point in the game but allowed the Blazers to get back in it midway through the second quarter. Denver had a 65-62 lead at halftime and then in the third quarter, Portland took its first lead of the game, 83-82, with 3:45 left. The game was neck and neck since then.
Malone was asked why he decided not to foul Lillard and instead allowed him the opportunity to hit a three. 
"Damian Lillard, he's been around the block," Malone said. "He knows what time it is and if you try to take that foul my concern is him making the three and giving up a four point play. So it's really out of respect for Damian Lillard and his experience as a clutch player."
Malone continued and said that there's a lot of things he can second guess about his choices throughout the game but all that mattered to him was the win.
The Nuggets will now head to Portland to take on the Blazers in game 6 on Thursday at 6pm MST.