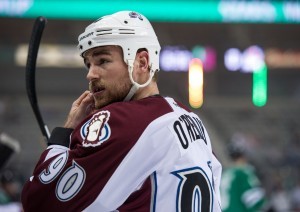 Forward Ryan O'Reilly and the Colorado Avalanche agreed to a two-year contract worth $12 million last July. Now, according to tweets put forth by The Hockey Chat, the Avalanche and O'Reilly are currently in negotiations for a new contract, with O'Reilly set to become an unrestricted free agent after the 2015-16 season.
Colorado Avalanche and Ryan O'Reilly are discussing a 7YR / $50M contract. Term may come down, but expect ROR to be around $7-7.5M / season

— The Hockey Chat (@TheHockeyChat) June 3, 2015
The Avalanche feel comfortable in the $6-$6.5M range. But it's also common knowledge that ROR would get $7.5M + on the UFA market #NHL

— The Hockey Chat (@TheHockeyChat) June 3, 2015
O'Reilly and the Avalanche have been down this road before with O'Reilly missing the opening of the shortened 2012-13 NHL season because the parties could not reach a deal. O'Reilly ended his holdout in February 2013 by signing a two-year offer sheet with the Calgary Flames worth $10 million. Coincidentally, the Avalanche and Flames were playing that night, and the Avs announced during the game that they secured O'Reilly by matching the Flames' offer sheet.
The Avs have a big decision to make with O'Reilly, considering he is still only 24. Furthermore, O'Reilly has put up back-to-back 55-plus point seasons while staying healthy throughout.
The situation altogether is uneasy for Colorado because besides O'Reilly, the Avs will have a busy summer in 2016 with Nathan MacKinnon and Tyson Barrie being restricted free agents and Erik Johnson becoming an unrestricted free agent. These players will all be expecting pay raises. If both parties are unable to reach an agreement, O'Reilly will undoubtedly be put on the trade market.
According to Harrison Prolic, in an article from The Hockey Writers, "It will be interesting to see if the relationship between player and front office has been sufficiently repaired since the disastrous summer in 2012. Things were still rather tense last offseason, but the two sides managed to reach an agreement at the eleventh hour before entering arbitration. Now O'Reilly is going to enter the last year of that two-year contract, and he will become an unrestricted free agent on July 1, 2016. Colorado are not going to be caught in another Paul Stastny situation, and it's likely that if a new contract can't be worked out that O'Reilly is as good as gone."
The Avalanche will have no problem finding him another home with several teams showing interest. The trick is finding a trade that will benefit the Avs long-term. The NHL Draft is coming up later this month, and with GM's from all 30 teams in attendance, by mid-summer we will have a clear indication of which direction the Avs are going.
---
Sammy Mugharbil, a Mile High Sports intern and student at MSU-Denver, contributed to this report
---