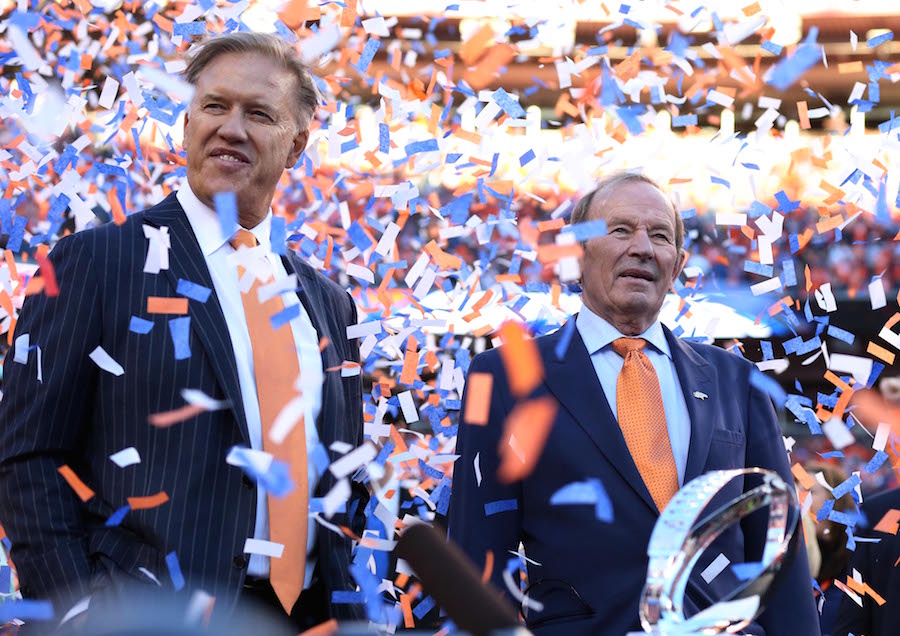 On Sunday night, with a national television audience watching, the Denver Broncos will induct owner Pat Bowlen into the team's Ring of Fame – an honor long overdue in the eyes of many.
The ceremony will be bittersweet for dozens, if not hundreds of current and former Denver Broncos employees, as the the ravages of Alzheimer's disease have left the longtime head of the franchise unable to manage the team's day-to-day operations, officially, since last year. Mr. Bowlen, one of the iconic leaders in NFL history, led the team to six Super Bowl appearances and two world titles in his 30 years as owner.
NFL commissioner Roger Goodell said this about Mr. Bowlen in a statement to the Denver Post upon the announcement of his stepping down in 2014:
Pat Bowlen's leadership has been critical to the success of the Broncos and the entire NFL. From building a championship team that is a pillar of the community to his important work for the league on television and labor matters, Pat's love of the game drove him and we have all benefited from his passion and wisdom.
Mr. Bowlen's influence was felt at every level – from the top of the league he helped build into the predominant force in American professional sports, to every member of the game day operations staff. Something two of his former employees recount with much fondness.
James Merilatt, president of Mile High Sports, and Kent Erickson, host of The Big Show on Mile High Sports AM 1340, both worked for the Broncos during the team's golden era and recall with fondness the winning culture Mr. Bowlen established and his passionate pursuit to make the team the class of the NFL. He was determined to make the Broncos the best, Merilatt and Erickson recall, sparing no expense and motivating his entire organization to doggedly pursue that goal.
Merilatt, who worked in the team's marketing department remembers one particular time where Mr. Bowlen's desire for excellence became real to him.