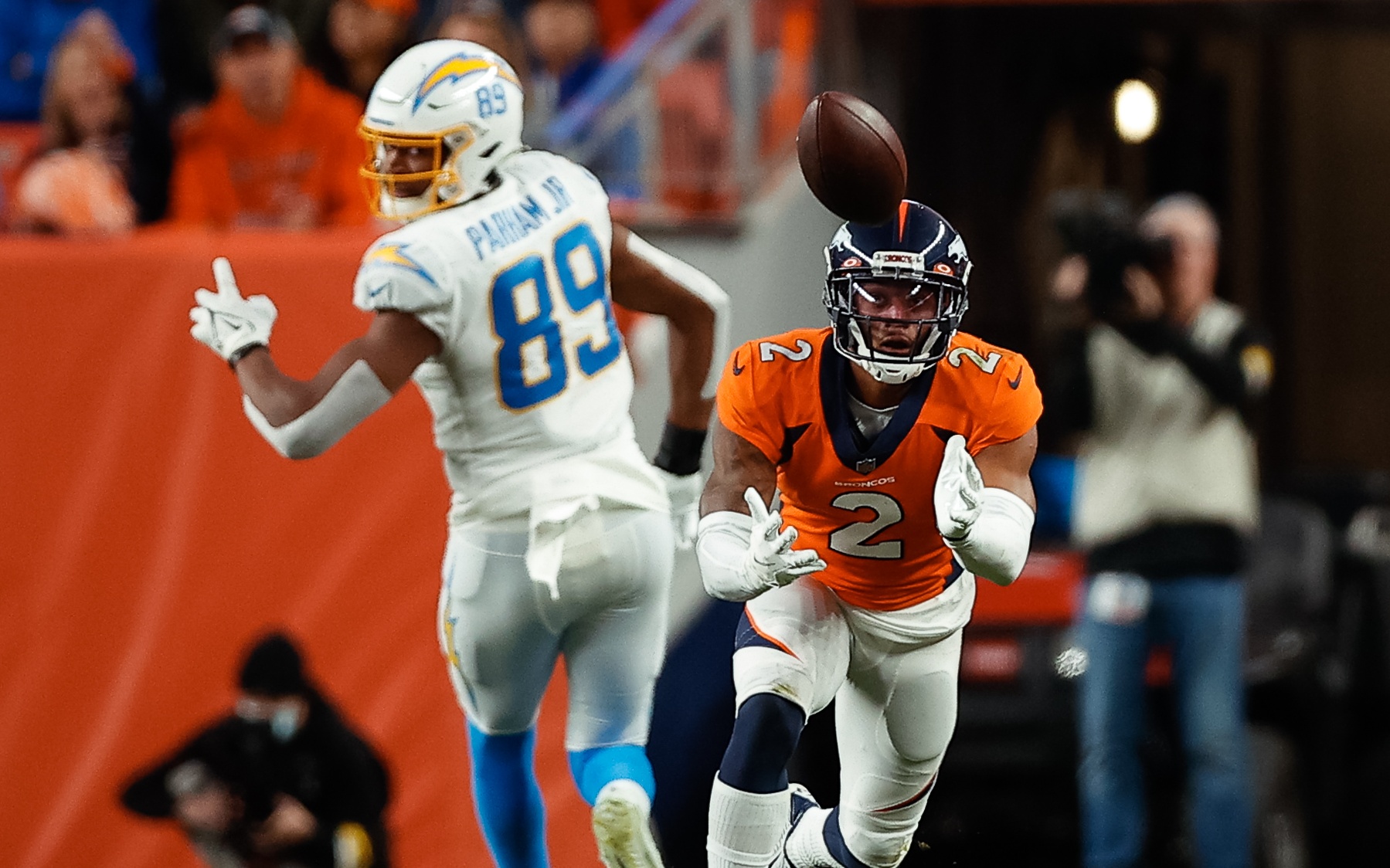 While everyone can't stop talking about the acquisition of Russell Wilson, there's another name poised to have a big season for the Denver Broncos.
The Broncos' 2021 first-round pick Patrick Surtain was ranked No. 20 on Pro Football Focus's top 25 players under 25 entering the 2022 NFL season.
PFF writer Trevor Sikkema wrote, "Surtain stepped into the NFL game and looked like a veteran, which is insanely difficult to do at any position, let alone cornerback. While most young starters are trying to figure out the speed of the game in their first year or two, Surtain acted like he'd been playing at that level for years coming from Alabama. He allowed just a 56% completion percentage into his coverage on 530 pass snaps."
Surtain totaled 58 tackles, 14 pass breakups and four interceptions last year in his rookie season, including a 70-yard pick-6. However, he was not selected for the Pro Bowl. With the Broncos scheduled to have five primetime games in 2022, Surtain will have a much higher exposure level and larger stage to play on, which will help his Pro Bowl odds.
Patrick Surtain II or Mr. Interception II? First career pick-6 for the standout rookie defender.#LACvsDENpic.twitter.com/1up7F4FGKK

— Pro Football Network (@PFN365) November 28, 2021
His teammates seem to agree with the assertion that Surtain is poised for greatness. In a recent press conference, fellow cornerback Ronald Darby said, "Not a lot of guys coming out of college, especially at corner, and get thrown into a starting role and plays as good as he did. To me, he had a Pro Bowl year last year. I know he's going to continue to build onto that."
The only other cornerback ahead of Surtain on Sikkema's list was the Atlanta Falcons' AJ Terrell. Terrell was drafted at No. 16 overall in 2020. He saw a massive leap in production between his rookie and sophomore seasons, allowing just 29 catches for 200 yards and surrendering a league-low 47.5 passer rating. Nonetheless, like Surtain, Terrell has yet to be selected for the Pro Bowl.
About a year ago during the 2021 NFL Draft, newly hired general manager George Paton was criticized for passing on quarterback Justin Fields at pick No. 9 in favor of Surtain. That decision has proven advantageous for the team over a year later. Now not only do they have an elite quarterback, but they also have a rising star at cornerback.