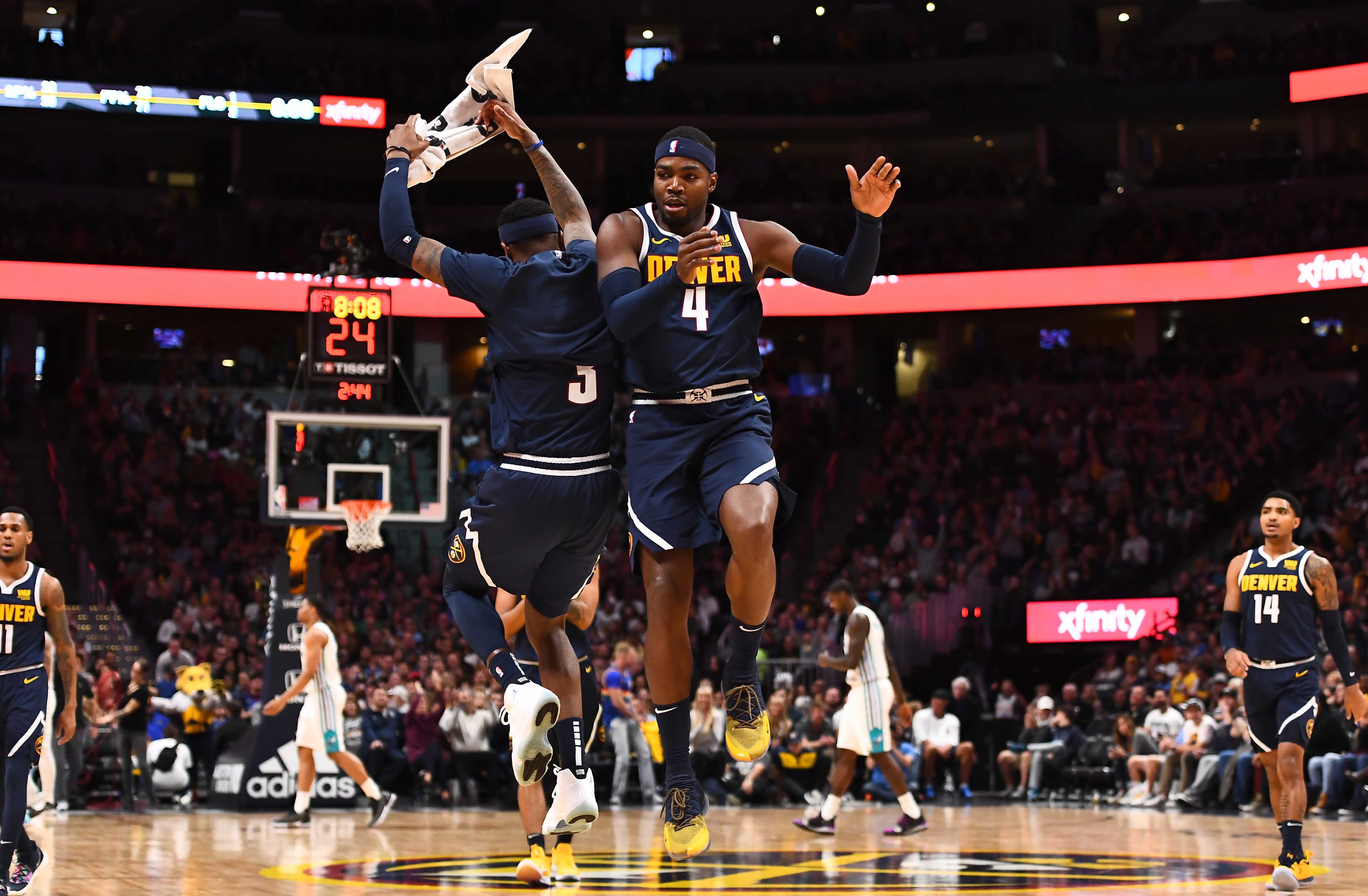 In an unfortunate turn of events, Paul Millsap broke his big toe on his right foot back on December 7th of last year. Since then, Millsap has missed eight games, but has recently returned to the floor for the Denver Nuggets about a week earlier than originally expected.
Now, it has been four games in which, like Gary Harris, Millsap has come off bench. Nuggets head coach Michael Malone wanted to bring his players back from their respective injuries slowly and that has manifested itself in four appearances as a part of the Nuggets reserves.
In those four appearances off of the bench, Millsap is averaging 12.5 points, 5.3 rebounds, two assists, and 1.5 steals in 21.6 minutes per game. With every passing minute, Millsap has shaken off more and more rust and it is becoming more and more apparent that he is ready to reclaim his starting power forward role.
The most recent reminder of Millsap's readiness came in Denver's 123-110 win over the Charlotte Hornets. Millsap logged 27 minutes in the win and posted 18 points, six rebounds, three assists, and four steals while shooting 7-of-14 from the field and nailing 1-of-3 3-point shots.
While Millsap's stat line does enough to prove his readiness, there are even more indicators to prove that Millsap should be back where he belongs — with the starting unit. First of all, Millsap is not limited physically in any way, shape, or form. Secondly, there is no mental barrier that is holding him back from producing at a high level or has him worrying about his toe while playing. Third, and most important, Millsap's reintegration with Nikola Jokic and the rest of the Nuggets roster has been seamless.
Let's start where Millsap has the largest impact; on the defensive end of the floor.
The play above is exactly why Millsap was brought into Denver. Look at Millsap's eyes when Kemba Walker passes the ball to Nic Batum on the wing. Millsap is slowing reading the eyes of Batum, who telegraphs his pass to Michael Kidd-Gilchrist, and the second that the pass is leaving Batum's hand, Millsap is already getting his right hand into the passing lane before eventually pushing the break and getting a hockey assist on a 3-pointer from Jamal Murray.
Millsap's ability to create points and using defense to stimulate Denver's offense is a very underrated reason for the Nuggets defensive improvement this season as well as why the Nuggets have been the sole owners of the first seed in the Western Conference longer than any other team this season.
Millsap continued being a productive defender against the Hornets with this hard hedge, steal, and assist to Torrey Craig who throws down a dunk.
Again, these are points created by Millsap on the defensive end of the floor that would otherwise not exist for the Nuggets. Look at how Millsap notices Walker's mishandling of the basketball and immedialtey splits two defenders to get further up the floor to corral the loose ball. Once he finally gets his hands on the ball, he already knows that Craig is streaking down the floor wide open and delivers him the ball for the quick and easy assist leading to two points for Denver.
Millsap's defensive impact has been evident in all four of his games off the bench for Denver since returning from injury, but he is creating points out of nothing in other ways as well. Millsap also found a way to create points on the offensive glass. Look at Millsap below as he just outworks the Hornets on his way to an and-one opportunity.
There is nothing more to this play other than Millsap bullying Kidd-Gilchrist, grabbing the offensive board, drawing contact, and finishing through that contact. Between the two steals above and this put-back layup, Millsap managed to creat eight points for Denver that otherwise may not have been scored.
That is not to say that Millsap was only doing the dirty work for Denver has he was slowly reintegrated back into the starting lineup. There were plenty of moments where Millsap looked not just strong, but just as strong as he looked prior to the broken toe.
Look at Millsap's left-handed dribble drive into the paint in the clip below. At the top of the key, Millsap explodes past Kidd-Gilchrist, was able to get one step ahead of him, extended the length of his steps as he neared the rim, and put up a pretty left-handed layup over the outstretched hand of Kidd-Gilchrist.
Millsap winning the one-on-one battle is the clear indicator that he is ready to reclaim his starting spot, but there is one other takeaway to make from this play. Millsap not only converted his drive to the rim, but he made the decision to drive using his off hand for one particular reason — because that was the side of the floor that Nikola Jokic was on. Millsap knew that Willy Hernangomez could not come too far off of Jokic to help down on his drive because if he left Jokic open, it would be an easy pass from Millsap to Jokic for the short floater.
The play above shows that Millsap is not just physically ready to rejoin the starting group, but that he is mentally prepared as well. Clearly, his chemistry with Jokic has not taken a step backwards.
Millsap also gave the fans at Pepsi Center a show as he uncorked a plethora of moves on his path to 18 points such as this vintage Millsap post-up, fading, baseline jumper that he unleashed in the third quarter as seen below.
In addition to his prowess in the post, Millsap also showed off his ability to handle the ball in the open court as well as hit tough shots, as he does below when he gets the best of Kidd-Gilchrist once again, but this time by using a floater.
When Millsap wasn't creating scoring opportunities that once did not exist, he was getting easy buckets off of the Nuggets best player in Nikola Jokic and showing off the chemistry that he has developed with the Serbian sensation.
Look at the clip below. Millsap is in the corner, Jokic is at the elbow, and to kick the play off, Jamal Murray fakes a cut into the paint before setting a pin down screen on Kidd-Gilchrist, who was once again failing at slowing down Millsap's scoring output.
The Nuggets seemingly create great looks every time they use Murray as a screener and the play above is just another example of that. Kidd-Gilchrist inexplicably tries to get around Murray's screen by going down the baseline which leaves just enough room for Jokic to squeeze a pass into Millsap, who easily slams home the dunk. Wash, rinse, and repeat.
Millsap's chemistry with Jokic continued to flourish throughout the game just as it does in the play below.
There is nothing to this play other than the fact that Millsap stayed perfectly spaced as Jokic drove into the paint. Millsap knows that as long as he is in the right position, Jokic will always find him which is why he continued to step backwards down the baseline until Batum, who is defending Millsap to begin the play, has to leave his man to provide help defense on Jokic's drive to the rim. The second that Batum steps up to Jokic, the Nuggets have already won the play. Millsap receives a wraparound pass from Jokic and finishes through contact once again for another and-one opportunity.
Then, just for good measure, Millsap also drilled a 3-pointer in the final quarter of play.
Against the Hornets, Millsap checked off every box needed to prove that he is ready for reintegration back into the Nuggets starting unit. He was physically able to produce in anyway his team needed, he was mentally on the same page as the rest of the roster, and he was back to being a defensive demon for Denver when they needed it most.
Against the Houston Rockets on Monday night, it seems all but assured that Millsap will make his return to the starting lineup for the Nuggets. Malone could elect to bring Millsap off of the bench one more game, but even if the Nuggets' head coach decided to make that decision, it does not change the fact that Millsap has shown he is ready to step back in as the starting power forward of the Denver Nuggets.