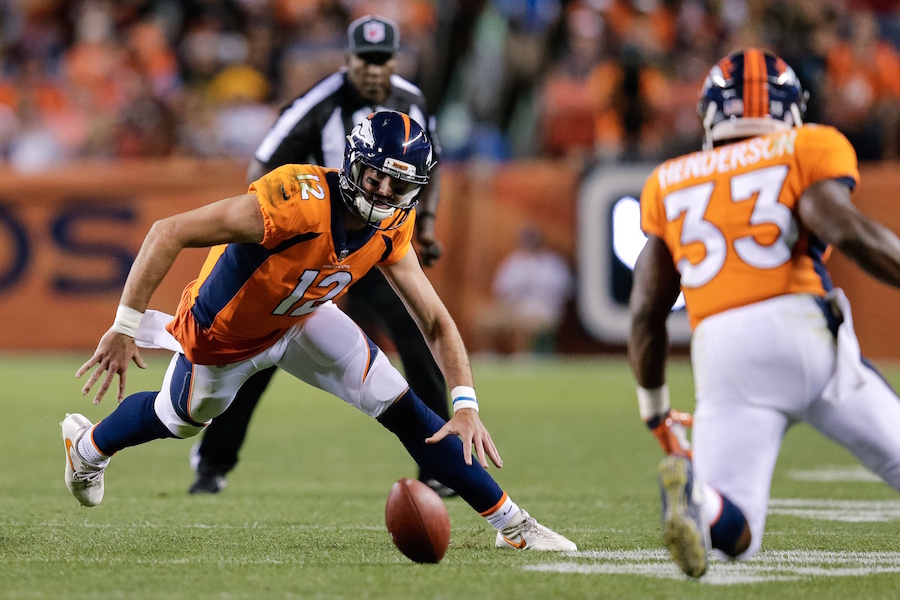 According to James Palmer of NFL Network, Broncos backup quarterback Paxton Lynch will miss Thursday's preseason finale and 'a few weeks' as he recovers from a shoulder injury suffered in Saturday's game against the Green Bay Packers.
Paxton Lynch will miss this Thursday's game and then a few weeks I'm told. Rest and recovery is really what is needed.

— James Palmer (@JamesPalmerTV) August 28, 2017
Lynch took a pair of sacks at the tail end of his first and only drive against Green Bay. The drive resulted in a go-ahead field goal, but Lynch was removed from the game and did not return. Postgame, head coach Vance Joseph said he did not believe the injury was serious.
"Right, the X-rays were negative but we're going to get an MRI [Sunday] to kind of confirm what we saw tonight. The initial X-rays were negative for any bone issues," he said.
Michael Spencer of CBS 4 reported Sunday that the MRI was negative, and that the injury was a bone bruise.
Good news for Broncos on Paxton Lynch MRI. I'm told it's a bone bruise. No tears. #4Broncos @cbsdenver

— Michael Spencer (@MichaelCBS4) August 27, 2017
With Lynch on the shelf, Vance Joseph will likely have to play undrafted rookie Kyle Sloter all four quarters in the preseason finale against Arizona on Thursday.
It also complicates what Joseph will have to do with the initial 53-man roster. He may be forced to carry three quarterbacks, as the timeline for Lynch's injury – at least for now – wouldn't warrant placing him on injured reserve.
If placed on injured reserve list, Lynch would not be eligible to return to football activities until Week 7 and could not play until Week 9.