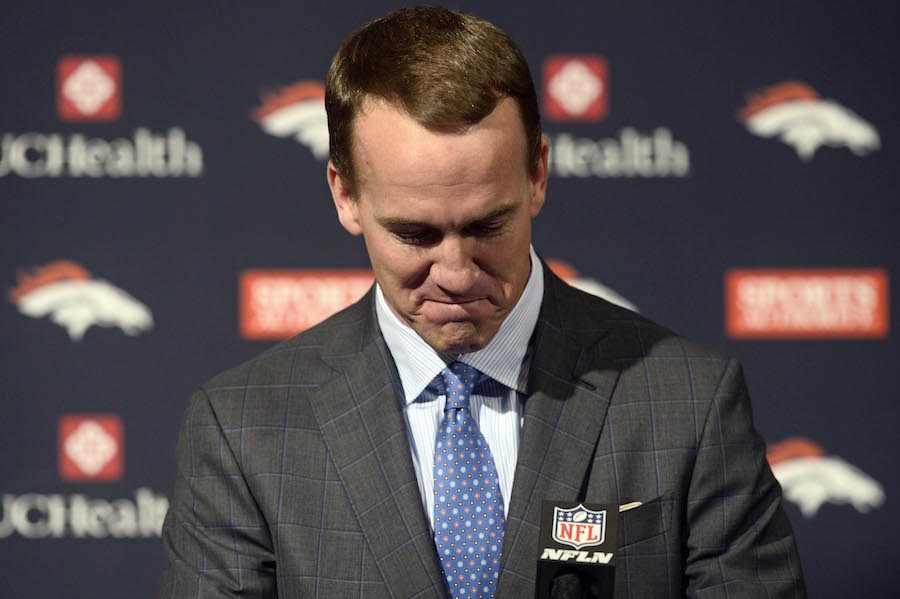 "History is written by the victors." – Winston Churchill
Peyton Manning is the victor. He's the ultimate winner, a champion Churchill would have admired, a leader that the city of Denver grew to love, a shining example that will be revered by generations to come.
And when history is written – about the NFL, about the Denver Broncos, about the man himself – it will be Manning who penned his own storybook ending. Like the speech he so eloquently delivered yesterday during his retirement ceremony, the chapter on Manning will be flawless, perfect and gracious in every way.
"Pundits will speculate that my effort and drive over the past 18 years were about mastery and working to master every aspect of the NFL game," Manning said through tears as he wrapped up what had to be one of the greatest retirement speeches in the history of employment. "Well, don't believe them. Because every moment, every drop of sweat, every bleary-eyed night of preparation, every note I took and every frame of film I watched was about one thing: Reverence for this game. When I look back on my NFL career, I'll know without a doubt that I gave everything I had to help my teams walk away with a win."
And so it will be. That's how we'll remember Manning – as a man who simply loved the game like no other.
I, like so many, did not truly know Peyton Manning. What we know of him is only what he wanted us to know, what we observed, what was written. The records, the wins, the championships – those speak for themselves. But the way he carried himself and the meticulous manner in which he delivered the message – almost daily – of exactly who he was and exactly what he stood for, is what will ultimately become the stuff of legend.
Sure, he had his detractors. Everyone at the very top does. No man is perfect and mistakes will be made. But as time fades, we will not remember those blemishes. The snarky remarks of Steelers running back DeAngelo Williams will be long forgotten, a petty footnote that will likely never surface again. The untimely question from a reporter asking about Manning's off-field issues will fade into a mere oddity, notes that will be dismissed and left on the cutting room floor.
"I think it is sad that some people don't understand the truth and the facts. I did not do what has been alleged, and I am not interested in re-litigating something that happened when I was 19 years old. Kind of like my daddy used to say when I was in trouble, 'I can't say it any plainer than that.' This is a joyous day. It's a special day.
"Like Forest Gump said: 'That's all I have to say about that.'"
End of story.
When Manning wasn't satisfied with an answer he gave to a member of the media – maybe he didn't say it quite right, or maybe he just could have said it better – he'd seek them out and personally and carefully tweak his remarks for the better.
When Manning was told he had to say goodbye to Indianapolis, a teary-eyed press conference he never wanted to have – "He wanted to end his career in one place," former Colts team president and general manager Bill Polian told me yesterday. "That was important to him and it wasn't meant to be" – he made sure that wasn't the way it would all go down. He found a new city, a new team and a new championship.
Even when Manning struggled as a Denver Bronco, when it looked like the end was finally near, he refined himself as a humbled leader, a man who – even in the waning moments of a Hall of Fame career – found a new appreciation for the practice squad player, the teammate who was looking on from the sideline instead of under center.
Unquestionably, he wrote a better ending than anyone could have ever imagined.
Polian, who wisely selected Manning (and not the then-popular Ryan Leaf) with the first pick of the 1998 draft compared two very emotional press conferences.
"Indianapolis was far more emotional than this, because he didn't want to leave," said Polian, who now works for ESPN.
But from Denver, Manning as he always has, delivered the perfect words at the perfect time – his time – on his own terms.
"I've seen a lot of [his emotions] behind closed doors, with his teammates and with us in the organization," Polian said. "But the public doesn't see much of that, and it was kind of good for them to see another side of him.
"He's now leaving something that he valued for 18 years – and much more than that, probably closer to 25 years when you take into account high school and college," Polian said. "And that will be tough for him. It was tough for him to get through it today.
"But today, it ended the way it should have – with applause."