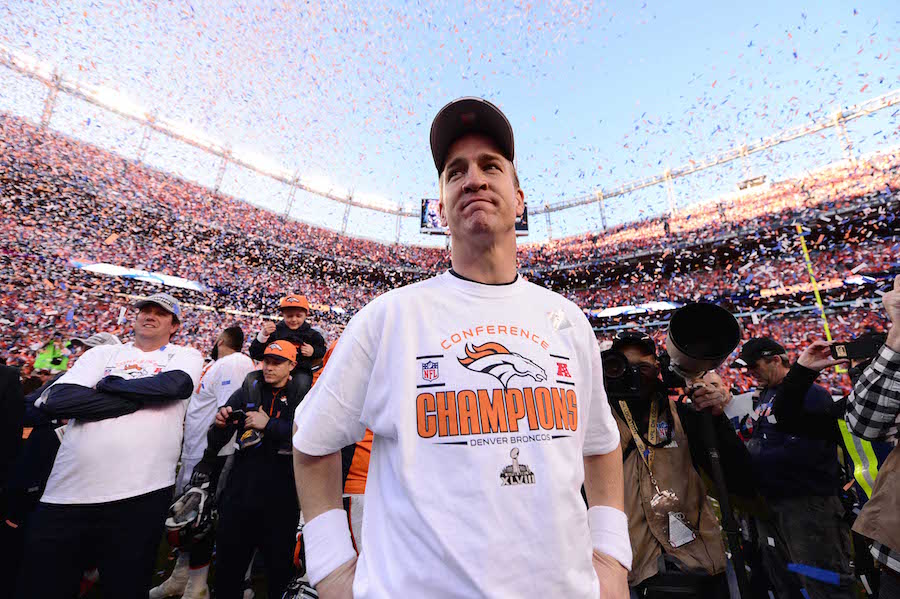 On Thursday, America will bow its collective head and give thanks, in some ways literally and in other ways figuratively, for the fact that we live in a country that enjoys so much freedom and prosperity that we can put much of the nation on pause and celebrate our many blessings with food and football.
For sports fans, including the loyal readers of Mile High Sports, Thanksgiving also represents a turning point. No, not the time when local radio stations flip to 24/7 holiday music. It's a turning point for both college and NFL football teams and their fans.
In the college ranks, some teams will turn the page to a conference championship (see Air Force), while others will flip their focus to a bowl game (Colorado State), and still others will start the search for answers to how they can join the ranks of those two prior groups (Colorado).
In the NFL, Thanksgiving marks the time when contenders must prove their true mettle – when the games are often bitterly cold, injuries have taken their toll and only those teams who were truly built to pursue a championship begin to come into form.
Here in Denver, that turning of the page this Thanksgiving has assumed a whole new meaning. The man who has been above the fold for the Denver Broncos for the past three-and-a-half seasons will be sidelined for the second straight week due to injury, while his team prepares to face the prohibitive favorite to win the AFC, not to mention the Lombardi Trophy.
The fact that Peyton Manning will be watching from the wings for what many thought could be one of the last "Manning-Brady" showdowns has Denver, and Broncos fans, facing an existential crisis.
Many fans and members of the media believe it's time to turn the page on Manning. They point to his nine touchdowns to 17 interceptions in nine games and a sputtering Broncos offense as a sign that the 18-year veteran simply doesn't have the physical capacity to lead an elite team anymore. They've championed career backup Brock Osweiler as a potential savior (I believe they're about a month too early on their holiday schedules) and are ready to shelve Manning, no matter how unceremonious a move that might be.
It's of no use to recount some of the callous things that have been said about Manning since the loss at Indianapolis or his four-interception performance against Kansas City. Those can be found in less than a minute on the web and across social media.
But before we are so hasty to throw Manning out like a picked-over turkey carcass, let's celebrate the spirit of Thanksgiving and take just a moment to pause and reflect on the veritable cornucopia of success the Denver Broncos have enjoyed during Manning's time in Denver. Thanks to Manning, our football table has overflowed these past three-plus years.
To Health & Longevity…
Manning's 57 consecutive regular-season starts (five postseason, for a total of 62) from 2012 to '15, is the longest such stretch in franchise history. John Elway, who had two streaks of 40-plus, maxed out at 47.
How's that for the health of a quarterback who many pundits said would never play another snap after undergoing four neck surgeries and missing the entire 2011 season?
Craig Morton is the only other quarterback to start for the Broncos at age 39. He started just three games, going 1-2 and throwing three interceptions to no touchdowns.
At age 38, Manning started all 16 games, throwing for 39 touchdowns to 15 interceptions. In their "38" years, Elway and Morton started 12 and 15, respectively. Elway threw for 22 and 10, while Morton went for 21 and 14. Manning made more than 200 more pass attempts as a 38-year-old than either Elway or Morton.
Talk about longevity; even at 39 and battling multiple injuries, Manning did not miss a snap this year until Week 10. In his final year, at 38, Elway missed Weeks 4, 5 and 11 and significant time in Week 10.
The rest of us wish were so healthy to withstand the rigors of playing in the NFL at that age.
To Prosperity…
During his tenure, Manning has compiled a 47-15 combined record in regular- and postseason games; that's a .758 winning percentage, good for best in franchise history among full-time starters. Elway, by comparison won at a .643 clip, going a combined 162-89-1. Jake Plummer, who previously held the title at .690, had a combined 40-18 regular- and postseason record.
Furthermore, Denver appears poised to make a fourth consecutive postseason with Manning as the starter of more than half the team's regular season games. Even John Elway cannot boast that claim. Morton, Elway and Plummer all capped out at three in a row.
And Manning's success is not contained solely within the vacuum of Broncos history. Denver's 38 regular-season wins during his first three seasons were the most in the NFL over that time.
For a team with 27 seasons above .500 since 1984, the Manning Era has been one of the most prosperous in franchise history.
For the Bounty We've Received…
Since signing with the Denver Broncos, Manning has accumulated numerous NFL records and awards. There are many others, but these are some of the highlights…
2015
Career quarterback wins (tie)
Career passing yards
2014
Career passing touchdowns
Career game-winning drives
2013
NFL MVP
Single-season passing yards
Single-season passing touchdowns
2012
Career fourth-quarter comebacks
What's more, Manning has claimed the following Denver Broncos accolades, through just three seasons and nine games…
Broncos career records
Only quarterback in franchise history with multiple 13-win seasons
Top passer rating and completion percentage
No. 2 in wins, passing yards, touchdown passes, fourth-quarter comebacks
Broncos single-season records
Most passing yards in a season (holds spots one (NFL record), two and three)
Most passing touchdowns in a season (holds spots one (NFL record), two and three)
Top completion percentage, minimum 100 attempts (holds spots one, two and four)
Top passer rating, minimum 100 attempts (holds spots one, two and four)
Disregard his entire career with Indianapolis and in fewer games than Morton and Plummer, Manning has firmly cemented himself as second only to Elway among the best Broncos quarterbacks ever.
For Our Freedom…
Following a domestic attack on an armed forces recruiting office, Manning created the Chattanooga Heroes Fund, which benefits the families of the service members and police officers who were killed or wounded in the July 2015 shootings.
There are not enough words in this column to appropriately describe the fund's origins and efforts. The ESPN 30 for 30 short, Chattanooga Strong, says it better than words here could describe, anyway.
For Charity & Goodwill…
Manning's charitable efforts are not confined to his wife's home of Chattanooga, Tenn. or his own home, New Orleans. His PeyBack Foundation, started in 1999 to promote the future success of disadvantaged youth, "has provided more than $10 million of impact to at risk youth through its grants and programs since its inception to Colorado, Indiana, Louisiana and Tennessee."
But don't think that Colorado gets the short end of the stick just because Peyton is a relative newcomer here. In 2015, the foundation provided funds to more than 70 Colorado-based organizations to the tune of $625,000. The three other states combined for just $376,000 in contributions from the foundation this year.
Manning is truly a blessed man, but he extends those blessings in ways few other athletes do.
We Offer Many Thanks 
These are just some of the many reasons Denver Broncos fans should be grateful and thankful for the time they've been able to call Peyton Manning their quarterback.
Whether or not he will add to the accomplishments outlined above is still yet to be seen. The NFL is a fickle business, after all. But even if we must turn the page to Brock Osweiler for good, we should pause and give thanks for what a wonderful story Manning has authored during his time in Denver.