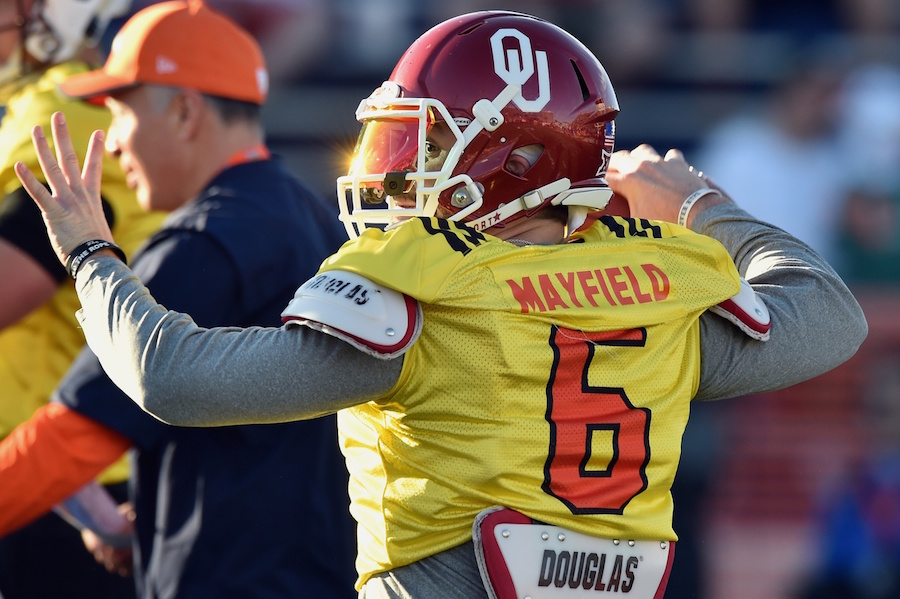 [tps_footer][/tps_footer]
The Denver Broncos are at a crossroads in their search for a franchise quarterback as free-agency creeps ever closer. Sign the proven — and expensive — Kirk Cousins? Try a middle-range player like Tyrod Taylor? Or go searching for the future in the NFL draft?
Each route has its pros and cons, and to help navigate them, Sam Monson of Pro Football Focus joined Eric Goodman and Les Shapiro of Mile High Sports AM 1340 | FM 104.7 to discuss the options that Denver fans have beenclosely following.
Monson was asked to play general manager and select who he believes is the best quarterback in the NFL draft with the top pick — and with no hesitation, Monson had his man.
"I think you have to take Baker Mayfield with that pick," Monson said.
"Everything you look at from his college tape says that Baker Mayfield is, head and shoulders, the best quarterback in this entire draft."
Monson also discussed the tools that other prospects have and how they stack up against Mayfield and says their high-end projection… may just be Baker Mayfield.
"Almost any way you slice numbers, you look at the performance, he's significantly better than any of these other guys," Monson said.
"There's a bunch of quarterbacks in this draft that have tools and have the physical ability. Their top-end play is the kind of stuff that you put it all together and you eliminate the bad, you may end up with a Baker Mayfield, or you can just take Baker Mayfield and accept the fact that he isn't a six-foot four quarterback and he is going to be an unconventional kind of a starter, but this guy looks like the best quarterback in the draft by a distance."
Click here to listen to the full interview with Sam Monson, including what he had to say about the other rookies in the draft class, as well as Kirk Cousins and his potential landing spot and more, or listen to the podcast below.
Catch Afternoon Drive with Goodman and Shapiro every weekday from 4p-6p on Mile High Sports AM 1340 | FM 104.7 or stream live any time for the best local coverage of Colorado sports from Denver's biggest sports talk lineup. Download the all-new free Mile High Sports Radio mobile app for Apple or Android.