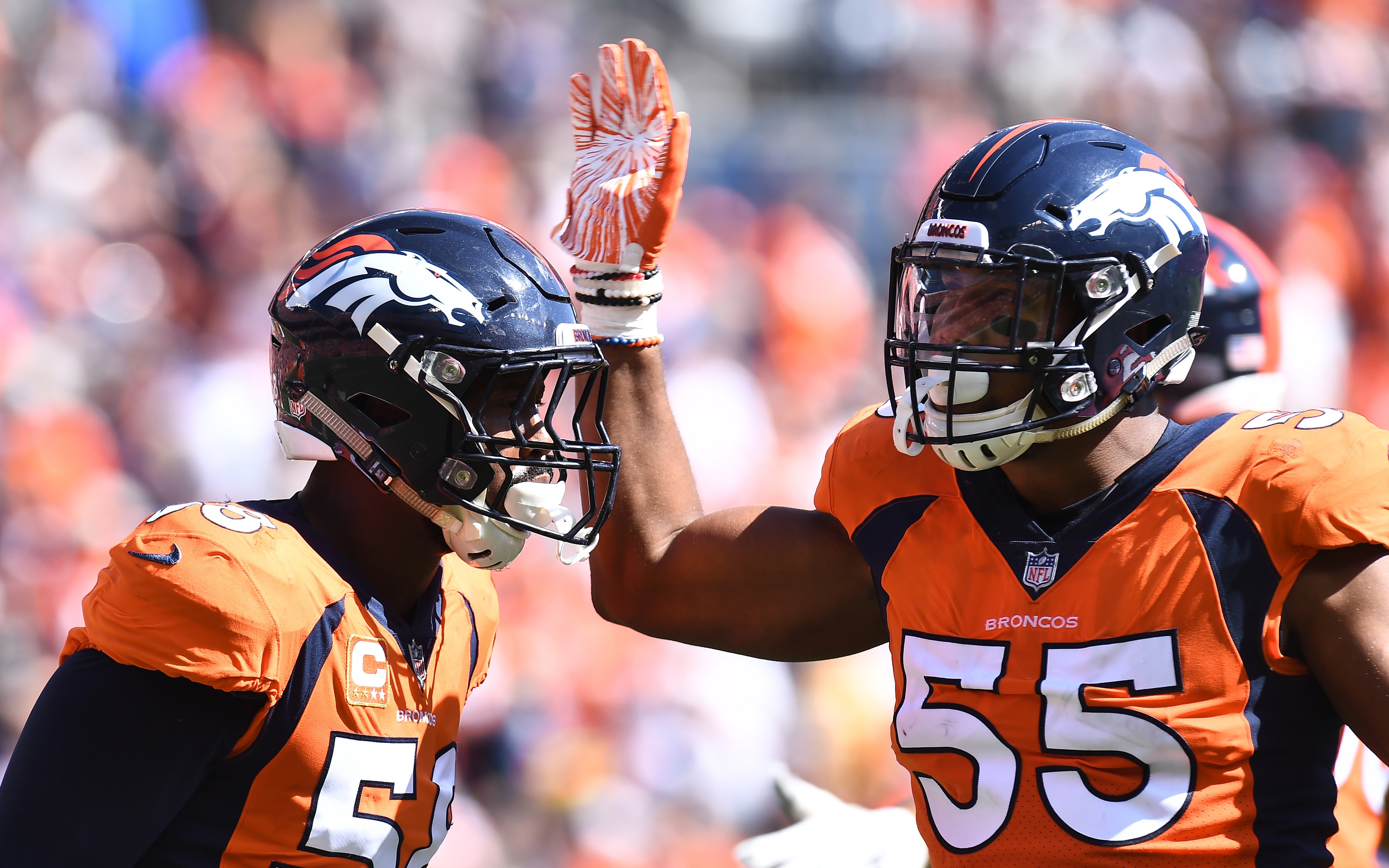 The Denver Broncos are lucky to have multiple rising stars in their midst.
On Tuesday, Von Miller, Bradley Chubb and Phillip Lindsay were all honored by the Pro Football Writers of America for their profound play during the 2018 season.
Chubb and Lindsay, two of the most remarkable rookies last year, were placed on the PFWA All-Rookie Team, while Miller was named All-NFL. For Miller, it's nothing new; he's racked up nearly every award there is win in the NFL. He's been Rookie of the year, a Super Bowl MVP, a three-time Player of the Month and three-time All-Pro. Now, Miller's also got the current streak of most All-NFL Awards by the PFWA, earning his fifth straight.
Von Miller was named PFWA All-NFL for the 5th-consecutive season, the longest current streak among active players, while Aaron Donald & Zack Martin were selected for the 4th-consecutive season. Bobby Wagner was named All-NFL for the 3rd-straight season.

— Pro Football Writers (@PFWAwriters) January 15, 2019
Even though it was his eighth season as a professional, there's no doubt Miller is still in the prime of his career. The 14.5 sacks he totaled were the second-most of that storied tenure in Denver, with 2012's 18.5-sack season being his best. Miller also picked off a pass for the first time since that second season in the league, and he recovered three fumbles as well. According to Pro Football Focus, his grade of 90.4 was tied for third-best in the NFL among edge rushers and his 64 pressures were tied for 10th-most.
The emergence of a second superstar pass rusher in Chubb didn't slow the "Vonster" down, it only helped him this year, it seems.
Speaking of Chubb, as Pro Football Focus points out here, his 56 pressures were nearly 30 percent more than the next closest rookie in Genard Avery (40). Chubb was the "two" in the Broncos' one-two punch in terms of sacks this year, with 12 on the season, finishing 2.5 behind the rookie record of Javon Kearse's 14.5 in 1999.
Congrats to @astronaut and @I_CU_boy for making the PFWA All-Rookie Team! #BroncosCountry pic.twitter.com/QhkGmwhqN6

— PFF DEN Broncos (@PFF_Broncos) January 15, 2019
Still, combined, Miller and Chubb's 26.5 sacks in 2018 were second-most for a duo, with Kansas City's Chris Jones and Dee Ford (28.5) edging out the Broncos edge rushers. Along with this 12 sacks, Chubb forced two fumbles and recovered one as well.
Then, on the flip side of the ball, Lindsay was an absolute diamond in the rough. Even though his rookie season came to an end early, Lindsay still finished with 1,037 rushing yards and nine touchdowns on the ground. He also caught the ball for another 241 yards and one more score, proving his versatility. Lindsay's 5.4 yards per carry were tied for second behind Aaron Jones of the Green Bay Packers (5.5).
But the shocking statistics don't end there for Lindsay. He was the first-ever undrafted rookie to make the Pro Bowl, and even though he can't play due to injury, the NFL is sending him there to be a correspondent. He was one of the fastest players in the league last year, with his 32-yard run against the Steelers topping out at 21.91 miles per hour, the fifth-fastest play in 2018.
And, as PFF pointed out in the graphic above, his 3.68 yards before contact were 24 percent better than the next-best in the aforementioned Jones. Part of what makes him so difficult to stop is not only his speed and vision — which are each top-notch — but Lindsay's fearless running style.
When a running back accepts the handoff and dances in the backfield, it allows the defense to react, fill holes and tackle the ball-carrier. The result can mean a loss of yards or, at the very least, the running back not gaining as many yards as possible on that particular play.
But, when a runner hits the hole full speed, like Lindsay does, it allows him to blow by the defensive line and sometimes even the linebackers before they know what hit them.
The accolades keep coming for Chubb and Lindsay; both were named to ESPN's All-Rookie team as well.
Maybe most exciting about those two rookies is they're only going to improve from here. Lindsay's numbers undoubtedly would have been bigger and better if he didn't get injured, missing the last game and a half, and Chubb's season both started and ended slowly (only 1.5 sacks in the first five and last three games combined).
Plus, Vic Fangio and Brandon Staley are looking to get even more out of their dynamic duo in 2019 and beyond.