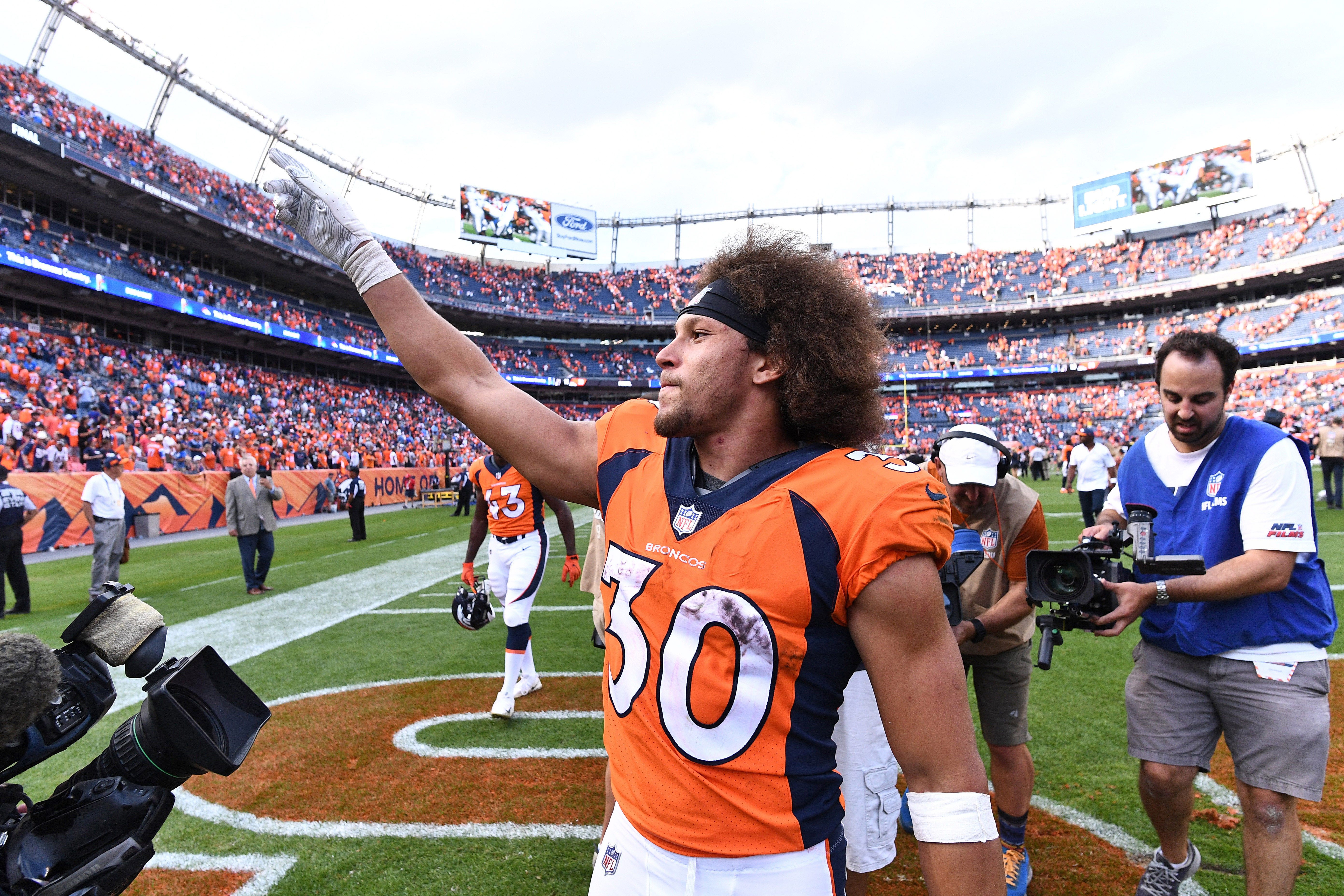 Phillip Lindsay is now light years beyond his exclusion from the 2018 NFL Draft Combine and going undrafted in the same year. Now, just two regular season games into the start of his NFL career, Lindsay is emerging as the Denver Broncos most dynamic running back and breaking records simultaneously.
Lindsay, who originally was not sure if he would make the Broncos 53-man roster, now looks like he could step into the starting running back role sooner rather than later.
Statistically speaking, Lindsay has already emerged as the most productive tailback on the Broncos roster. Through the first two games of the 2018 NFL season, Lindsay has accumulated 213 all-purpose yards — 178 yards on the ground and 35 yards through the air — and is averaging just over 6.5 yards per touch. Lindsay only trails Emmanuel Sanders (231) for total yards accumulated by a Broncos position player while leading all Denver running backs in carries (29), rushing yards (178), yards per carry (6.1), and receiving yards (35). Just as a cherry on the top, he is also the very first undrafted free agent in NFL history to accumulate 100 yards or more from scrimmage in the first two games of his career and he leads all rookie running backs in rushing yards. Oh, and Lindsay has accomplished all of that while playing an integral role on special teams and filling whatever gap that head coach Vance Joseph may need.
It is Lindsay's diverse skill set that has allowed him to climb the ranks on the Broncos depth chart so rapidly. Lindsay's play — from OTAs all the way through the second regular season game of the 2018 season — has forced the Broncos coaching staff to continue to integrate more and more into their game-day plans.
"He is a good football player, not only as a running back, but as a guy who covers kicks for us and as a guy who catches the football for us," Broncos coach Vance Joseph said. "He's the total package football player. He's been really impressive."
While Lindsay's ascension has been a spectacular story, he does not see it that way. If you ask him, he is just playing football in the same way he did at South High School in Denver and at the University of Colorado. Lindsay is just happy that he gets to continue playing football and that he is able to play for the team that he idolized his entire childhood.
"Just playing football for my team," Lindsay told The Denver Post after being told of his record-breaking day. "It's just a great opportunity to be here. I can't thank Mr. Elway enough for letting me be a part of this organization."
Lindsay has been breaking down barriers with ease since he was brought in by the Broncos organization. Even when pressed about being the first undrafted player to have back-to-back 100-yard games, Lindsay continues to stay grounded and modest. At this juncture, Lindsay is still just happy to put on a Broncos uniform and he isn't focused on individual accolades.
"I don't think of things like that," Lindsay told The Denver Post after being asked about his record-breaking day. "For me, it's a great opportunity to go out there. I'm just happy that we got the 'W' and now it's on to the next (game)."
Now, the next challenge for Lindsay is earning the starting running back role. At this point, he is already forcing coaches to play him more than any other running back, but according to the Broncos depth chart prior to beating the Oakland Raiders, he was still listed as the third-string running back. Even with his current role, Lindsay played more snaps at running back (28) than either Devontae Booker (22) or Royce Freeman (16) against the Raiders.
The Broncos need Lindsay's versatility in their backfield, but it will be interesting how they fit him in. He could continue to play as a reserve who comes in to provide energy while still garnering the majority of plays at running back, but if he continues to produce at his current level, the Broncos coaching staff may be unable to keep him out of the starting group.
In Lindsay's mind, starting is not what is important. He just wants to help his beloved Broncos continue to win games in any way possible.
"I am here to be our spark player," Lindsay told Nicki Jhabvala of the Athletic. "I am here to make sure that I get my teammates going, whether it is on a punt, if it is on a kickoff or kickoff return, anything. I am going to do what I have to to get our team moving."