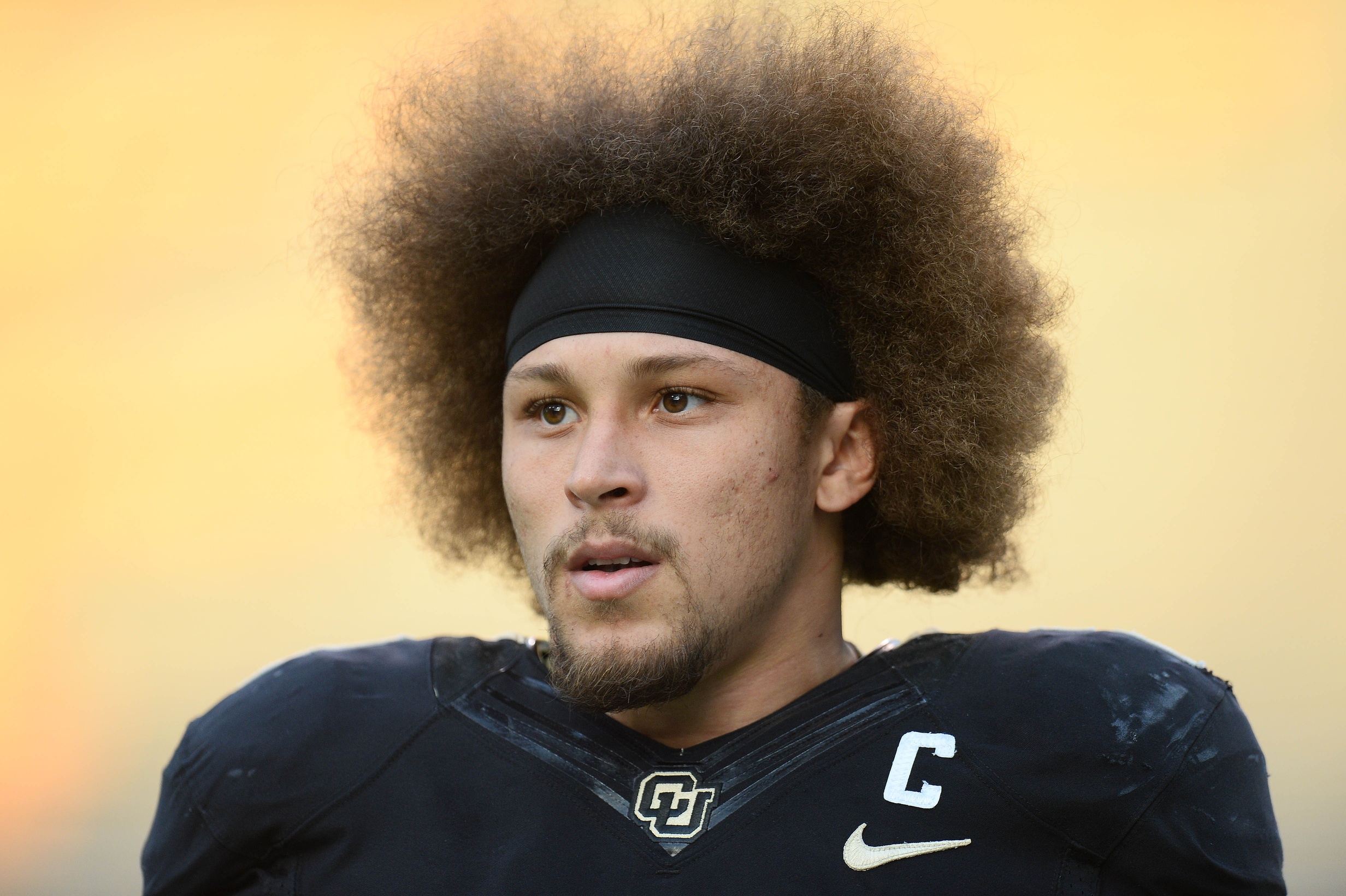 Last year, if you asked 100 different University of Colorado football fans who they believed would eventually win the Buffalo Heart Award for the 2017 season, they would have likely all had the same answer.
With that being said, there was little surprise when redshirt-senior tailback Phillip Lindsay was honored after Saturday's loss to the USC Trojans, 38-24. Lindsay, the Denver native,  was selected as the recipient of the 20th annual Buffalo Heart Award.
When Head Coach Mike MacIntyre was asked about what he will miss the most about Lindsay, he started off by saying, "do we have all night?"
"His unbelievable passion for the state of Colorado — the University of Colorado — his passion of playing for his family, his teammates and that inner drive is the best I have ever seen."
Colorado still hasn't beaten the Trojans. Not since joining the Pac-12, not ever. That did not stop the senior running back from being proud of his accomplishment.
"It was very special and it is an honor," Lindsay said after the loss. "I am happy that the fans think so highly of me and this is something I will be able to cherish for the rest of my life."
The Buffalo Heart Award was founded in 1998 by four friends: Pat Grimes, Craig Augustin, as well as Ashley and Thaddeus Cernac. That year, the Buffalo Heart Award was special to that specific group because it was the current wide receiver coach and the co-offensive coordinator, Darrin Chiaverini, who was the first to ever win the award. The founders admired the way Chiaverini played and wanted to honor the Buffalo who demonstrated grit, determination, and toughness. Like Chiavernini, senior running back Lindsay displays all of those characteristics.
Over his four-year career at the University of Colorado, Lindsay has a long list of accomplishments and his name is spattered all over the record books. He is already CU's all-time leader in all-purpose yards. On Saturday, he rushed for 68 yards which moved him into second place on the all-time University of Colorado rushing list, with 3,635 yards. In 2017, he has rushed for 1,402 yards with one game remaining. That total is already good for the fourth best single-season total in school history.
Lindsay feels his time in Boulder is where some of the best moments of his life have happened. "For me, when I'm done, I'll look back at everything and cherish every moment of it," Lindsay said.
You would be hard-pressed to find a better representative for not only the University, but the state of Colorado as well. He will certainly go down as one of the most beloved Buffaloes of all-time.
Buffalo Heart Award Winners
1998 Darrin Chiaverini, WR
1999 Mike Moschetti, QB
2000 Eric McCready, WR
2001 Cortlen Johnson, TB
2002 Tyler Brayton, DT
2003 Medford Moorer, FS
2004 Bobby Purify, TB
2005 Joel Klatt, QB
2006 Thaddaeus Washington, ILB
2007 Jordon Dizon, ILB
2008 Ryan Walters, FS
2009 Cha'pelle Brown, CB
2010 Cody Hawkins, QB
2011 Rodney Stewart, TB
2012 Will Pericak, DE
2013 Parker Orms, DB
2014 Greg Henderson, DB
2015 Nelson Spruce, WR
2016 Sefo Liufau, QB
2017 Phillip Lindsay, RB