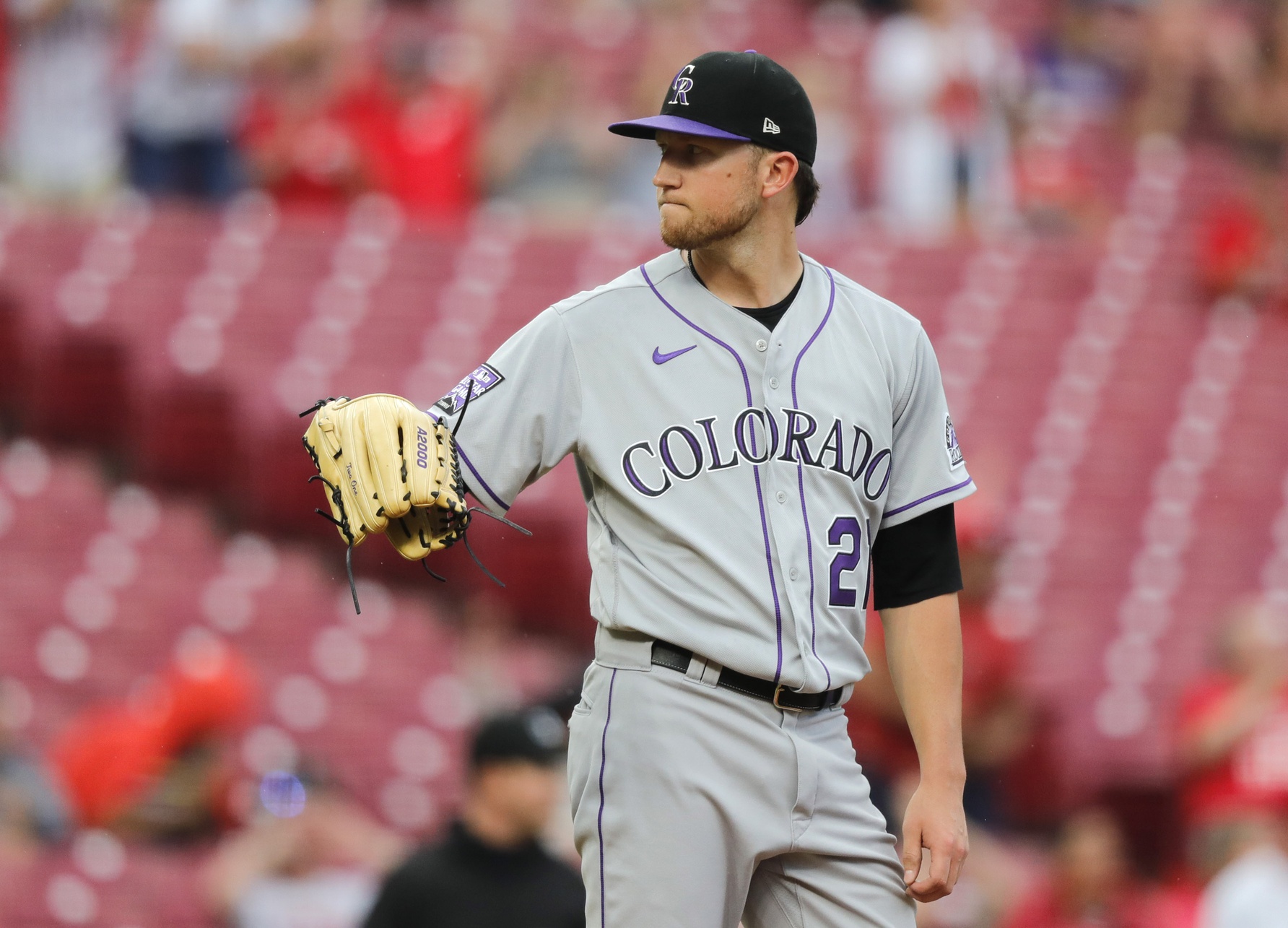 There really shouldn't be any surprises when it comes to the Colorado Rockies' performances on the road. Yet, somehow, their three-game sweep at the hands of the Cincinnati Reds proved that there are whole new ways for the Rockies to lose that they haven't already experienced thus far in 2021.
Colorado entered its three-game set in Cincy averaging 2.5 runs per game on the road, so their low scoring output—particularly on Saturday and Sunday, when they plated just five runs total—was to be expected. But after posting a 4.46 ERA—admittedly a mediocre number on its own—through 29 contests away from Coors Field, Rockies starting pitchers surrendered a staggering 21 runs in the three-game set against the Reds.
The struggle started off with Kyle Freeland allowing five homers in an 11-5 loss on Friday. Germán Márquez, who has been really good since the beginning of May, suffered a setback by giving up eight earned runs in five innings on Saturday in Colorado's 10-3 defeat. Antonio Senzatela struggled early but settled in during later innings in the finale, but he ran out of gas in the seventh and was saddled with five earned runs in six official innings of work as the Reds finished off the sweep with a 6-2 victory.
All told, the Rockies as a staff now have a 5.78 ERA on the road, a figure that is nearly a run and a half higher than their home ERA. Meanwhile, road hitting continues to be an issue; Colorado's OPS sits at .570 away from Coors Field, compared to .802 at home. All of that is the perfect elixir for a downright ugly 5-27 record in road games.
What went wrong
It's still early for him, but Freeland looks really bad. Great American Ball Park is not exactly a homer-suppressing venue, but the Reds hit five dingers off of Freeland and all of them had an exit velocity over 100 mph and expected batting averages of .590 or higher. In other words, they weren't cheapies. The good news about this most recent start is that Freeland, who has struggled to find the zone with any sort of consistency, maintained a 2-to-1 strike-to-ball ratio; the bad news, clearly, is that many of those strikes were not of the quality variety.
Through four starts, Freeland has a 9.00 ERA with exactly as many walks as strikeouts. His biggest issue has been the long ball; when he's able to limit it, he's good. When he's not, as has been the case this year and was the case throughout his exceptionally poor 2019 campaign, he's awful. His HR/FB rate won't stay north of 30 percent all season, but if he continues to show no ability to miss bats, it will likely still remain high enough to keep him from suppressing runs to the degree where he'll be anywhere near a league-average starter this season.
What went right
Raimel Tapia had a pair of two-hit games and seems to be awakening from his extended slumber. Tapia, in 26 games from May 4 through June 1, hit just .186/.252/.268. A change in approach might have been the culprit; Tapia exhibited some passiveness at the plate that, let's face it, just doesn't work for him. He's always been praised for his near-elite bat-to-ball skills, and even if he'll never be a consistently great offensive player because of that, it's what best suits his game.
So, over his last 10 contests, Tapia has not drawn a single walk but has 21 hits in 46 at-bats. The power isn't necessarily there and his BABIP of over .500 won't stick, but we know enough about him at this point to see that putting the ball in play is always going to be Tapia's strength as well as his best path toward success, on-base and slugging percentages be damned.
What's next
The Rockies head back home for seven against two of the best teams in the National League in the San Diego Padres and Milwaukee Brewers. The series against the Brewers, in particular, is somewhat fascinating in that Milwaukee has the best road record in the NL.