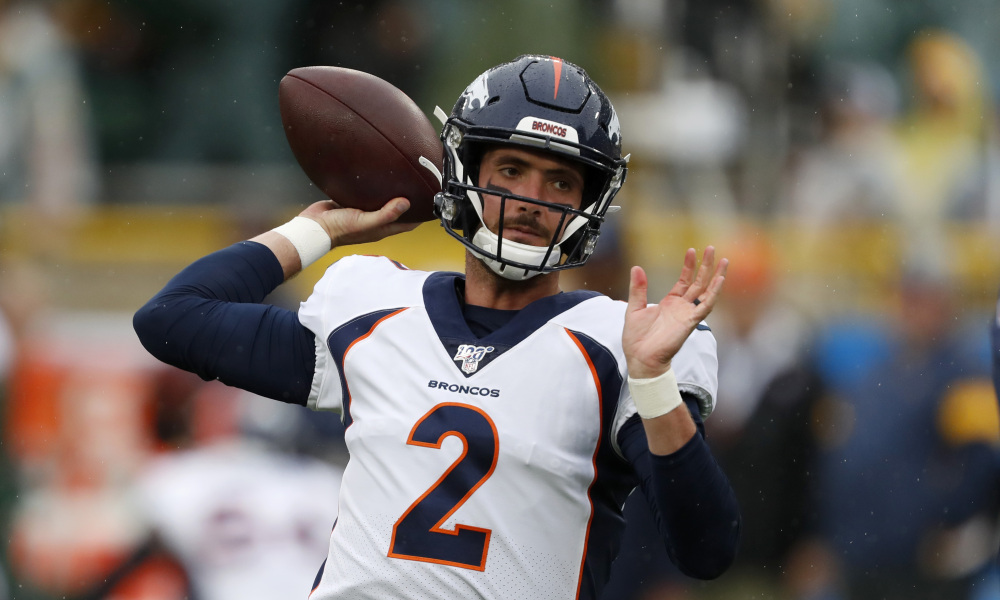 There's a new gunslinger in town, and his name is Brandon Allen.
The first time Broncos fans heard Allen's name may have come during Denver's fourth preseason game against the Los Angeles Rams back on August 24. In that game, Allen was 12-of-19 for 162 yards while playing quarterback for the Rams. Of course he was playing against the Broncos' second-string defense, but still looked good throwing the football nonetheless.
Fast forward a little more than two months later and Brandon Allen is your starting quarterback for the Broncos; he will be under center this Sunday when Denver hosts the Cleveland Browns. Allen has never taken a snap in an NFL game. How he and the Broncos' ended up in this situation is slightly complicated and needs some explaining.
On August 30, Allen was released from the Rams, as he did not make the final 53-man roster. Two days later on September 1, Denver claimed Allen off waivers. Rookie quarterback and second-round pick Drew Lock injured his thumb in the third preseason game on August 19, putting him on Injured Reserve. Denver brought in a couple of quarterbacks in Kevin Hogan and undrafted free agent Brett Rypien to compete for the backup spot, behind Joe Flacco, but leadership decided that bringing in another guy to backup Flacco would be the best course of action, so in came Allen.
Moreover, Allen served as Flacco's backup in the first eight games of the season, but got the nod to start in Week 9 on Monday when Flacco was diagnosed with a neck injury.
"This is the opportunity that everybody wants, everybody strives for," said Allen. "I'm going out to do the best I can do."
It is possible that the Broncos will be without Flacco for more than a month, and earlier this week, Allen discussed being thrust into the starting role. "We're feeling for Joe right now, but this is the opportunity you work for," said Allen. "I've learned a lot from him in the few, short weeks we've been together."
Although Allen may be a relatively unknown player to the causal NFL fan, his name is not anonymous in Arkansas. Allen was born in Fayetteville, Arkansas and attended Fayetteville High School. In his senior year at Fayetteville, Allen threw for 3,408 yards and 38 touchdowns.
Furthermore, Allen chose to stay home and attend the University of Arkansas. After redshirting his freshman year in 2011 and playing sparingly in 2012, he was named the starting quarterback for his sophomore year in 2013. Struggling a bit in his first year under center for the Razorbacks, Allen began to flourish in his junior year, throwing for 2,285 yards, 20 touchdowns and five interceptions. He followed up his junior year with a solid senior season in 2015, recording 3,440 passing yards, 30 touchdowns and eight interceptions.
As a result of his success on the college gridiron, Allen was selected by the Jacksonville Jaguars in the sixth round of the 2016 NFL Draft, later signing a 4-year, $2.48 million contract.
The Jaguars waived Allen on September 3, 2017 as part of their final roster cuts, but he was claimed the very next day by the Rams. During the 2017 season, Allen was inactive for each game and ended up being placed on injured reserve in late December. In September of 2018, the Rams elected to waive Allen, but then re-signed him to the practice squad the following day. He would remain with the Rams up until they released him this August.
Allen comes from a football background, as his father Bobby is the director of high school and NFL relations at the University of Arkansas. His younger brother, Austin, became the starting quarterback at Arkansas after Brandon and later signed with the Tampa Bay Buccaneers in 2018 as an undrafted free agent.
The Broncos believe Lock is not quite ready just yet, despite his thumb injury being cleared about two weeks ago. In fact, Lock has not even practiced with the team since training camp.
If Allen steps into the lead role and plays well right off the bat, who knows which direction Denver will decide to go in, regarding the quarterback of the future.
Allen's first NFL start and action for that matter is set to take place on Sunday at 2:25 p.m. MT as the 2-5 Cleveland Browns pay a visit to the Mile High City.