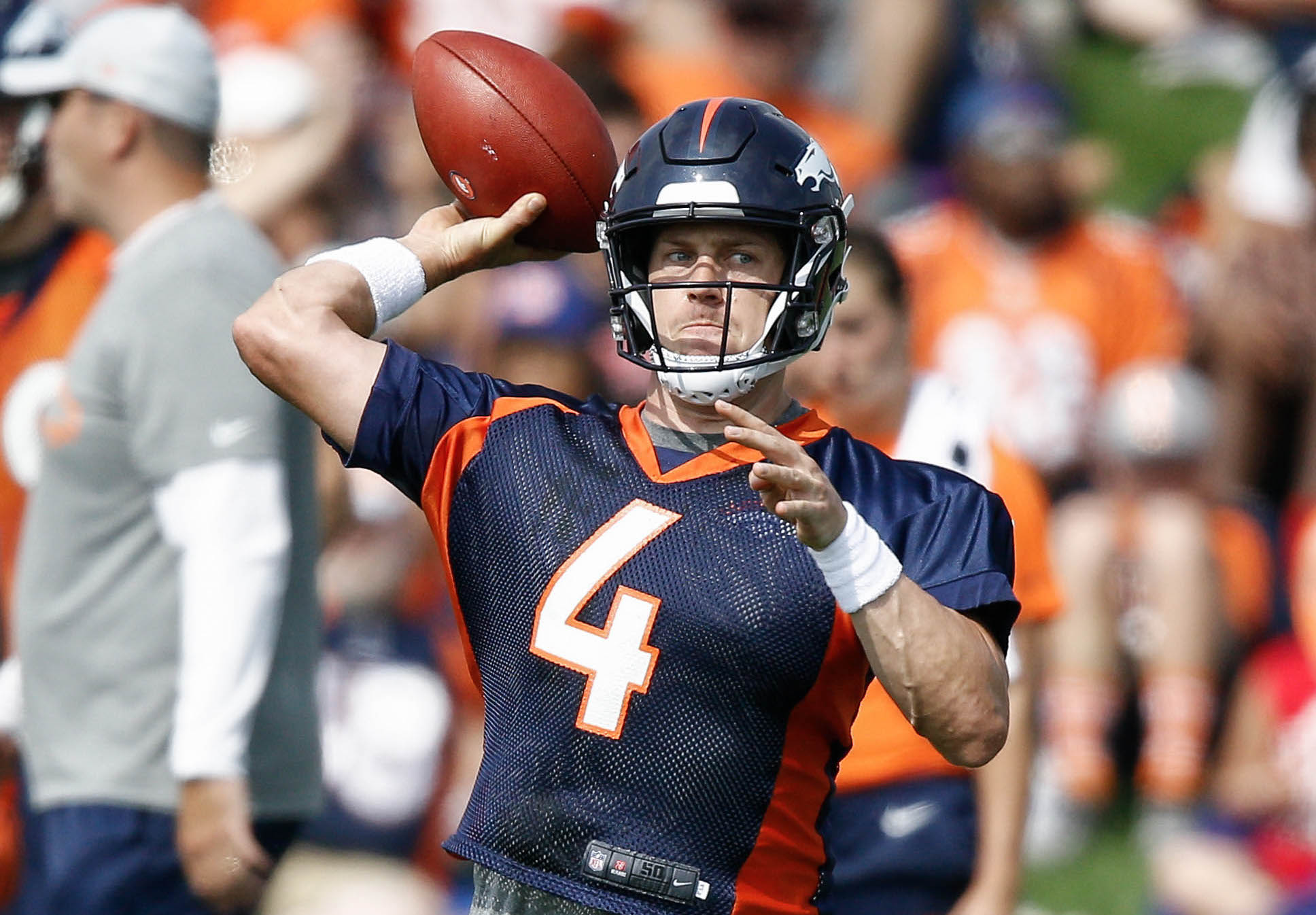 Many positions will be under close watch Saturday when the Denver Broncos play host to the Minnesota Vikings in the preseason opener.
Whether it be new quarterback Case Keenum launching his Broncos career against his former team, or one of the many rookies who have turned heads in camp like wide receiver Courtland Sutton, DaeSean Hamilton or undrafted free agent pick up and former Colorado Buffalo Phillip Lindsay.
The Mile High Sports radio team was polled on what they will be looking for in the Broncos first preseason game Saturday against the Vikings.
David Hurlbut – Host of The Morning Huddle. Weekdays 6-7am
The same positions I watched last year, quarterback and offensive line.  
Renaud Notaro – Co-host of Walsh and Notaro. Weekdays 2-4pm
I'll be watching their weaknesses from last year; offensive line, tight-end and quarterback.
Eric Goodman – Co-Host of Afternoon Drive with Goodman and Shapiro. Weekdays 4-6pm
Most people will be curious to see how the first team offense executes with Keenum. As for a specific player, all eyes will be on the rookies — specifically for me — it'll be Royce Freeman and will he challenge Devonte Booker for the starting job.
Les Shapiro – Co-Host of Afternoon Drive with Goodman and Shapiro. Weekdays 4-6pm
I'll focus on two things.
1) Bill Musgrave's play calling.  I want to see more passes to the running backs and tight ends.
2) I want to see how Jake Butt performs. If he's the read deal, this offense becomes exponentially better. During red zone drills at camp, he's been a popular target for Case Keenum. Because the Broncos were one of the worst red zone teams in the league last year, it's imperative that Butt produces.  
Ronnie K – Producer of Afternoon Drive with Goodman and Shapiro. Weekdays 4-6pm
Several battles and players I want to see take the starters job is where I'll be focused, including tight end (Jake Butt) running back (De'Angelo Henderson) and the return game (Phillip Lindsay.)
I'll closely watch the running backs and offensive line as it's impossible to dissect those units during training camp practices, but very possible during the games. Lastly, DeMarcus Walker. What was lost season in 2017, Walker is back where he's most comfortable playing in position from his college days and could provide a huge boost for the Broncos line in 2018.
Doug Ottewill – Managing Editor at Mile High Sports
There are only two players I'll be watching: Case Keenum and Paxton Lynch. I want to see if Keenum looks more like the "legit" quarterback everyone claims, or more like a slight upgrade over Trevor Siemian.
Preseason games don't show a lot – base defenses, limited pass rush, nothing creative on offense – but I think they reveal whether I guy throws bullets or balloons. The other player I want to see is Paxton Lynch. The narrative at camp was that he looked awful. Did he really take a step forward? I have my doubts, but the preseason game should reveal if Lynch made any gains this offseason or if he stands to be one of the biggest busts in franchise history.
Rich Kurtzman – Editor at Mile High Sports
With the starters getting so little time, I'll be focusing on the two rookie receivers for sure. Courtland Sutton is the camp darling already, and how does DaeSean Hamilton stack up?
Defensively, I'll be watching guys like Tramaine Brock, Isaac Yiadom and the depth at defensive line.
Logan Hesselius – Producer at Mile High Sports
I will be primarily focused on Philip Lindsay to see how the Broncos utilize him and where he can contribute the most to the team. I'll also be focused on whoever is returning punts.