This story originally appeared in Mile High Sports Magazine. Read the full digital edition.
What's the point of a point guard?
Even though basketball revolves around scoring, and even with the scoring prowess displayed by Prentiss Nixon, he knows his importance lies more in facilitating his teammates than filling up the hoop.
"I can score; that's not a problem," Nixon, the junior point guard and blossoming star of the Colorado State men's basketball team said after his team's first practice in early October. "Scoring is not my issue. But, playmaking is something I really focus on now."
Nixon took a giant leap forward last year, especially on the scoring end, but his junior year promises to be his best yet.
Before diving into what this season means for Nixon and the Rams, though, it's important to look backwards to fully appreciate his growth.
As a freshman, he forced his way onto the hardwood with pure grit and determination – diving over the scorer's table to save a ball while sacrificing his own body, and taking more charges than one can count – but he still wasn't comfortable on the court in Fort Collins.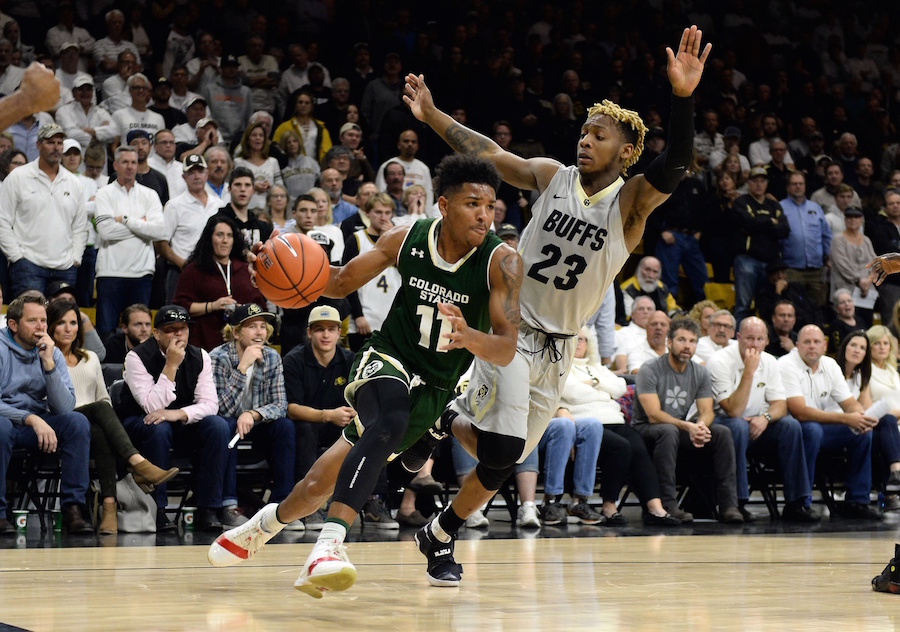 "My freshman year, times weren't always good," Nixon explained. "There were games I never played. There were games I played 30 minutes. And I eventually ended up starting at the end of the season. It just tells a lot about me and my story about how I persevered through any tough times."
That year, it was John Gillon running the point for Colorado State, a similar score-first, pass-second guard in his junior year who had all the pressure of handling the ball as well as leading a team put on his shoulders by head coach Larry Eustachy. 2015-16 was somewhat of a transitional season and the team struggled to keep themselves above the .500 mark, finishing 18-16.
Gillon – who bared the brunt of Eustachy's intense pressure on the Moby Arena hardwood almost every night – decided to leave for greener pastures, graduating and transferring to Syracuse of the ACC, thus opening the door for Nixon to take the reins for the Rams.
As CSU's starting point guard, Nixon wasn't just finding his footing as one of the team's most-important players; he was feeling out the new makeup of the team, as well. Early in the 2016-17 season, the Rams were lost on defense – the staple of Eustachy's teams over his 26-year coaching career – due to a great influx of talent and still-developing chemistry. The only consistent presence on the defensive end was Nixon, constantly jumping in front of charges and forcing turnovers back in the Rams' direction.
"I've been taking charges since a young age," Nixon said of the aspect of his defense he takes pride in most. "I know when someone's going to pick the ball up and keep going. I just, you know, take it in the chest. I played football, so contact is not a problem for me. It helps me."
Those charges are huge momentum swings in games, reversing a could-be score and not only giving CSU the ball back, but giving the opponent a personal foul, too.
CSU struggled on both ends of the court early last season, losing to lesser teams at times, but the stalwart Rams kept fighting, even through one of the most-noteworthy off-court seasons in CSU hoops history.
First, three of the Rams' key backups were declared academically ineligible, leaving the green and gold with seven players, eight when they allowed walk-on Juan Sabino II to join the squad. Then, there was the near postgame fight between Emmanuel Omogbo – the team's heart and soul – and New Mexico assistant coaches outside Moby in mid-January. As if that wasn't dramatic enough, the Fort Collins Coloradoan reported what was described as a "culture of fear" at CSU. While the school and Eustachy had already sought solutions including anger-management counseling, the story became national news.
Still, though all that drama, the Rams kept fighting, going on an improbable, sensational stretch run that included multiple buzzer-beaters, court-stormings, dancing by Eustachy with his team at center court and much more.
"My personal favorite moment was at SDSU," Nixon said, picking a moment from last season that wasn't about himself, but featured former Rams star Gian Clavell. "I was playing terrible. I had two points with 10 minutes to go in the second half. I couldn't buy a bucket. But, at the end of the day, Gian was cookin'; he was hot. We hadn't won a game at San Diego State in a long time. That game was huge for us. That really just sparked everything and got us going. Gian put up, what 38, with the game-winner? He put the team on his back."
Time and time again, Clavell carried the Rams to victory last year. They went 10-2 over their last 12 games to finish with 24 victories. The "Magnificent 7" won seven straight games during that stretch, including Nixon's buzzer-beating 3-pointer to knock off rival Wyoming, which was followed with a near sell-out crowd rushing the court to dance with the players.
It was that comeback against San Diego State – the first win there since 2003 – that lifted CSU's confidence and sent them on a remarkable run. They came one game short of winning the Mountain West in the regular season, losing to Nevada, and then, against all odds with only seven players, made it to the conference tournament championship game before again falling to Nevada.
"I think as a team and as a program we fell short, because the overall goal is to reach the NCAA Tournament and make a run there," Nixon said of reaching expectations last season. "I think, overall, we fell short from our overall goal, but we still succeeded. People picked us seventh [in the preseason poll]. They wrote us off, especially when we had seven guys, and people didn't really see us as a team that could do it.
"We exceeded other people's expectations overall, but for our own, we underachieved," Nixon explained with a fire in his eyes.
That expectation remains unchanged; Nixon wants to not only win the Mountain West, but make the NCAA Tournament.
"My expectations are to win a league championship, make the NCAA Tournament. And that's been my expectation since I was 17, 18 years old," Nixon said. "And last year, we came up short. This year, I think we have the pieces; we can win the league. It's going to be tough; it's going to be nights things don't go right, when things go wrong. But, as long as we rebound and defend, we'll be right up there with the best of them."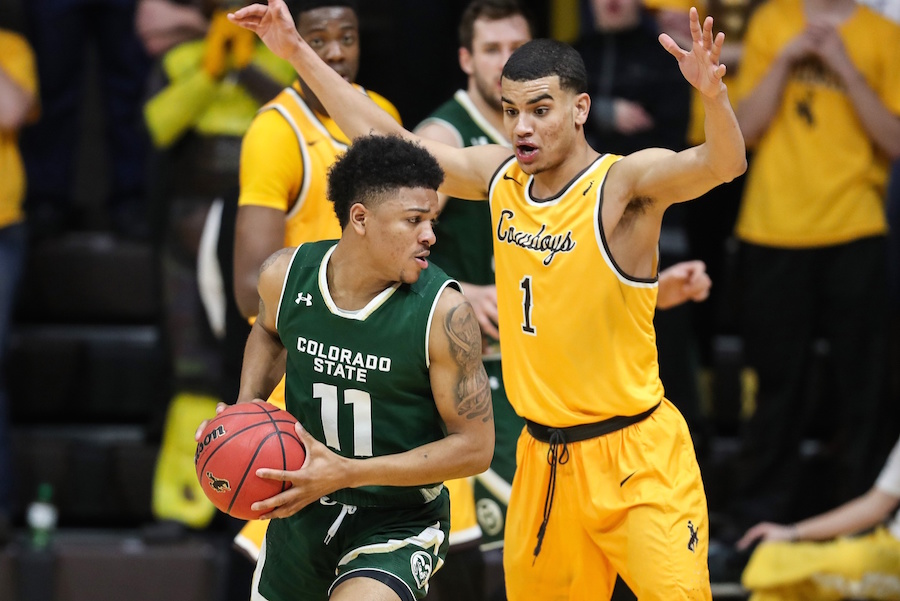 Defending and rebounding are the name of Eustachy's game, a winning formula that allows his players the freedom to do whatever they want on the offensive end as long as the effort is there when it matters most.
Remember, scoring isn't Nixon's problem. His point production soared from his rocky freshman year to his breakout sophomore campaign, going from 4.8 points to 13.2 points per game, developing a smooth outside jumper while using his quickness to drive the lane.
This year is all about getting others involved. Nixon said his personal goal is to average six assists per contest, which would triple his average last season. The others he must get involved include Nico Carvacho, the redshirt sophomore big man Nixon said was the second-best forward in the conference behind Nevada's Jordan Caroline. Another is newcomer Deion James, the reigning NJCAA Division II Player of the Year. Nixon said he learned James' favorite spots to shoot the rock during summer of workouts with one another.
"Prentiss can really defend," Eustachy said of his point guard. "Him and J.D. [Paige] are two really good defenders. Prentiss doesn't need to think he needs to be MVP of the league and pick up where Gian left off. He has to play to his strengths, and he's got a lot of strengths. Good spot-up shooter, sometimes he tries to do too much. It'll be our job to get him open looks."
Beyond putting the ball in the basket, beyond facilitating his teammates, there's a ton of pressure on Nixon to be the leader of this team in transition, too. Luckily for Nixon, his high school experiences in Bolingbrook, Ill. parallel his current situation.
"In high school, my career kind of went the same way," Nixon explained. "Freshman year, I even went down to JV a couple times. Sophomore year, I was starting. At the end of my sophomore year, I played with a senior who ended up going to SMU. He left. So, I kind of had to take on the leadership role my junior year. It's the same thing that happened here. Gian was the senior at the time and I was a sophomore. He left, and now it's my turn to step into that leadership role."
Nixon said Clavell – who was the vocal leader both in 2015-16 when he was injured as well as last season – helped mold him into a leader, by yelling at some teammates but talking calmly to others, keeping his teammates composed when Eustachy was screaming from the sidelines.
From his high-top hair to his short shorts and his old-school way of taking charges, Nixon is fun to watch on the court. His all-out effort – his mainstay – is what got him on the court in the first place. Now that he's the star of the team, that effort will likely become infectious, which should make Colorado State a tough team to deal with.
Eustachy gets it. When asked on the first day of fall practice about the FBI investigation of NCAA teams like Louisville, Eustachy joked, "We don't get those players here." He knows his system sometimes has to overcome the recruiting disadvantages teams like New Mexico, UNLV and San Diego State present.
So, he keeps pushing his underrated, under-offered players – like Nixon, who holds a chip on his shoulder after being overlooked by bigger schools like Kansas State – and implores them to give effort on defense, to dive on the court for loose balls, to claw and scratch their way to victory on a nightly basis.
That's perfect for Nixon, who literally sacrifices his body for the game he loves.
The professional Prentiss Nixon is ready to lead the Rams – both by example and verbally – he's willing to take on the brunt of Eustachy's tough love, he's primed to be the star at Colorado State for the next two seasons.
"I can help us take it to new heights," Nixon stated.
That's the true point of a point guard.