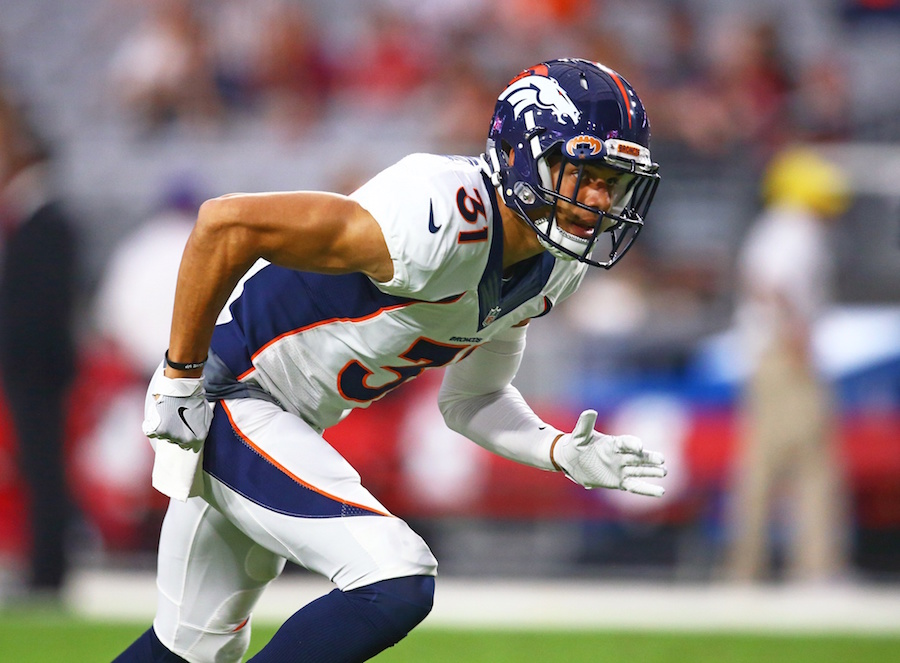 Justin Simmons has some big shoes to fill in his second year in the NFL.
Simmons was promoted to the Denver Broncos' starting strong safety after T.J. Ward, a Pro Bowl safety and one of the pioneers of the 'No Fly Zone,' was released on Saturday.
Simmons, whom the Broncos selected in the third round of the 2016 NFL draft, is tasked with creating a seamless transition from Ward to ensure that the NFL's top secondary continues to operate as such. Of course his new role comes with pressure, but he knows that's how the NFL operates.
"This league is pressure performance based so there's not a week of a game where you're going in whether you're a backup, a starter or whatever where it's not based off of pressure and performance," Simmons said on Monday. "That just comes with the game. As far as playing with the guys in the back end, that trickled in a little bit last year with those last few games and having a significant amount of playing time due to some injuries. That's going to kind of roll back into this season and it's been great."
Simmons started three of the 13 games he played in during his rookie season, logging 30 tackles, recorded a sack and two interceptions. He also started all four of the Broncos' preseason games in 2017 as Ward missed time with a hamstring injury. Simmons' body of work was enough to help ensure the personnel department that the transition away from Ward will be a smooth one, but he's also convinced his peers in the secondary as well.
"You see it," cornerback Aqib Talib said. "You see his production in OTAs. You see his production last year. He's a smart kid. It's not like we have to worry about him knowing his assignments or knowing what the other team is doing. He is professional. He is mature. He's married. He's going to go home and study like a vet. This should be an easy transition for him."
The support around him indicates that Simmons is certainly ready for his new role, but that doesn't mean that Ward's absence won't be missed, even by Simmons himself.
"T.J. is like an older brother to me, so it was hard," Simmons said of Ward. "It's the NFL, it's the way things go and it's a business unfortunately. Decisions were made, definitely didn't want to see him go, definitely wanted him to be here, just for my career as well. It's great to learn under guys like that, I mean talking about a three-time Pro Bowler who won a Super Bowl ring. Those types of things you could just continue to learn off of. Obviously, I'm very sad to see him go but with that came an opportunity. Now I have to step up and we're going to get a lot more snaps in, a lot more playing time which means a lot more opportunities to make big plays and help this defense out any way that I can."
For anyone concerned that the 'No Fly Zone' would end when Ward left, you can rest easy. According to Aqib Talib, Ward's absence doesn't change the name that Broncos' secondary lives by.
"Ain't nobody flying," Talib said. "They still can't fly. The name doesn't change. Bub (Ward) knows we love him. We're going to miss him."