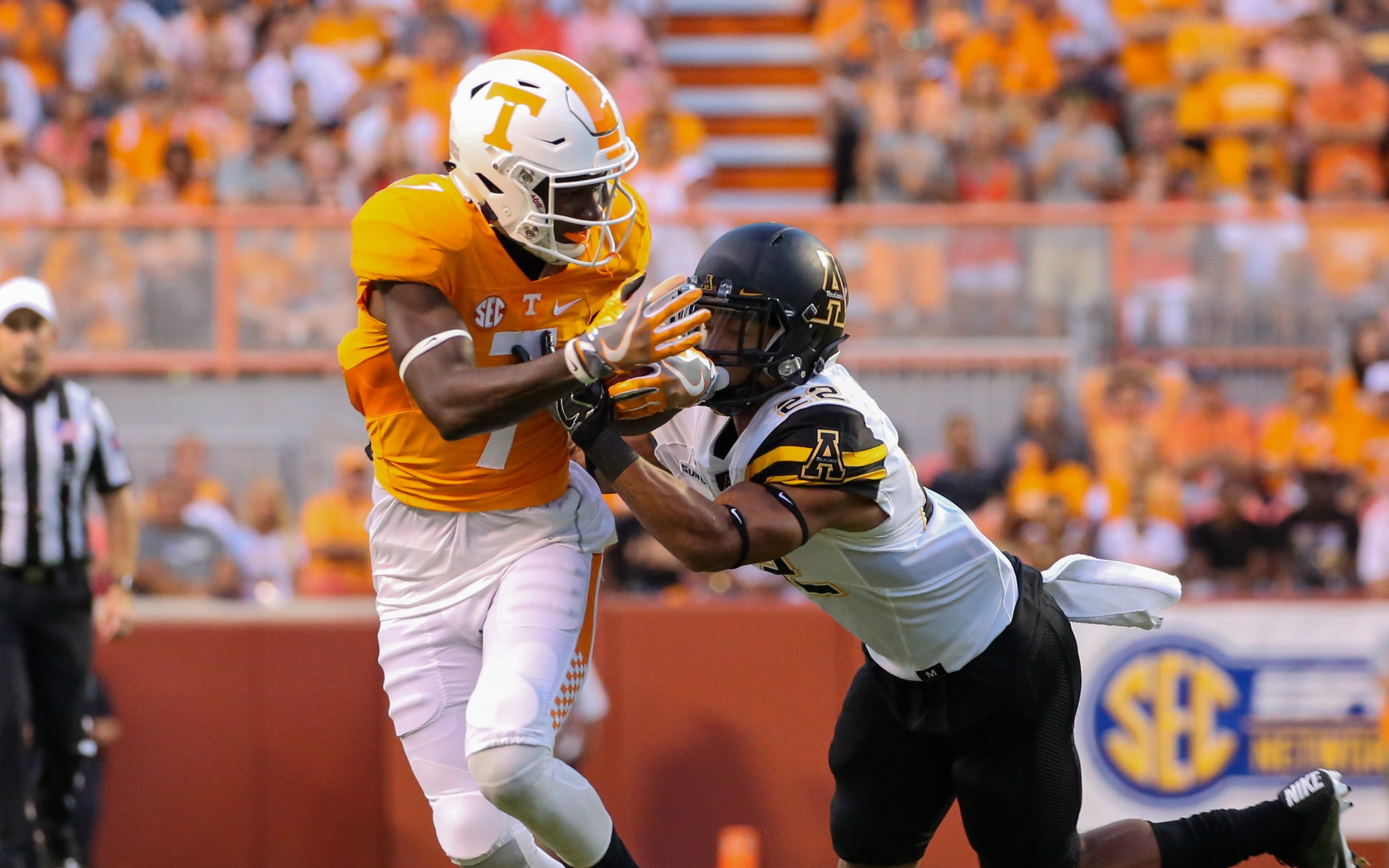 Are we experiencing "the legend" of Preston Williams?
Williams, who participated in 12 games over two years with the Tennessee Volunteers, transferred to Colorado State after the 2016 season and had to sit out the 2017 season due to NCAA transfer rules. And it looked like he was in line to play for the 2018 season, but that still remains up in the air.
Williams was also suspended from team activities during fall of 2017 due to a violation of team rules which has come out as a misdemeanor assault charge per the Coloradoan. Williams remains in conflict-resolution through the university, which may be why he's being held out of team activities.
"He's still suspended," Bobo said to reporters during Mountain West media days this week.
After Williams was suspended last fall, things seemed to be progressing in a positive way for the lanky, 6'4″ receiver as the Rams head coach said in February he would be cleared to practice during the spring session. Williams did practice during spring, but, was again held out, this time of the Green and Gold Game.
Williams was a five-star recruit coming out of Tennessee, and the only former five-star on the Rams roster. Not only does he possess otherworldly size — at 6'4″ and 210 pounds — but he's speedy as well, just coming up short in a race against Marvin Kinsey Jr. last year during summer.
COMPETE!!! Twitter decides. Who won? @KinseyMarvin or @ThResort pic.twitter.com/EY05UYrA41

— CSU FB Performance (@CSUFBstrength) June 29, 2017
With that deadly speed and size combination, there's potential for Williams to absolutely dominate smaller Mountain West defensive backs this fall. However, he's not even guaranteed to be a starter because of senior star Olabisi Johnson — who will start — and sophomore Warren Jackson coming alive in 2017.
When I asked receivers coach Alvis Whitted during the pre-spring practices press conference if this could be the deadliest trio of receivers in CSU history, he agreed saying, "It could be."
Without Williams, the Rams front line of receivers will still be deadly, but with Williams, they'd be nearly unstoppable. Of course, their effectiveness this fall will depend on who's throwing them the ball, and namely, if K.J. Carta-Samuels can bond with his pass-catchers in a hurry.
More Rams news:
Punter Ryan Stonehouse has been celebrated a lot lately. First, he was named to the preseason All-MW team by the media in Las Vegas. Then, this morning, he was also added to the Ray Guy Award watch list, which is annually award to the best punter in the nation. Last year, Stonehouse's 45.9 yard average per punt was fifth-best in the nation.
Also on a new watch list today is kicker Wyatt Bryan, on the Lou Groza Award list. Bryan went 15-18 on field goals last year, including going 2-2 on boots over 50 yards.
Rams fall camp kicks off Friday, July 27 and concludes Monday, Aug. 20.