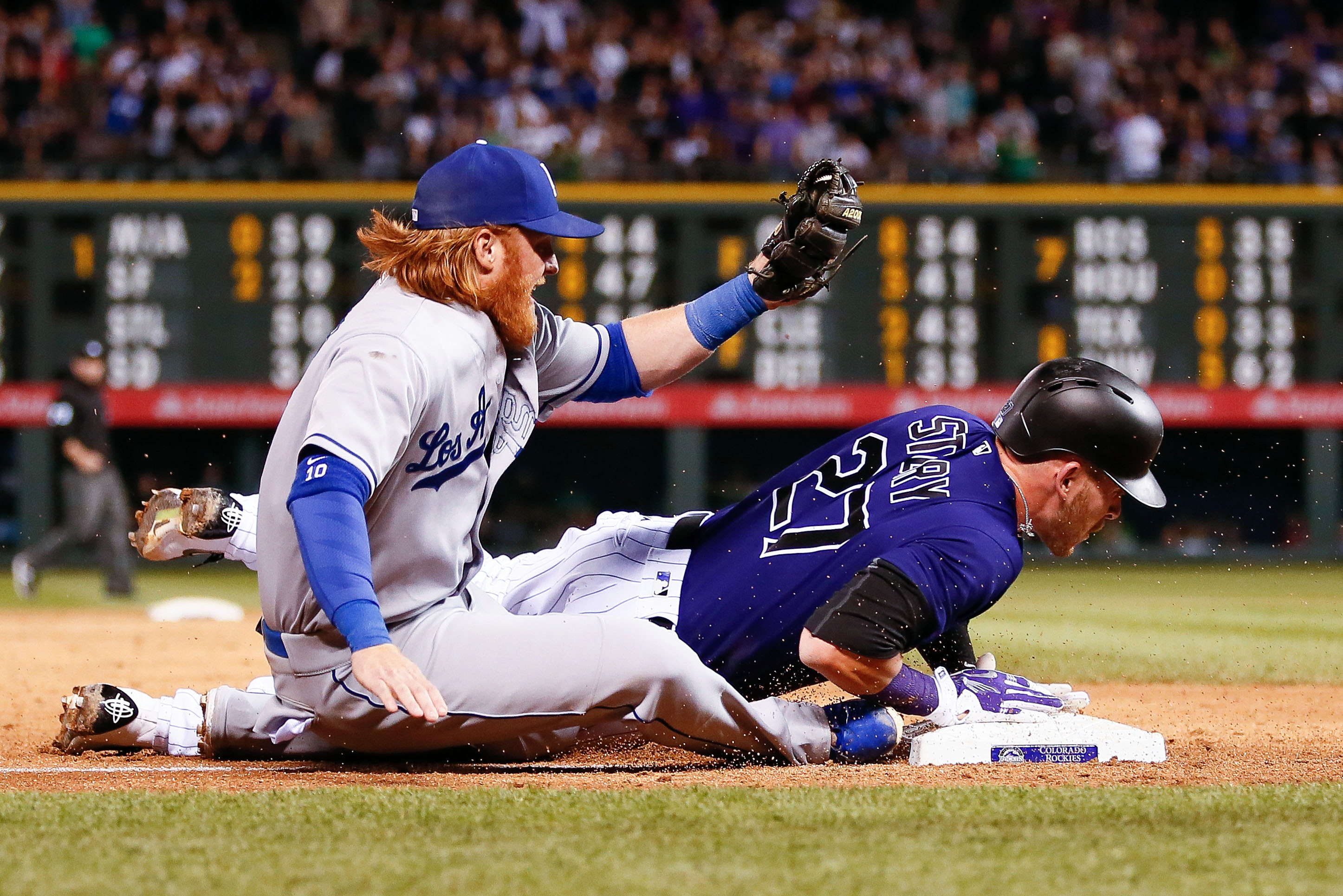 The Colorado Rockies (77-72) will host the Los Angeles Dodgers (76-64) for a three-game series at Coors Field the weekend.
Host Shawn Drotar (Host, "Mornings at 5280′") and guest Doug Ottewill (Editor-in-Chief, Mile High Sports Magazine) discuss the Rockies' monumental series with the visiting Dodgers — with first place in the NL West on the line. Click here to listen!
The series' pitching matchups will look like this:
Friday, Sept. 7 at 6:40 p.m. MT. Jon Gray (11-7, 4.70 ERA) vs. Clayton Kershaw (6-5, 2.40 ERA).
Gray is coming off of a strong outing in which he gave up two runs in six innings in a win over the Padres. Over Gray's last 10 starts, the Rockies have won nine games. The club will hope that trend continues Friday.
The Dodgers are just 2-3 over Kershaw's last five starts, but they have won three straight with the ace on the mound. Kershaw does not have as many wins as usual this season due to injuries and a lack of run support. Do not let this fool you though. Kershaw is having another strong season with 127 strikeouts in 131.1 innings pitched.
Saturday, Sept. 8 at 6:10 p.m. MT. Kyle Freeland (13-7, 2.96 ERA) vs. Walker Buehler (6-4, 2.92 ERA).
Freeland has been Colorado's rock in the rotation all season. The Denver native leads the team in ERA at Coors Field (2.27) and is undefeated in his last six starts. Overall, the Rockies are 11-1 in his last 12 starts.
Buehler has racked up the strikeouts with 22 in his last three starts. Unfortunately for the former Vanderbilt star, all three of those starts resulted in no decisions.
The Dodgers are 5-5 in Buehler's last 10 starts overall.
Sunday, Sept. 9 at 1:10 p.m. MT. Tyler Anderson (6-7, 4.80 ERA) vs. Alex Wood (8-6, 3.37 ERA).
It has been an up and down season for Anderson, but the club has really struggled as a whole with him on the mound. The Rockies are just 2-8 in Anderson's last 10 starts and a big reason why has been his tendency to give up runs in the first inning.
Wood has been solid for the Dodgers this season. Since June 16, Wood has made 13 starts and the left-handed pitcher has a record of 7-1 with a .239 ERA in this games.
Who's Hot:
Colorado:
Trevor Story has been red-hot at the plate in the month of September with 10 total hits, five home runs and 10 RBI in the first six days alone. So far this season, Story has 158 hits, 31 home runs, 95 RBI and 25 stolen bases.
Kyle Freeland has unquestionably been Colorado's best pitcher in 2018. Adam Ottavino has been solid in the bullpen, but Freeland's consistent presence at the top of the rotation has been key to Colorado's success this season. As stated above, the second-year starter is undefeated in his last six starts and the Rockies have a record of 11-1 in his last 12 starts.
D.J. LeMahieu already has a career-high 14 home runs this season and the veteran second baseman has especially come up clutch at the plate recently. In each of the Rockies' past two series wins, LeMahieu has hit a go-ahead home run in the seventh inning or later.
Los Angeles:
Clayton Kershaw has a 1.98 road ERA this season, with a spectacular 48-to-5 strikeout-to-walk ratio in 54.2 innings.
Matt Kemp's reputation as a Rockies-killer may be upheld this weekend; Kemp's hitting a robust .298 on the road this season with 21 extra-base hits.
Yasiel Puig may run hot and cold, but he's much better away from spacious Dodger Stadium. Puig's hitting .287 with 10 home runs on the road; much better than his .237 average and 5 homers at home.
Who's Not:
Colorado:
Tyler Anderson has really struggled on the mound this season, especially when it comes to giving up the long ball. Anderson leads the NL with 28 home runs given up this season, which matches his 2016 and 2017 totals combined.
Chris Iannetta only had 10 hits in the entire month of August and is two-of-six at the plate in the month on September. Iannetta heating up at the plate would be big for a team that has struggled with consistency issues at the plate.
Bryan Shaw was one of the signings that was supposed to help rebuild the bullpen this season, but Shaw has been a disaster all year. In 51 innings pitched, Shaw has a 6.31 ERA.
Los Angeles:
Kenley Jansen is recovering from an irregular heartbeat and won't pitch in the series. Jansen, one of the league's best closers, has 34 saves in 38 opportunities and sports a 2.89 ERA.
Kike Hernandez has hit only .125 in 10 games and 24 at-bats versus the Rockies this season.
Max Muncy's September hasn't started well. He's in a 2-for-12 (.167) slump… but both hits have been home runs.