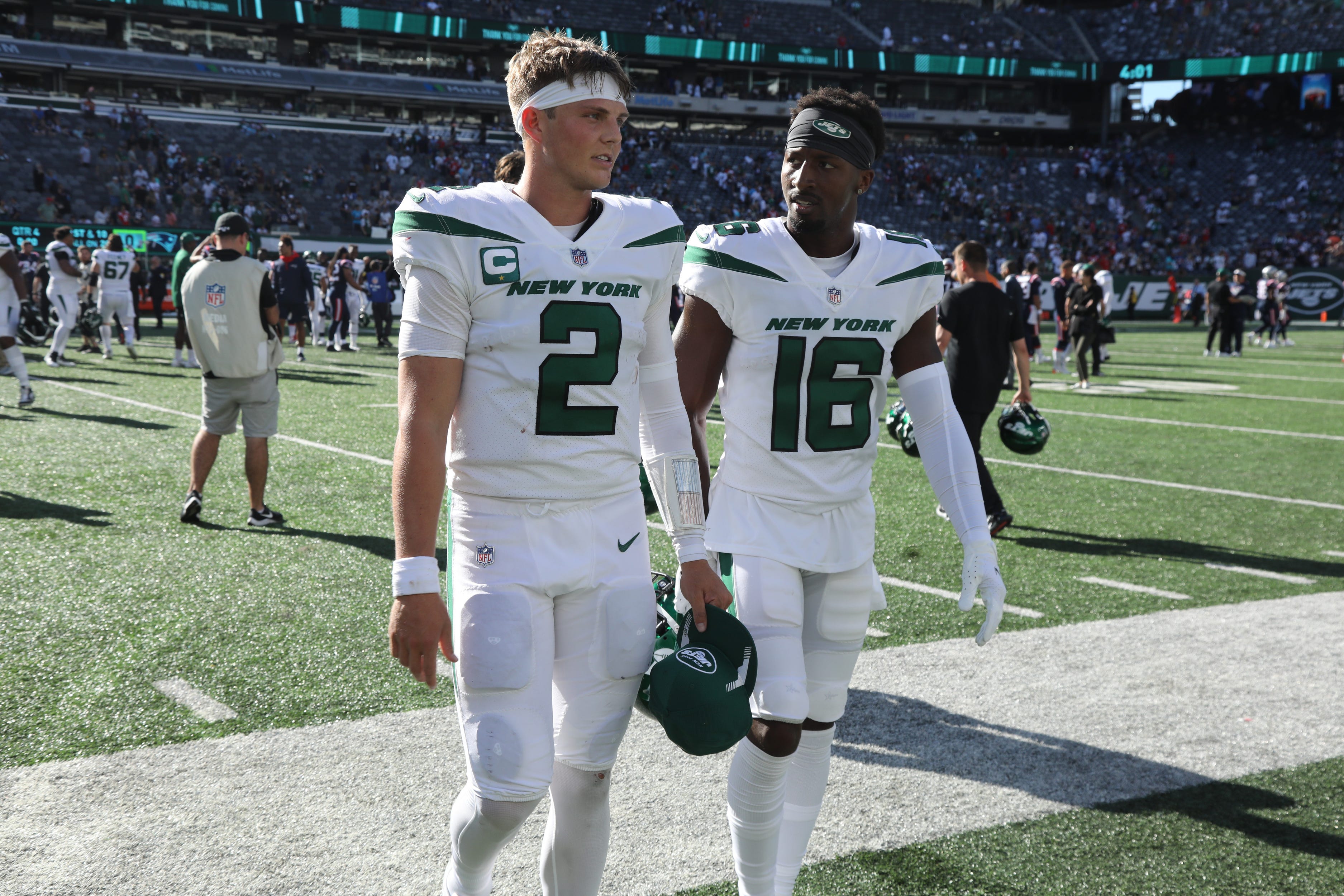 The Denver Broncos head into Week 3 of the NFL season looking to start the season with three straight wins for the first time since 2016.  
After two weeks on the road, the Broncos are finally back at Empower Field at Mile High and fans are flying high after two weeks of dominant performances by Denver. Last week Teddy Bridgewater continued to impress, while the second overall pick in the 2021 NFL Draft, Zach Wilson, was a hot mess. He finished the game against the New England Patriots with a dreadful 8.8 QBR.
With the Broncos (2-0 overall) currently listed as 10.5 point favorites, it's hard to concoct any rational reasoning for how the winless team can pull off the upset.  
Here's what the Broncos can expect from their Week 3 competition.
Jets on Offense
As of now, the Jets (0-2) currently rank 31st in scoring offense and 26th in overall offense. With just two total touchdowns through two weeks, there's not much the Jets have proven offensively.  
Wilson threw for two touchdowns in Week 1 against the Carolina Panthers but had zero in Week 2 against the Patriots. Meanwhile, Wilson's current interception count is more than double his touchdown count with five. He's been sacked already ten times this season.  
Like the game plan against Trevor Lawrence, the Broncos front will put so much pressure on Wilson that he'll make poor choices and force plays. It's borderline guaranteed that Von Miller will be adding to his already accomplished sack count.
The only receiver on the Jets to score a touchdown thus far is Corey Davis. He followed it up by being nowhere to be found in Week 2. Davis will be going up against rookie cornerback Patrick Surtain. In Week 1, Surtain allowed Sterling Shepard to score a 37-yard touchdown but redeemed himself in Week 2 with an impressive interception. Davis could prove to be a tough matchup for Surtain, but it also might be an opportunity to show why he was a top 10 draft pick.
The good news for the Jets is that their run game has been stronger than their pass game. With their pass game currently ranked at 32nd, they will most likely lean on their run game.
New York rushed for 152 yards last week. They've been using a committee backfield primarily consisting of Michael Carter and Ty Johnson. Last week Carter averaged 5.4 yards per carry and Johnson averaged 4.2. However, Denver is currently sitting at the fourth-best rushing defense in the league, so it will be difficult for the Jets to gain any momentum.
Jets on Defense
If there's anything the Jets can be proud of, it's their defense.  
They held Mac Jones to zero passing touchdowns last week. They are rated as the 9th in overall defense and tied for 10th in total scoring defense.
New York's best defensive player has been defensive end John Franklin-Myers. He had a sack in Week 1 and had an even more impressive sack in Week 2 that forced Jones to fumble the ball. Teddy Bridgewater has yet to turn the ball over. 
Even though the Jets allowed Damien Harris and James White to score a touchdown last week, they still held the team to only 101 total rushing yards.
Denver's run game, consisting primarily of Melvin Gordon and Javonte Williams, has been productive now ranked fifth overall in the league.  
If the Broncos get off to a big lead, they'll start to heavily run the ball. Although the Jets have shown they can slow running backs down, they're bound to tire out if the Broncos' offense forces them onto the field for a long time. 
The Jets' secondary has been surprisingly effective despite the two losses. Against the Patriots, cornerback Bryce Hall allowed one big play to Hunter Henry but gave up nothing else the rest of the game.
The Jets' other starting cornerback, Brandin Echols, has been very efficient at stopping receivers from gaining extra yards after the catch. He's allowed an average of only 7.6 yards per reception.  Denver's offense currently ranks 11th for YAC.
Last week, Courtland Sutton was the focal point of Denver's offense with nine total receptions and 159 yards. Bridgewater has been vocal about wanting to spread the ball around. With KJ Hamler being a completely non-factor last week, it'll be a surprise if he doesn't try to get him more involved this week. Despite how talented the Jets' secondary has proven to be, the Broncos' elite receiving core should be able to outplay them.
Final Score Prediction: 27-6