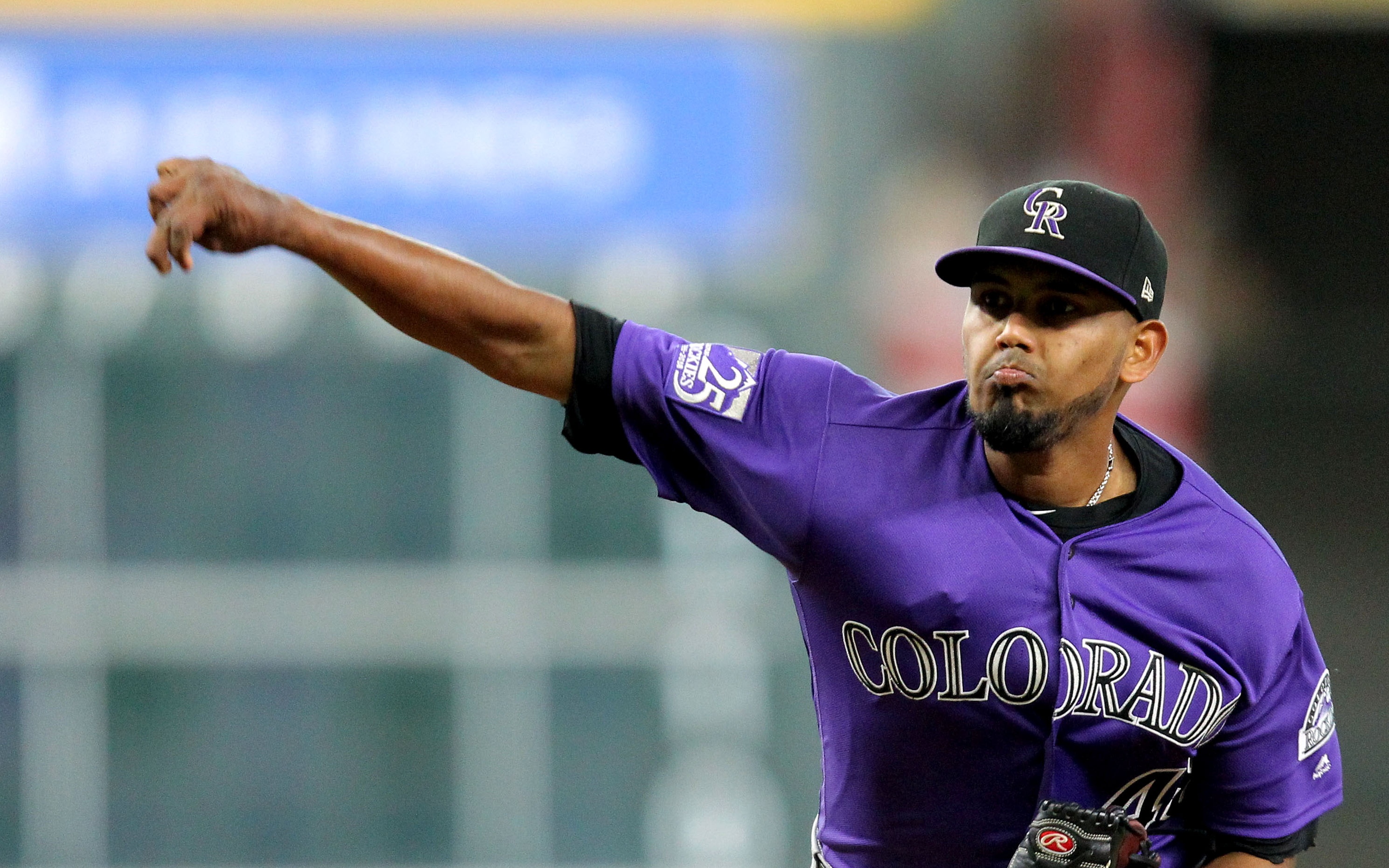 Heading into the 2019 season, the Colorado Rockies are riding a pitching high.
Last year, the Rockies posted the fourth-lowest Earned Run Average as a team in franchise history. The starting staff — five pitchers that started at least 20 games — enjoyed an ERA of 4.15.
In the upcoming season, all of the pitchers that pitched their way into the rotation last year will once again return, without a single notable starter set to hit free agency. Figuring out who's going to be part of the rotation is difficult prior to the conclusion of free agency, but here we go:
Ace: German Marquez
What better way to start the predictions than with a surprise?
German Marquez, part of the haul from the Tampa Bay Rays for former outfielder Corey Dickerson, has turned the corner. Set to be a Rockie until at least 2023, the team has found their ace of the future.
A first look at last year's numbers (3.77 ERA, 1.20 WHIP) is not going to blow anyone away. As a pitcher that pitches half his games at the hitter's haven that is Coors Field, they give cause for optimism, but the numbers are still merely average.
However, the impactful numbers came in the second half of the year in 2018.
After garnering a 4.81 ERA in his 19 starts in the first half of the year, Marquez was dominant. In 14 starts to end the regular season, the hurler registered a 2.61 ERA, as well as a WHIP of 1.00. The starts highlighted Marquez's strikeout prowess with a league-high 124.
The Rockies showed their hand when they chose to start Marquez in the National League West tiebreaker game against the Los Angeles Dodgers.
"He's one of the best pitchers in the National League, in my opinion, especially in the second half," Manager Bud Black said prior to the game.
2nd Spot: Kyle Freeland
A former Thomas Jefferson High School standout, Kyle Freeland has become a Rockies' darling in the past two seasons following his debut.
Despite a hometown pedigree, Freeland has earned the right to contend as the staff's ace.
In his two seasons as part of the starting rotation, Freeland has registered a 3.39 ERA with a 1.35 WHIP to boot. Last year was the true coming-out party for the southpaw, though.
Although he did not make the All-Star Game, Freeland was one of the NL's elite arms. He tallied the fifth-most innings in the NL, with an ERA that was lower than that of premier starters Zack Greinke, Corey Kluber and Gerrit Cole among others (2.85).
Unlike Marquez, Freeland did not see a spree of elite starts, instead, he was a consistent force atop the rotation for the season's entirety. Outside of a 4.24 ERA in the season's first month and a half, Freeland registered only one month with an ERA north of 3.00.
A lowered home run rate, meshed with a 1.5 raise in K/9 played a large role in the promotion to staff stalwart.
The fruits of his high school career in Colorado also came to fruition as Freeland actually totaled a lower ERA at home by nearly a full run, and a 10-2 record to show for it.
No matter the order, Marquez and Freeland will be atop the Rockies' rotation next year, the order is merely a formality.
3rd Spot: Tyler Anderson
The third spot and beyond is where things get interesting.
Tyler Anderson, after breaking into the league with a 3.54 ERA across 19 starts in 2016, has faltered in recent years. Despite his struggles, the second lefty in the Rockies rotation has shown flashes.
In his one postseason start last season, Anderson rattled off six innings, allowing a single earned run and striking out five. Furthermore, in five games he started in both July and September through October, Anderson posted an ERA of 2.16 and 3.25 respectively.
A key portion of Anderson's game that needs to improve before next season is his allowance of home runs. Baked into his 4.55 ERA last year was a league-leading total of round-trippers allowed (30) as well as a major league career-high 39.3-percent flyball tally.
Getting back to his 2017 mark groundball rate of 43.7, as opposed to his 36.7-percent mark last year would benefit him greatly.
The third spot seems just right for Anderson given his mark of third-most innings pitched last season, as well as being third-most effective with his innings. Having a lefty to split up the three-consecutive right-handed arms, though not a must, would be nice for the Rockies' staff as well.
4th Spot: Jon Gray
Once thought to be the future ace of the staff, Jon Gray has seen his career hit a crossroads.
In 2017, Gray posted a 3.67 ERA in only 110.1 innings due to an early-season foot fracture. After struggling to star following his injury, Gray registered an under 3.00 ERA from August onward.
Riding the momentum of a strong final stretch, Gray was slated to be the ace last season following his Opening Day nod. He went on to allow three runs in only four innings, beginning the lost season that was.
After sputtering to an ERA north of 5.00 in the first half, Gray was sent down to Triple-A Albuquerque. In a pair of starts for the Rockies' minor league affiliate, he tallied a 3.38 ERA with 13 Ks in 10.2 innings.
Following his inception back into the rotation in mid-July, it looked as though the former ace was back. Gray went 7.0+ innings in each of his four starts following the demotion, allowing two or fewer earned runs in each. Each start was an efficient sub-100 pitches.
In the final 2.5 months of the year, Gray's struggles returned, highlighted by his final five starts. In each, he failed to go more than four innings in all but one, allowing multiple earned runs in each, sans the one start north of four frames.
Which Gray the Rockies boast will likely determine their ability to garner playoff victories. Despite making the postseason in back-to-back years, the Rockies have failed to win more than one game.
If Gray can juxtapose his struggles, that fate could change.
Final Spot: Jeff Hoffman
A revolving door for a majority of franchise history, much like the rest of the league, the final spot of the Rockies' rotation is a wild card next year.
Names like Chad Bettis and Antonio Senzatela immediately come to mind, having each made double-digit starts last season. The pair is worthy of the final spot, but for the team to reach their ceiling, both would be better used in the bullpen.
Instead, Jeff Hoffman should take the final spot.
The key piece of the Troy Tulowitzki blockbuster, Hoffman has seen his reign in the Rocky Mountains fail to sustain. This year needs to be the year the Rockies allow the lanky right-hander to prove his worth.
Formerly a ninth-overall pick, Hoffman has posted a 5.88 ERA in his 23 major league starts for the club. The epitome of his struggles has come at home with a 7.43 ERA across 13 starts at Coors Field.
Not set to become a free agent till 2023 like Marquez, the franchise would be wise to allow him to prove his worth this year, dealing the righty elsewhere if he falters.
Hoffman entering the rotation would also allow the Rockies' bullpen to gain Bettis and Senzatela to bolster their long relief. With Adam Ottavino set to depart in free agency, allowing Chris Rusin or Yency Almonte to enter a setup role alongside Scott Oberg would benefit the club's bullpen prowess.
Hoffman, in five relief appearances last year, allowed six earned runs in 5.1 innings, signaling his preparedness in the pen is far from beneficial.
With the top four spots in the rotation all able to win a majority of their starts, utilizing the final spot as an audition for what was once thought to be a future ace could pay dividends.