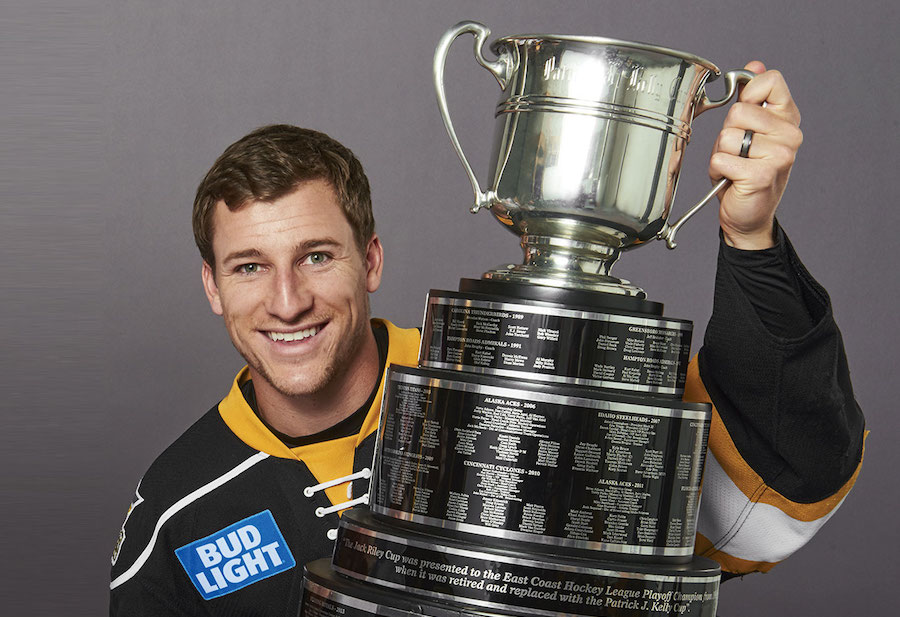 This story originally appeared in Mile High Sports Magazine. Read the full digital edition.
Doug Ottewill sat down with recently named Eagles' captain Matt Garbowsky to preview the 2017-18 season and look back on a championship season in Loveland.
Doug Ottewill: What seemed to "click" with you and the Eagles? You easily had the best year of your professional career last season – All-Star Game MVP, 80 points, you're a leader on a championship team. What worked?
Matt I think probably the main thing is team chemistry. It's hard to be a good player on your own. You have to have a good team around you and the team chemistry this year was unreal. We had a great team and we worked well together. It just kind of started from that and it just kind of got better and better I guess throughout the year.
Is that hard to find that with AHL or ECHL teams?
It is a little bit. There are certain years where [finding chemistry is tough] because you've got 20 or so different guys coming from different backgrounds. Not everybody is going love each other right away. Not everybody is going to be your best friend. Whereas, I felt like last year there was no one on the outside. Everyone just kind of gelled together and you just almost took it for granted. Every year is not going to be like that. It was just something special obviously.
You were red hot once it turned 2017. Why do you think that was? What got you into that kind of zone?
I think it was just a little bit of figuring out how to play pro hockey. I mean I played college hockey and there's obviously half as many games, so it's a bit more of a grind you could say. And it's just kind of figuring out how to prepare for that and resting your body and eating the right things like all that went into it and then I just felt a lot better this year I guess.
You were an excellent college player, a Hobey Baker finalist. Aside from the schedule, what's the biggest difference between college hockey and the pros?
It's just you're playing with men, basically. College is pretty similar, but it's just that step up. You have bigger guys and a little bit faster and all that. It's not a major jump, but it's just enough that you notice it and you have to get used to it.
What was better, getting named the ECHL All-Star Game MVP or the third-period hat trick? If someone had told you either one was going to happen last summer, would you have believed them?
It's tough to pick one or the other because the All-Star Game is just for fun; it's not too competitive but that was obviously a special experience. Becoming the MVP of the All-Star Game, that was really exciting, but at the same time the hat trick was pretty cool. I mean, all in one period and that happened so quick – it was pretty crazy too. That was definitely cool to look back on.
The life of a professional hockey player has got to be a grind. What have you learned so far in this journey?
For myself, I look at a lot of other guys and how they're successful. Other guys that I've played with or played against. You pick up small details of other people's games, or at least I try to, and kind of emulate that in my game and tweak it a bit. Once you find something that's working you just run with it for as long as it's working.
Any players you've specifically learned from?
Yeah, definitely. There are always some older players that you look to for advice, especially as one of the younger guys, new around the scene. Obviously, this past year we had a few guys like Sean Zimmerman and Darryl Bootland and Teigan Zahn – guys that have been around the league for a bit. Another major guy when I was in Rochester was Matt Ellis. He was a veteran there and he gave me a lot of tips, a lot of pointers, a lot of support when I was in and out of the lineup; so there are definitely guys like that.
What were some early challenges you faced in the pros?
It's definitely hard when you go from playing like maybe 20 minutes a game to sometimes five minutes a game. It's hard to keep yourself in the game when you're used to playing so much, but I think that's part of being a professional. When you're out there, you're going 100 percent and you're playing the game you want to play.
What was your impression of the Eagles organization?
They're definitely a first-class organization. They treat us really well with whatever we need. It doesn't matter really if it's on the ice or off the ice, and you really feel that support throughout the whole organization and throughout the whole staff for sure.
In talking to veterans around the AHL or ECHL, is that unusual?
I would say yeah, a little bit unusual. It kind of goes to show you, all the people who have played for the team that have come back and worked for them or stick around; it's almost like a big family. I think that helps move it forward.
What are your thoughts heading into the season and on defending the title?
Our goal is still going to be to win the championship, obviously, like every year. There will be a couple new faces and a couple returners and it's just going to be how we gel together and how we move forward with the new faces and just go from there.
Any personal goals?
Personally, I would [like to] at least have the same type of year as last year. Maybe be a point a game, and also try to focus on the little things like winning face offs and killing penalties.
Featured Image Credit: Randy Parietti Photography