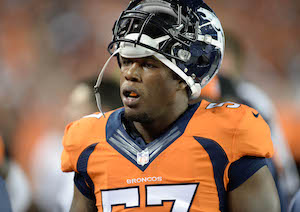 When news broke Sunday evening on social media about the death of former Broncos linebacker Adrian Robinson, his former teammates and organizations quickly took to the web to offer condolences.
#TUFB lost a friend, a brother, and wonderful young man today. Our thoughts and prayers are with the Robinson family. pic.twitter.com/9U0XpJf5Qn

— Temple Football (@Temple_FB) May 18, 2015
The #Broncos send condolences to the family and friends of Adrian Robinson (six games in Denver in 2013), who has passed away. He was 25.

— Denver Broncos (@Broncos) May 17, 2015
Robinson played six games for Denver in 2013 during Von Miller's drug policy suspension. He played two games for San Diego that same year and 12 games for Pittsburgh in 2012. He did not play in the NFL in 2014, but was signed to play for the Hamilton Tiger-Cats of the CFL in 2015.
Lost in the announcements from his agency and the Tiger-Cats and online activity showing support for Robinson's family were any details surrounding the 25-year-old's death.
TMZ Sports had reported he was killed in a shooting in his hometown of Harrisburg, Pennsylvania. A representative from Robinson's representative agency denied the claim.
The Denver Post reported on Monday afternoon that the Philadelphia medical examiner confirmed the death was a suicide by hanging.