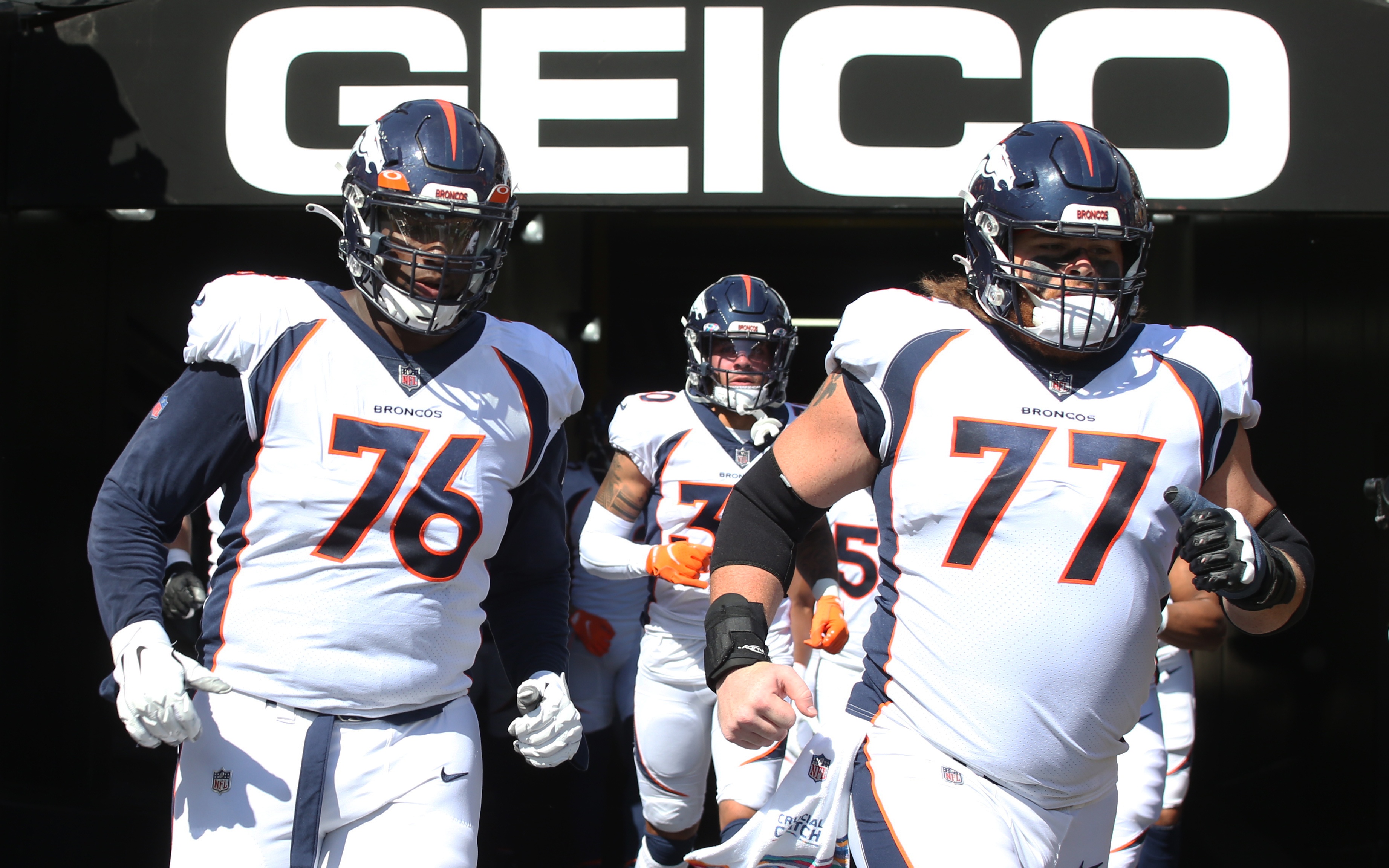 The Denver Broncos took a gamble by selecting Quinn Meinerz in the third year of last year's draft, out of the tiny University of Wisconsin-Whitewater, and they were rewarded for rolling the dice, as Meinerz quickly emerged as one of the team's best offensive linemen.
Despite a rock-solid rookie season, Meinerz still has plenty of room for development left in his game, and now, the Broncos are hoping Meinerz can take that next step towards dominance this offseason.
"I'm able to use a lot of the information and learning that I did throughout all of last year going into this next season," Meinerz said of how he's able to approach this offseason differently than he approached his rookie offseason. "So, I was able to use what didn't go well, what went right, what went well. It was basically reflecting on myself and what I need to do to get ready for year two and I've been able to kind of apply that through this offseason program."
Our own @Zach_Segars was at UCHealth's Healthy Swings charity event at Coors Field yesterday and scored this exclusive interview with Quinn Meinerz about how he's transitioning to the new offensive scheme and new coaching staff, and what giving back to the community means to him: pic.twitter.com/hJyz7cawrl

— Let's Talk Broncos Podcast (@TheLTBPodcast) June 8, 2022
One looming question that hasn't got enough attention in Broncos Country is, will there be any drop-off in the offensive line's play as they transition from the legendary Mike Munchak to new offensive line coach Butch Barry.
Once Munchak left Pittsburgh for Denver, the Steelers' offensive line quickly deteriorated to being one of the league's worst units, and they still haven't fully recovered. The Broncos will be attempting to avoid a similar fate this season.
Not only will Barry have to try and replace Munchak from an X's and O's perspective, but he'll also have to try and build strong relationships with the offensive lineman, as Munchak was able to cultivate.
"Each coach is different in their own ways, so I'm doing my best to learn from a new coach," Meinerz said on Tuesday, at UCHealth's Healthy Swings event, which raises money for the American Cancer Society. "Everyone coaches different, and I'm just building that relationship because obviously it is a new coach, and I think that's the first thing. You've gotta start building that relationship and that trust again."
While the line is still transitioning to the new staff, they're also having too shift to a zone-blocking scheme that asks them to be on the move a lot more. Thankfully, this shouldn't be much of an issue for Meinerz, who tested as one of the most elite athletes at offensive guard the combine has ever seen.
"I feel comfortable regardless," Meinerz said in regard to the scheme change. "Not to be an ego guy, but I feel like I'm athletic enough to play any type of system and, like I said, I lost a bunch of weight to get ready for this type of system. If there's another system that happens, and I've gotta gain a little weight, it's not that hard for me. I can do either or. I'm dedicated to this thing."
This was also the first time Meinerz was able to compete in the Healthy Swings event, as it had been canceled in previous years as a result of the COVID-19 Pandemic, and getting to participate in such an important charity event was meaningful for the second-year guard.
"Oh, I love it," Meinerz said of the event. "I love it so much. I always really enjoy giving back to the community, and now, being a part of the Broncos organization, there are so many opportunities, almost, at times, an overwhelming amount of opportunities to go out and show presence, show support. So it's awesome to be out here with UCHealth and [to be] supporting their efforts to donate money to the [American] Cancer Society."