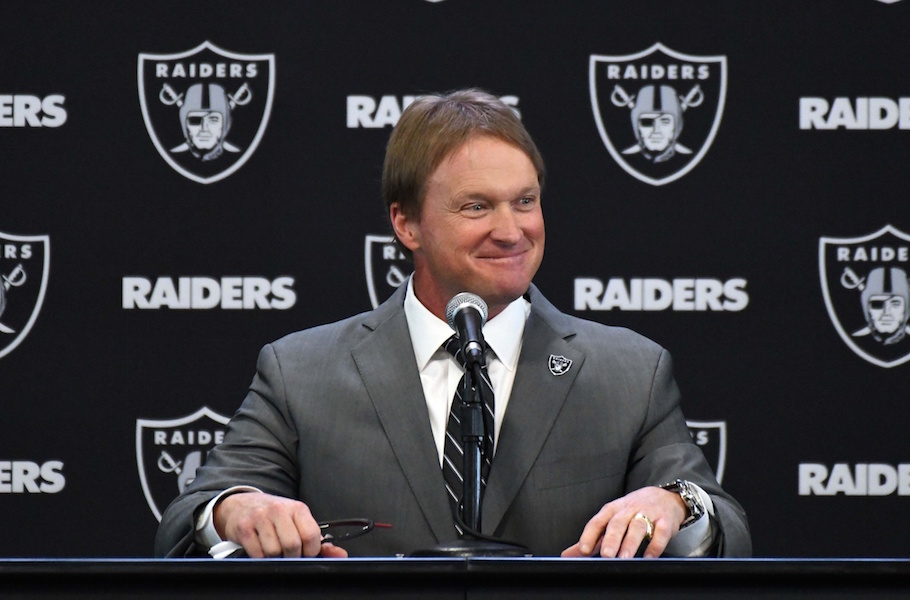 Michael Gehlken, the Raiders' beat writer for the Las Vegas Review-Journal, believes that head coach Jon Gruden had a major impact on the 2018 Raiders' draft class. Speaking with Eric Goodman and Les Shapiro of Mile High Sports AM 1340 | FM 104.7, Gehlken discussed the impact that Gruden had on his first draft with the Raiders.
"I think there's no doubt that Jon Gruden's fingerprints are all over the Raiders' 2018 draft class," Gehlken said. "I would take a step further and say that if you look at what the Raiders have done in free agency and the certain players that they added, there's a flavor to that as well." That said, Gehlken makes it clear that Gruden isn't the only one making decisions. "I don't want to say that Gruden has taken over things entirely, and that he's not listening to the people around him," Gehlken said. "There's a lot of players they've added with familiarity, with various coaches on their staff."
Reggie McKenzie has been the general manager of the Raiders since 2012, but now he's coordinating with Gruden. "I don't think that this is merely the Jon Gruden show. I think that he's listening to the people around him, and that includes Reggie McKenzie. But the days of us simply calling a Raiders draft Reggie McKenzie's draft? I think those days can be declared over."
Gehlken discusses the question marks around the Raiders and the pressure within the Raiders' front office.
"I think that there's kind of a running theme here with Jon Gruden and the Raiders," Gehlken said. "There's a lot of people in that building… with a lot to prove this year."
Click here to listen to the full interview with Michael Gehlken, including his thoughts on the 2018 Raiders draft as a whole.
Catch Afternoon Drive with Goodman and Shapiro every weekday from 4p-6p on Mile High Sports AM 1340 | FM 104.7 or stream live any time for the best local coverage of Colorado sports from Denver's biggest sports talk lineup. Download the all-new free Mile High Sports Radio mobile app forApple or Android.