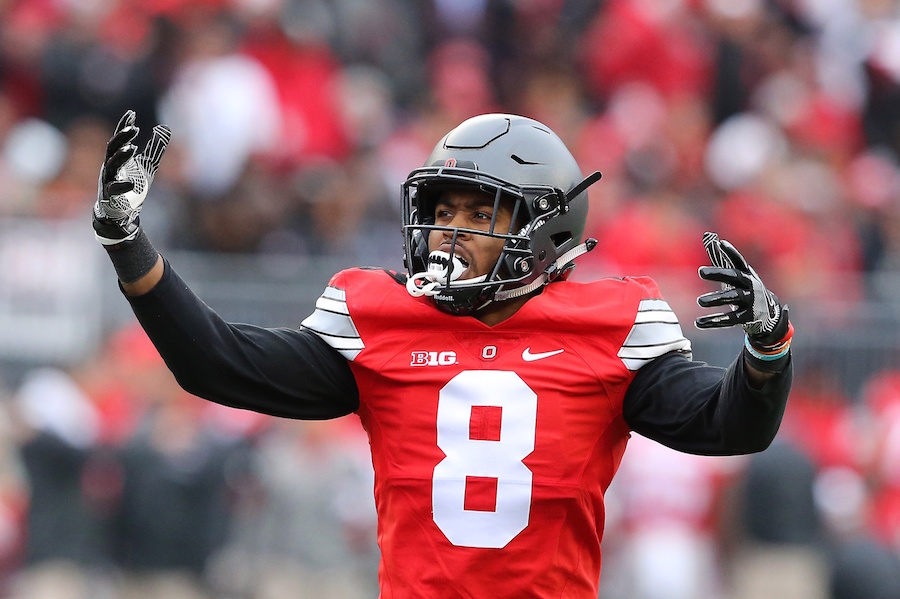 While the Broncos were adding reinforcements to the trenches on the offensive and defensive line in Garett Bolles and DeMarcus Walker in Rounds 1 and 2, the rest of the AFC West was out improving their rosters as well. The Raiders improved one of the few weak areas on their roster on Days 1 and 2, making picks to shore up their secondary.
Round 1 – No. 24 Overall
Gareon Conley
DB, Ohio State
Conley was part of a talented Ohio State secondary that saw two other players, Malik Hooker and Marshon Lattimore, get selected in the first round as well. Playing opposite Lattimore, Conley was second-team All-Big Ten last year with four interceptions and eight passes defended. If not for an alleged rape case that was made public just days before the draft, Conley might have been a top-15 pick.
The Raiders lost two starters from last year's team in cornerback D.J. Hayden and safety Nate Allen. That pair was part of a defensive backfield that yielded 4,120 yards, which ranked 24th in the NFL. With their departures, taking a young, if troubled, defensive back with the type of measurables Conley possesses is a no-brainer for Oakland. Depending on how his off-field situations plays out, the Raiders had a need that Conley fills nicely.
Round 2 – No. 56 Overall
Obi Melifonwu
S, UConn
The Raiders stayed committed to the defensive side of the football and continued to improve a struggling pass defense with the selection of Melifonwu in the second round of the draft. With Conley this year and safety Karl Joseph last season, Oakland is making a major commitment to shoring up its secondary. Melifonwu looks to be in the mold of strong safety enforcer who can fill the box as the eighth defender. As the Huskies' top tackler last season, Melifonwu totaled 118 tackles with four interceptions and three pass breakups.
Melifonwu has great speed for his size but is viewed as a bit of a "tweener" in that he may be a bit big for safety and too small to be a linebacker. Coming from a smaller school in UConn, which let him freelance more than he will be allowed to do in the pros, conforming to a pro-level defense will be a transition for him. Still, this was another solid pick by the Silver and Black to shore up one of its biggest weaknesses and capitalize on the pressure created by Kahlil Mack.
Despite taking some heat in his first few seasons, Reggie McKenzie has put together solid draft classes recently. It's hard to miss on a player like Mack, but McKenzie has found success in building the Raiders into a good football team with selections like Derek Carr and Amari Cooper. As much as Denver fans may not like it, this draft is already off to a good start for the Raiders.