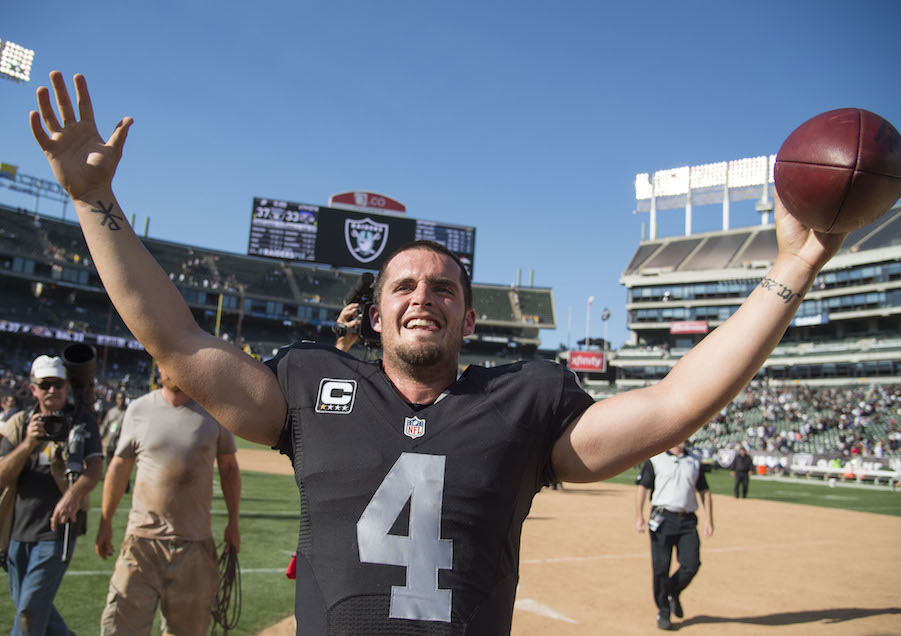 "Raider Week" is upon us, and with that comes the inevitable dialogue about the rivalry and the unfortunate fact that of late it has been hardly competitive.
The Broncos trail the Raiders 49-60-2 in their all-time meetings, but Denver has won the last seven consecutive contests after having lost four in a row from December 2009 until September 2011. Since that time, Denver has dominated.
In the Peyton Manning era, Denver is 6-0 against Oakland with a +137 scoring differential – that's an average margin of victory of 22.83 points.
But head coach Gary Kubiak remembers when the rivalry was much more fierce.
He recalls playing "just great games. I remember, going all the way back to the [L.A.] Coliseum, it was one of my few games that [John] Elway let me start. I can't remember what was wrong with him, but no, it's a great atmosphere. Obviously going to Oakland now, it's the same way. I haven't been there in a couple of years, but I always know what the rivalry has been about."
This year will have added significance for a lot of Broncos, as they face their former defensive coordinator Jack Del Rio, now the Raiders head coach.
Peyton Manning took thousands of practice reps against Del Rio's Denver defense, but says its quite different preparing for a game.
"When you play against a team in practice every day, but you don't necessarily game plan for them, I'm not sure how well you really know them while you're here," he said after Wednesday's practice. "You're always trying to use the defense that you're practicing against to get you ready for the teams that you're playing…"
Critics of Del Rio's "vanilla" defensive philosophy (play to get off the field), are chomping at the bit for Wade Phillips' unit to show the former DC what he had and failed to utilize.
The players, though, are looking at things with a little more political correctness.
When asked if he's looking forward to showing Del Rio the potential of the defense, cornerback Aqib Talib wouldn't stoke the fire.
"It doesn't really have anything to do with Jack. [Darian] Stew [Stewart] hasn't ever played with him. T.J. [Ward] and I have played with him for one year, so there isn't really that much there anyway."
Wide receiver Demaryius Thomas hinted that there will be somewhat an edge for the offense, having some familiarity with the old coordinator. He says he sees similarities between Oakland's defense and what Denver ran last year.
"Just different faces," he noted. "You've got two good edge guys, you've got a great safety in the middle of the field. We look forward to it."
But don't expect Oakland to be completely benign as Denver was often accused of being last year. Del Rio brought in Ken Norton Jr. – the linebackers coach for the Seahawks from 2010-14 – to serve as his defensive coordinator. Kubiak knows that an aggressive style followed. He expects to see a combination of philosophies on Sunday.
"It looks like a combination of Kenny [Norton] being there – Kenny coming from Seattle – Jack's aggressiveness and what they do. Obviously, two very good defensive minds there and you've got great edges … [They are] a very aggressive group. It will be tough for us, especially on the edges. We've got to hold up."
Denver's offensive line has improved with each game, allowing just three total sacks in the past two games (versus seven in the first two games combined) and the running game finally opened up for more than 100 yards last week.
As far as what Manning expect to see on Sunday, he says, "They're physical up front, they're getting to ball, doing a good job down in the red zone, doing a good job creating turnovers and you just see their team's speed showing up."
Though they are downplaying the rivalry and the matchup with Del Rio, the Broncos are hungry to make a statement and take control of the division.
As Thomas said, "It will be big for us to go in and get a win, especially there. Then the rest of the guys have to come here that we already played at their hometown. It's real big this week."
As of Wednesday night, Denver was a 4.5 point favorite. Based on the recent history of the rivalry, and Denver's added motivation (whatever it may be), that seems to be a conservative estimate by those wise guys in Las Vegas.