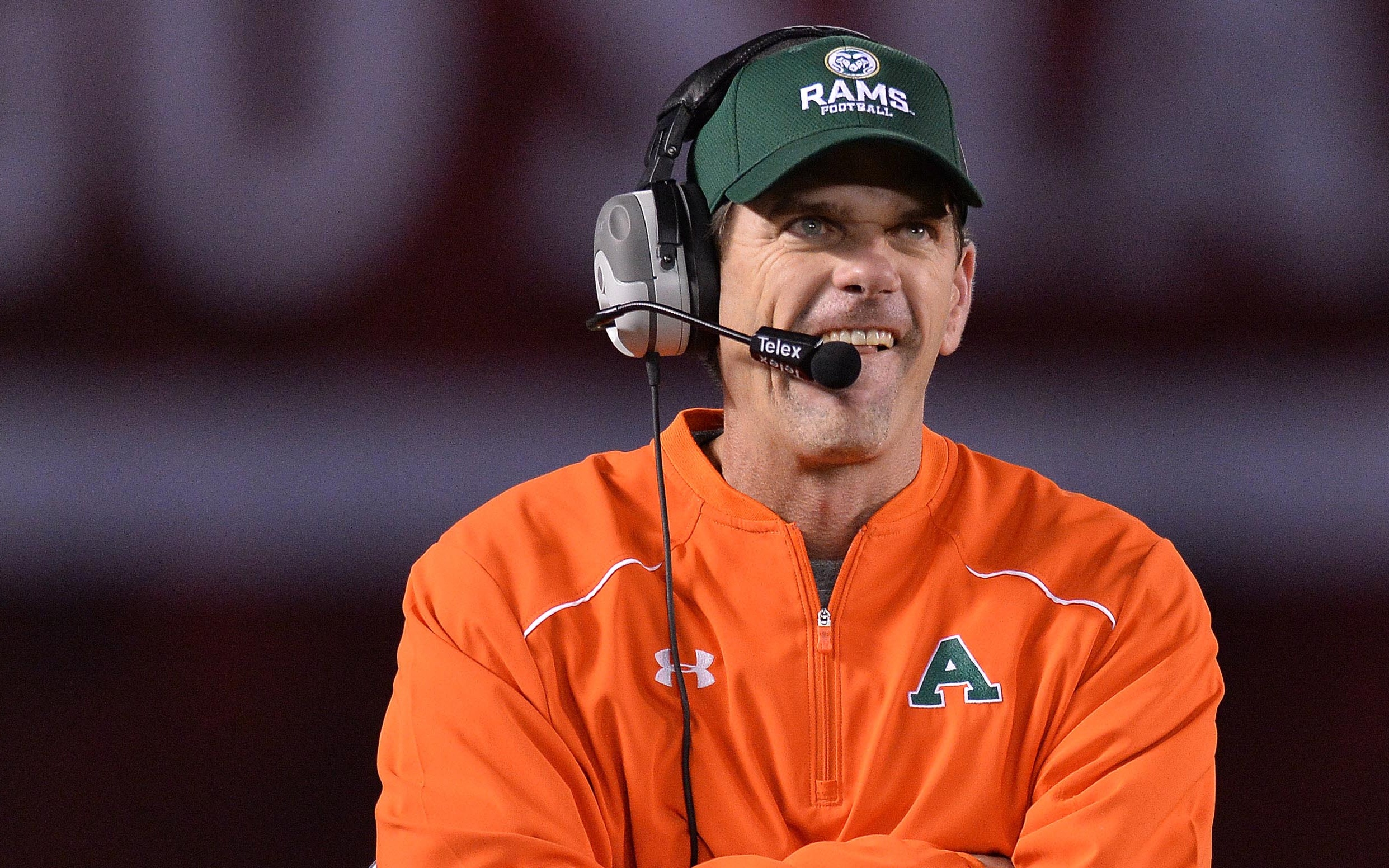 "What we sow in spring, we shall reap in fall."
Colorado State football, in the middle of their spring preparations for their fall season, would be wise to head those infamous words.
If the Rams, led by their shepherd Mike Bobo, want to climb the mountain as the best in the Mountain West, they must be strong in all three phases of the game. But, as they've been for years, one unit is far and away ahead of the others.
Bobo's boys on the offensive side of the ball are brilliant. Observers of the Rams' 2016 late-season surge will attest to the offense's awesome abilities once everyone settled in and Nick Stevens was cemented as the starting quarterback. Over the team's last six games, the offense averaged 43.7 points per game, going 4-2 over the stretch run of the season to finish over .500 and attend their fourth straight bowl game.
If it weren't for the defense's lack of chemistry, its lack of leadership and overall terrible play, especially early in the season, the Rams would have ended the year as a conference contender. Which is what Bobo has set out to do since taking control of his flock in 2015.
Unfortunately for Colorado State, two scrimmages into their spring 2017 practices and the offense continues to be way ahead of the defense.
In the first scrimmage last week, which focused on passing, Stevens went wild for 411 yards and seven touchdowns on his defensive teammates. Then, on Saturday, Stevens went 20-25 for 316 yards and five scores. He's straight-up lighting them on fire with a ton of playmaking talent in Michael Gallup, Detrich Clark, Olabisi Johnson and Tennessee transfer Preston Williams.
"I don't want the offense to take the throttle off, because that is going to make us better defensively," Bobo said after the second scrimmage on Saturday. "So continue to push and continue to play fast, which they did, which caused some problems for the defense today. The offense is just ahead right now, and defensively we are not executing the call the right way."
Last year, a loss of defensive coordinator Tyson Summers and a transition from the 3-4 back to the 4-3 defense with Marty English slowed the unit's growth greatly. The Rams didn't just lose to the rival Colorado Buffaloes on the field, they were out-coached, too. That theme continued throughout the season, until the defense was able to rally, as a bevy of freshmen and sophomores gained valuable experience.
Still, even late in the year, the D gave up 49 points to Air Force and then 61 to Idaho in the Famous Idaho Potato Bowl loss.
Now, that defensive hangover is carrying over into spring.
Of course, graduation of seniors as well as injuries to other key defenders have each hurt Colorado State's defensive growth. Evan Colorito, a key senior linebacker, and junior safety Braylin Scott are each missing the entire spring practice session due to injuries. At cornerback, there are only four players at the key position in Fort Collins for spring ball, and two of them – A'Keitheion Whitner and Shun Johnson – were each held out of Saturday's scrimmage.
And even Deonte Clyburn, who has been cleared to be a "full-go" participant in spring this year following his scare with a blood clot condition last year, was held out of Saturday's scrimmage due to a knee injury. Bobo clarified the MRI came back negative but also said Clyburn — who must be a senior leader on defense — may miss the rest of spring ball.
Going back to when Jim McElwain helped turn Colorado State around, the offense has shone brightly. Garrett Grayson, Kapri Bibbs, Rashard Higgins; all Rams' offensive stars who made it to the NFL.
But, if Bobo and his Rams want to win the Mountain West in 2017, that defense must catch up to the offense and then sustain a high level of play all season long.
The way spring ball has started, CSU is behind the eight ball. The good news is there will be new arrivals in the fall — five defensive backs — as well as a group of important players returning from injury at the same time. It will make building chemistry in August a key component to the syllabus for CSU's student-athletes.