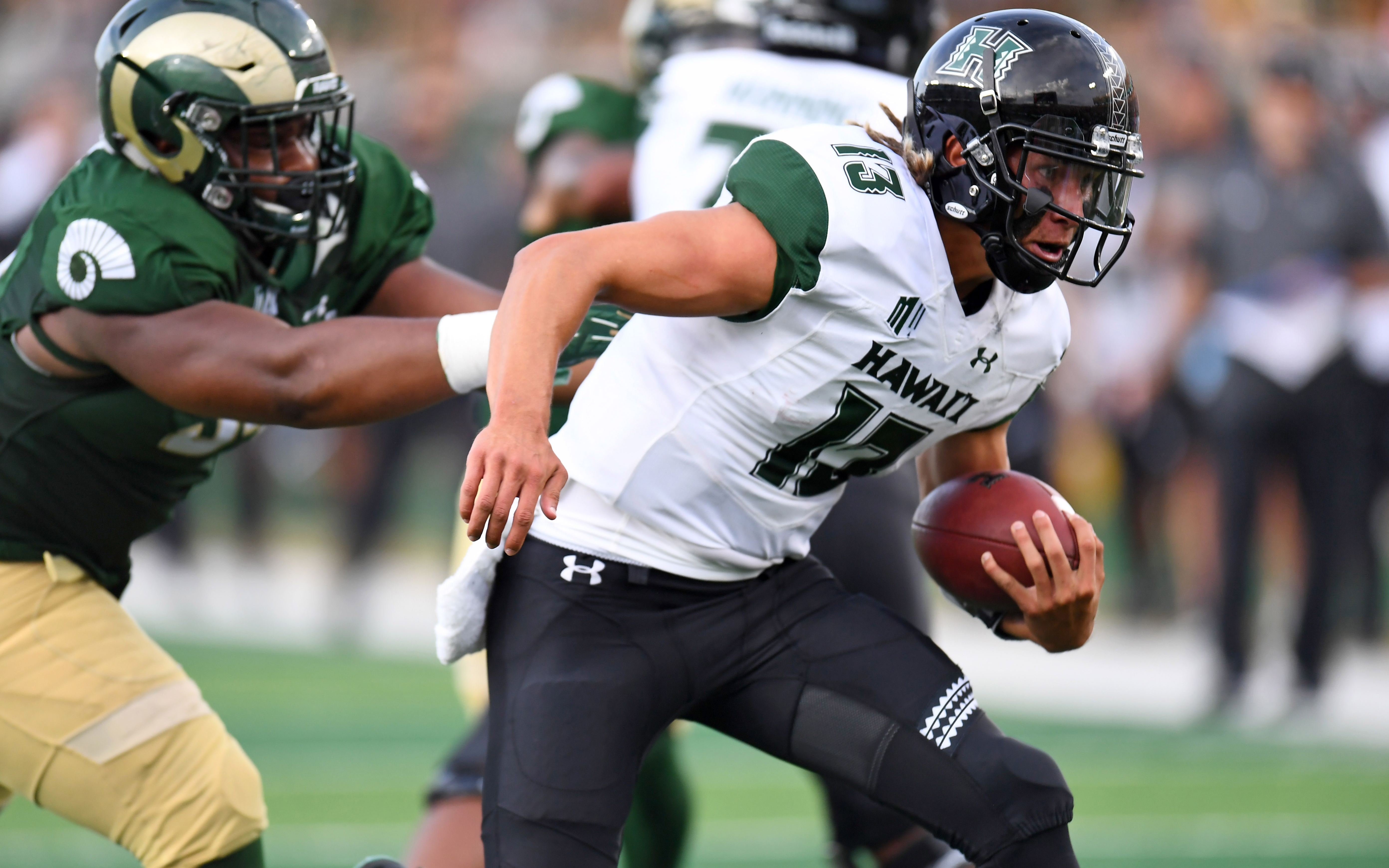 The Rams defense was so bad Saturday evening, a college student ran the entire length of the field at the end of the second quarter and was never tackled, strolling out of the stadium, shirtless. Not even security could make a tackle.
Colorado State wasn't just terrible defensively, they were indefensible; the Rams looked unprepared to play their season-opener against the Hawaii Rainbow Warriors, at least in the first half. Late, they charged, scoring 27 second-half points, but still lost to one of the worst teams in the Mountain West, historically, 43-34.
"We did not play well together in all three phases at any point in the game," Mike Bobo said.
Were the Rams distracted by Bobo's health issues and his 10-day stint in the hospital? Or, did they lack his leadership because he was gone for so long, just before the season kicked off?
It's hard to say for sure, but it seemed that way from the opening kickoff at Sonny Lubick's Field at Canvas Stadium.
Hawaii marched down the field with ease, scoring four times on five drives in the first half. The Rams defense was undisciplined, lacking energy and enthusiasm as Cole McDonald shredded them with precise passing.
Meanwhile, Colorado State's offense lacked consistency in the first half. Outside of their lone touchdown in the first 30 minutes — a throw from K.J. Carta-Samuels which Olabisi Johnson climbed the ladder to grab — CSU threw an interception, punted twice and missed a field goal to end the half down 23-7.
The second half started much like the first; Colorado State was called for a penalty on the opening kickoff and ended up punting to end that drive. While Hawaii answered with yet another touchdown led by Cole McDonald both on the ground and through the air, tossing a score to John Ursua for the 30-7 advantage.
To answer, Colorado State settled for a 48-yard field goal attempt — while down 23 points — which was missed wide right by Bryant.
Hawaii answered that pathetic drive with a deep touchdown pass from McDonald — 55 yards — to Cedric Byrd to push the game to 37-7, Rainbow Warriors.
Finally, the Rams showed some fight and mounted their second-half comeback; Carta-Samuels completed a 69-yard catch and run with Preston Williams, and then Williams scored the touchdown to bring it to 37-14.
The Rams kept pushing, even down a ton, late. Carta-Samuels stood in and got rocked while completing a 58-yard touchdown pass to Bisi Johnson. But, inexplicably, the Rams went for a two-point conversion while down 17 and didn't get it, meaning they still trailed by three scores at that point.
They wouldn't be stopped late in the game; Carta-Samuels hit Williams in the end zone for another touchdown, making it 37-27 Hawaii with 8:15 to go. The Rams defense gave up another huge throw but held the Rainbow Warriors to a field goal on that drive, making it 40-27. Again, Carta-Samuels threw a touchdown; this time to Izzy Matthews who pushed in with sheer will and the Rams were down only six points. But, Hawaii put it away with another field goal to win.
"We showed a lot of fight in the end," Carta-Samuels said after the game, explaining he thought they were going to come back and win if they got the ball back with enough time on the clock.
McDonald finished the game with 358 yards and three touchdowns through the air, with another 73 yards and two scores on the ground as well. Simply, he ran and threw at will on Saturday in Fort Collins again the Rams lack of defense.
Notes:
K.J. Carta-Samuels' 537 passing yards were a single-game record for the Rams. He also tossed 5 touchdowns in the game.
Hawaii ended the game with 617 yards of total offense and 27 first downs.
Colorado State had won 10-11 games against Hawaii dating back to 1989.
Preston Williams went wild in his first game with Colorado State. He had 7 receptions for 188 yards and two touchdowns while also enjoying five kickoff returns for 91 yards (with one fumble).
CSU was called for 12 penalties for 120 yards on the night, which was far too many.
(Check back for quotes as they're added after availability.)