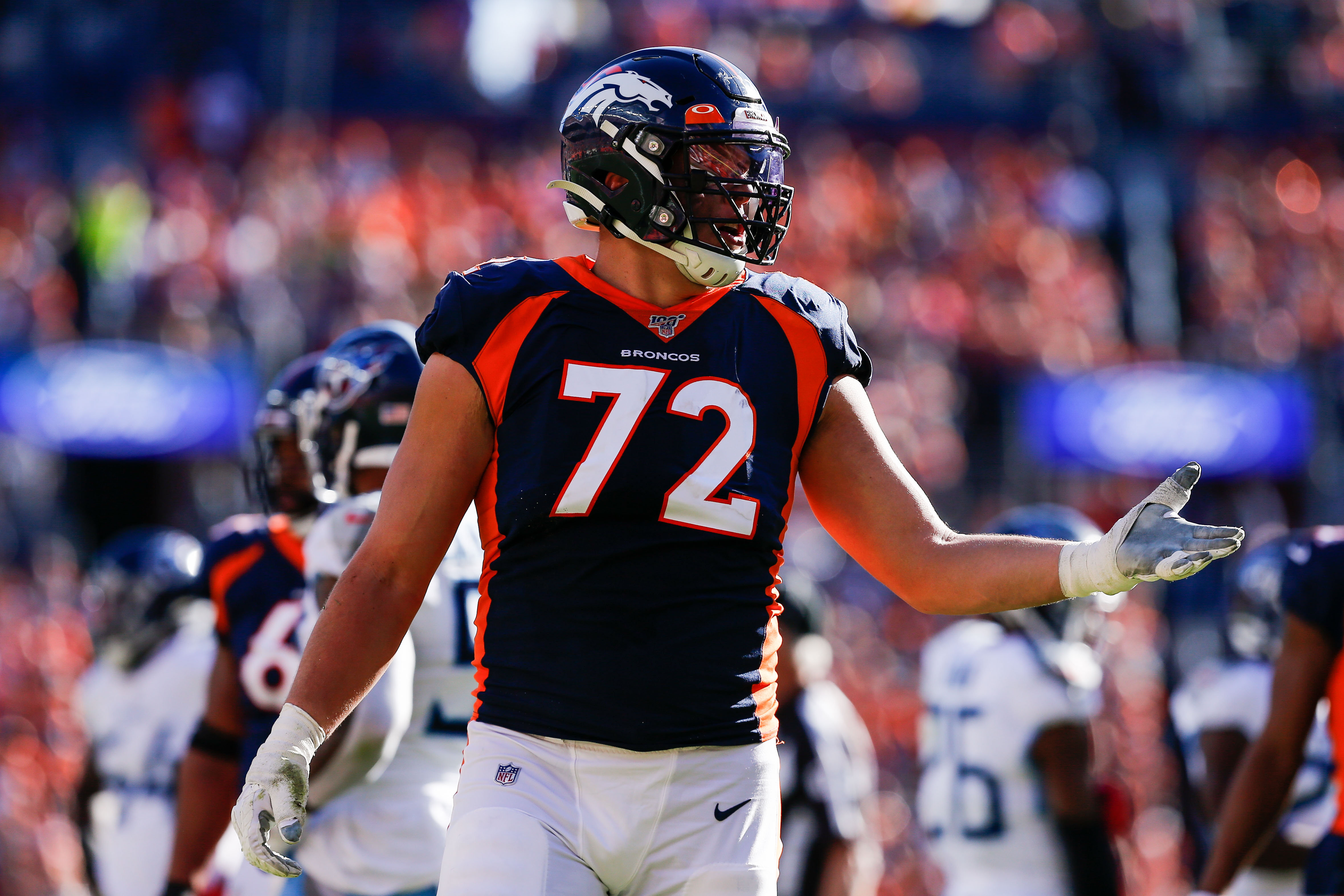 With the Broncos offseason activities underway and the bulk of free agency finished, the team's regular-season roster is nearly complete. A number of cuts and late additions will inevitably occur but barring any blockbuster trades, the final roster will be composed of the players already with the team.
Denver's offense has promise but, as with any team, there is a hierarchy of talent. Not all units are built the same and therefore look vastly different from one another. Here are where each position group ranks on the offensive side of the ball for the Broncos.
Last Place: The Tight Ends
Tight Ends: Noah Fant, Albert Okwuegbunam, Eric Saubert, Austin Fort, Shaun Beyer
Let's start with the biggest positive for this unit, Noah Fant. Fant is the prototypical new-age tight end and perfect for today's NFL. He is an elite blend of size, skill and athleticism that coalesces into a productive and impactful upside player.
Fant is, far and away, the TE1 for this squad but that should not keep fans wanting and expecting more from him in 2021. Last season's statistics were nothing to turn your nose up at but given his draft status and continued experience within the offensive scheme he should surpass his 673 yards and 3 touchdown benchmark with ease.
Tailing Fant on the depth chart is Albert Okwuegbunam, another upside player but he happens to be coming off of a season-ending injury which leaves many questions surrounding his play unanswered. When he did play, Okwuegbuam showed toughness and physicality at the line but did suffer a few drops in every small sample size of reps. The potential is there making him an intriguing backup and threat in two tight-end sets.
Eric Saubert was added to the roster recently as a depth player, but he has been an oft unused piece on numerous teams and with minimal actual statistics to boast. Austin Fort has some translatable football skills in his repertoire but has shown an inability to stay healthy. And Shaun Beyer is a fun prospect but, as an undrafted free agent, has a very steep hill to climb to just make the roster.
The tight end room on most NFL teams is not necessarily brimming with talent and with Fant as the obvious breadwinner maybe that is not a major issue for the Broncos. However, if he were to miss time due to injury or otherwise, the Broncos brass will likely have to find a proven veteran to step in and take the pressure off a highly inexperienced position group.
4th Place: The Quarterbacks
Quarterbacks: Drew Lock, Teddy Bridgewater, and Brett Rypien
Being that the quarterback position is the most important in the entirety of the NFL, it would have been easy to put this group at the bottom of the rankings given the lack of success so far. But there is new life in the quarterback room with the addition of Teddy Bridgewater and a competition for the starting job looming.
There is a strange phenomenon that Drew Lock has been captured in that has factions of Broncos Country either trying to run him out of town at all costs or defending him to the death. This is hardly surprising as this happening transpires in sports often but regardless of how you or anyone feels about him, this is Lock's last opportunity in Denver to take the reigns for good.
Perhaps the reason for Lock's love/hate relationship with the fans comes from his polarizing play on the field.
You may get an immaculately thrown ball like this:
That Drew Lock to Tim Patrick touchdown was so solid 🔥#NextGenStats powered by @awscloud pic.twitter.com/CCEVRMqXqM

— Sunday Night Football on NBC (@SNFonNBC) December 7, 2020
Followed by an infuriating play, like this:
But we can't forget about the true goat. Drew Lock 🔒 pic.twitter.com/gywahpL8O2

— wyatt (@WyattzWorId) June 4, 2021
Enter Teddy Bridgewater.
With the cool demeanor of a savvy journeyman, Bridgewater has come into the picture and has said all of the right things. His relationship with the players and staff seems to come effortlessly and he already has the confidence of his teammates.
But as they say in the NFL, if you have two quarterbacks you have no quarterback and so we look to OTAs and camp to determine the future of this team albeit short or long term. Simply, until that future is decided they will not progress further up the rankings.
3rd Place: The Running Backs
Running Backs: Melvin Gordon, Javonte Williams, Mike Boone, Royce Freeman, LaVante Bellamy and Damarea Crockett
Based on his production last season and especially as the season wore on, Melvin Gordon has shown he can be a powerful weapon for the Broncos to dispatch versus foes. Now add Javonte Williams to the mix and you get a two-headed monster that can grind opposing defenses into dust.
Last year Gordon rushed for just under 1,000 yards (986) from scrimmage with another 158 yards receiving showing that he can shoulder the load. But if you can add an equally skilled running mate, why not?
At North Carolina last season, Williams rushed for 1,140 yards while splitting the load with talented backfield mate, Michael Carter. He is an explosive runner that is exceedingly difficult to bring down as proven by his 75 broken tackles, the most in college football last season.
Having two high-caliber rushers is great but this group has added some quality depth with the acquisition of Mike Boone in free agency.
Boone is a jack-of-all-trades, master of none which might seem like a knock but it is not. He is as steady as a third-stringer can be and will step in and contribute in all phases of the game if called upon. He is a competent rusher and pass-catcher, a strong blocker and an outstanding special teams player.
The depth at this position lifts them into the third spot. They have enough bodies with enough skill to allow the offense to fire on all cylinders no matter who is out there and they provide a dangerous enough presence that opposing defenses won't be able to ignore them. Look for good things from this unit.
2nd Place: The Offensive Line
Tackle: Garett Bolles, Bobby Massie, Cameron Flemming, Calvin Anderson, Quinn Bailey, and Drew Himmelman
Guard- Dalton Risner, Graham Glasgow, Netane Muti, Austin Schlottmann, Patrick Morris and Nolan Laufenberg
Center- Lloyd Cushenberry, Quinn Meinerz
It has been years since the Denver Broncos could boast a truly impressive and dominant offensive line, but due to the progression of Garret Bolles, the draft, and a few nice free-agent signings, Denver may be poised to have a top ten unit.
Even though Bolles was snubbed from the 2020 Pro-Bowl he was dominant nonetheless, giving up zero sacks, and was only penalized seven times versus his four sacks allowed and 17 penalties in 2019.
Garett Bolles is a freaking beast this year! 💪👀#BroncosCountry pic.twitter.com/HyfnOTmr8V

— Broncos Outsider (@BroncosOutside) November 23, 2020
Bobby Massie will shore up the right side of the line and he brings nastiness and physicality to the tackle position and backing him up with the skilled Cameron Flemming will hopefully ensure starting-level play at the right tackle position this season.
Risner and Glasgow have proven to be solid, if not great on the interior and reliability is half of the game when it comes to battling in the trenches.
Finally, Lloyd Cushenberry is a year older and wiser after a self-proclaimed "unacceptable" start to his NFL career.
But let us not forget about the biggest contributing factor to growth with this unit: Offensive Line Coach Mike Munchak.
Munchak is a highly-touted and deeply respected coach throughout the league and has been a huge part of a number of player's successes throughout the NFL. Being a Hall-of-Fame tackle himself allows him to connect with his players and explain the Xs and Os at an extremely comprehensive level. His connection to his players and the expectation level he upholds give his players the best chance at winning game-in and game-out.
This squad has a great chance of being known around the league as a tough-nosed, die-hard unit and may surprise critics and fans alike.
First Place: The Wide Receivers
Wide Receivers: Courtland Sutton, Jerry Jeudy, Tim Patrick, KJ Hamler, Dionte Spencer, Seth Williams, Tyrie Cleveland, Kendall Hinton, DeVontres Dukes, Damion Willis, Branden Mack, Warren Jackson, Trinity Benson, Isaiah Mack
The Denver Broncos have a plethora of weapons to deploy when it comes to the receiving game starting with their premier starters Courtland Sutton and Jerry Jeudy.
Sutton is an elite jump-ball receiver who in 2019 earned a Pro Bowl nod and figures to return to those numbers this season after battling back from major injury. The report is that he is at OTAs and looking close to his old form with expectations to do just that.
Jeudy has been putting in work this off-season to elevate his game to the next level and has greatness in his sights. Finishing in PFF's top 25 rookies of 2020 was a nice achievement but is aiming to surpass those numbers. His route running is unparalleled on this Broncos team, which gives him a very unique niche to fill and he has shown he can score from all areas of the field.
The next barrage comes in the form of Tim Patrick and KJ Hamler. Patrick led the Broncos in touchdown receptions using his height and length to perfection and showing he can win those contested ball battles and Hamler has something you can't teach: Speed. The third and fourth respective receivers on the depth chart bring a whole new dimension and simply cannot be ignored.
These top four may compose the best receiver core in the AFC and arguably the NFL making them an easy first place in the ranking. That is not even including the talents of Dionte Spencer, Tyrie Cleveland, or Seth Williams who have the talent to contribute in a number of ways.
As Winston Churchill once said "History is written by the victors" and the future of this season may very well be written by this wide receiving unit.
For more breakdown check out The Orange and Brew Podcast here or on your favorite podcast app. Just search Orange and Brew!