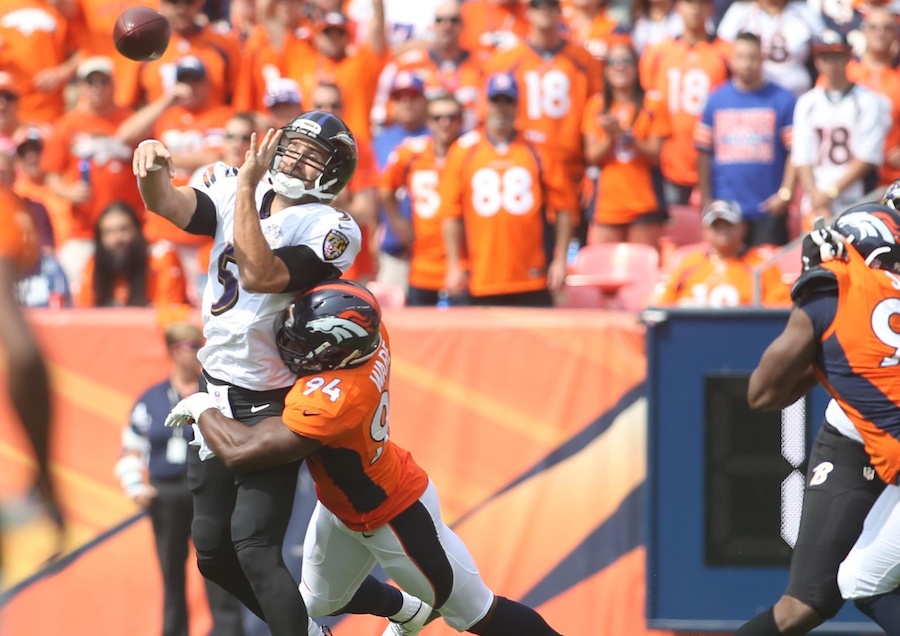 The Denver Broncos escaped the Baltimore Ravens 19-13 in Week 1 thanks to the foot of Brandon McManus (four field goals), a pick six by Aqib Talib and a clutch interception by the newcomer Darian Stewart to seal the game.
Peyton Manning and the offense looked bad, but neither team scored a touchdown on that side of the ball in an all time defensive classic.
So how'd it all go down? Here's the rapid reaction from the Broncos insane victory to get the season started off.
Called that one. . . This is going to be a fun season watching these guy get them some QBs

— Gil Whiteley (@Gilfest) September 13, 2015
#Broncos Marshall and Harris Jr. on blitz there. Marshall gets his first sack since 11/30/14 at Kansas City @chiefs

— Sam Cowhick (@SamCowhick) September 13, 2015
This defense is so nasty.

— Josh Pennock (@JoshPennock) September 13, 2015
Woulda been good from 74

— Vic Lombardi (@VicLombardi) September 13, 2015
.@thekidmcmanus from 56 … pic.twitter.com/6maATp3Ilr

— Denver Broncos (@Broncos) September 13, 2015
Can we see more Hillman, please? CJ is a plodder. #Broncos

— James Merilatt (@jamesmerilatt) September 13, 2015
Better give McManus a pee test. Wowzzza #Broncos

— Robin Carlin (@carlinrobin) September 13, 2015
Great timeout by Kubes, Foxy would've been staring at that cool looking cloud while the the first quarter ended.

— Will Petersen (@PetersenWill) September 13, 2015
Peyton with a left handed pass to Daniels for a loss of 4. #BALvsDEN

— cover32 Broncos (@cover32_DEN) September 13, 2015
This offense is anemic so far. Just no groove at all. #Broncos

— James Merilatt (@jamesmerilatt) September 13, 2015
Look for a lot of running from the Ravens in 2nd half. Can't protect Flacco, but they're attacking middle of the Broncos D

— Robin Carlin (@carlinrobin) September 13, 2015
Fun fact: #Broncos are 10-4 in head coaching debuts

— Sam Cowhick (@SamCowhick) September 13, 2015
Last snap Bradley Roby at S for #Broncos, was lined up there again just before two-minute warning.

— Jeff Legwold (@Jeff_Legwold) September 13, 2015
DT taking a breather on 3rd and 5? Come on, man! #Broncos

— James Merilatt (@jamesmerilatt) September 13, 2015
Halftime. Broncos 9 Ravens 3. #BALvsDEN

— cover32 Broncos (@cover32_DEN) September 13, 2015
Remember when we were told to stop panicking about offense in preseason?

— Mike Klis (@MikeKlis) September 13, 2015
That's Peyton Manning's first INT in a season opener since 2011; he had thrown 15 TDs without a pick previously. #Broncos

— 104.3 The FAN (@1043TheFan) September 13, 2015
Let's see what Osweiler can do on the next #Broncos drive. Make the move, Kubes.

— Renaud Notaro (@RenKnowItAll) September 13, 2015
Run Peyton's offense or play Brock. This is stupid. #Broncos

— James Merilatt (@jamesmerilatt) September 13, 2015
Broncos defensive tackle Malik Jackson is being evaluated for a concussion. Broncos play again on Thursday night… http://t.co/CpruQs1pf7

— Jeff Legwold (@Jeff_Legwold) September 13, 2015
As the game wears on, the O-line gets worse

— Robin Carlin (@carlinrobin) September 13, 2015
A low mumbling of boos escorted the offense off the field. . . it starts. . .

— Gil Whiteley (@Gilfest) September 13, 2015
— Denver Broncos (@Broncos) September 13, 2015
This defense is gonna wreck… all. season. long.

— Josh Pennock (@JoshPennock) September 13, 2015
Here is that sustained drive I was asking for. . . Put the defense in. . . they can score. . .

— Gil Whiteley (@Gilfest) September 13, 2015
Ugh. Don't like being up six. Ravens seem due offensively. #Broncos

— James Merilatt (@jamesmerilatt) September 13, 2015
That last #Broncos drive: 10:56 #BALvsDEN pic.twitter.com/FutOqDUIBE

— Denver Broncos (@Broncos) September 13, 2015
Oh my god that was Rahim Moore… Drop. Bail out.

— Will Petersen (@PetersenWill) September 13, 2015
Intercepted!! #BALvsDEN

— Denver Broncos (@Broncos) September 13, 2015
Intercepted by Darian Stewart!!! Former Raven seals the game!!!! #BALvsDEN

— cover32 Broncos (@cover32_DEN) September 13, 2015
Eat that Flacco!

— Josh Pennock (@JoshPennock) September 13, 2015
The Broncos scored 19 points in the 1997 opener too.

— James Merilatt (@jamesmerilatt) September 13, 2015