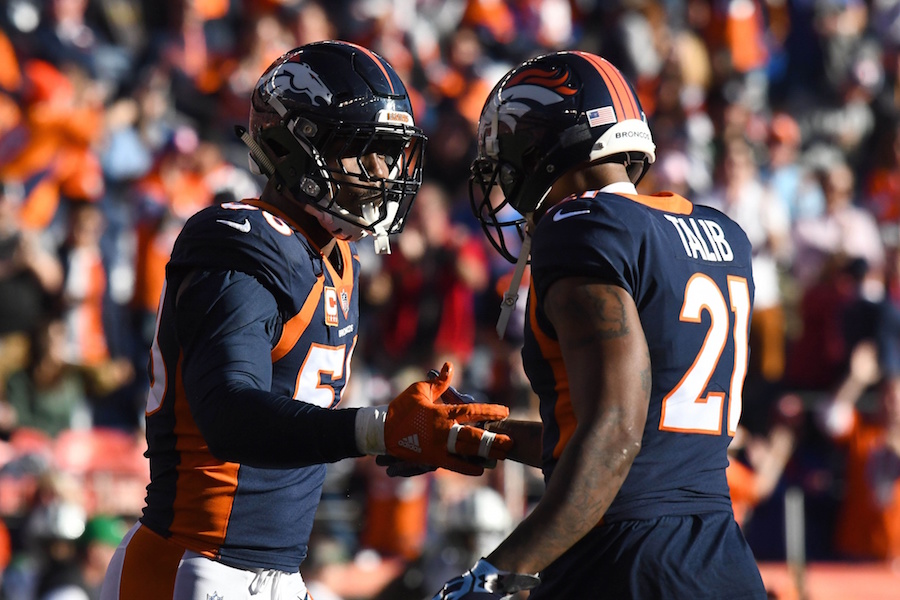 While much of the focus in the 2018 offseason has been the Denver Broncos' search for a new starting quarterback, the team will also face tough decisions when it comes to some of their star players on defense; cornerback Aqib Talib foremost among them. Rumors began to surface at the Senior Bowl that the Broncos would actively try to trade Talib to rid themselves of his $12 million salary in 2018, saving $11 million against the salary cap.
Should Talib be traded — or released if a suitor cannot be found — that would likely spell the end of the "No-Fly Zone." While Chris Harris Jr., Darian Stewart and Bradley Roby would remain on the active roster, the veteran leadership and production from the departed Talib will sorely be missed from the secondary, in a similar way that former starting safety T.J. Ward was missed from the 2017 season. Even if the Broncos elect to retain Talib and his $12 million cap hit for 2018, it would be highly unlikely that they retain his services for 2019, where he would begin the season at 33 years of age.
Bradley Roby has been oft-mentioned as Talib's successor, but there's no guarantee he can produce the same kind of results that Talib was able to produce over his four-year career as a Denver Bronco. Roby has shown promise as a contributing third cornerback in the Broncos' nickel-heavy scheme, having a career game against the Miami Dolphins in week 12 (three tackles, one assist and a forced fumble). Roby's biggest areas of weakness have been his inconsistent play, evidenced by his week 10 performance against the Cincinnati Bengals, where he struggled against A.J. Green, who torched Roby for a touchdown on a double move that left Roby yards behind.
The 2018 offseason also draws the Broncos closer to issues that need addressing in this offseason and the next. Starting inside linebacker Todd Davis is set to become a free agent, as is backup inside linebacker Corey Nelson. Davis' performance (48 solo tackles, 34 assists in 14 games in 2017) should warrant an extension, but extending Davis could present more challenges for signing other key players at linebacker to long-term deals in the near future.
Outside linebacker Shaq Barrett is set to become a restricted free agent in 2018, which means he will likely be retained for at least another season. Next offseason, however, the rising star will be set to hit the open market unless the Broncos are able to sign him to a long-term deal beforehand. Joining Barrett opposite of All-Pro superstar Von Miller is Shane Ray, the former first-rounder whose contract is also set to expire in the 2019 offseason. Ray's performance on the field hasn't yielded the results the Broncos hoped they would have, but Ray's talent and potential as a former first-round pick could net him large contract offers from other teams looking to secure his services.
At some point, the Broncos are going to need to make tough decisions that could significantly impact the way the defense is currently built. In recent years, fans have seen how the losses of veteran stars like Demarcus Ware, Malik Jackson or Ward can significantly impact the performance of the defense as a whole. While the Broncos' defense was still dominant in 2016 and 2017, the unit wasn't quite as special as that magical 2015 season, where the defense all but carried the team to a third Lombardi Trophy.
Starting this offseason, losing players such as Talib or Davis could begin the true unraveling of the extraordinary defense the Broncos have been known for the past few seasons. With players like Roby, Ray and Barett also at risk of departing down the road, the Broncos' defense could soon be in its own rebuild.