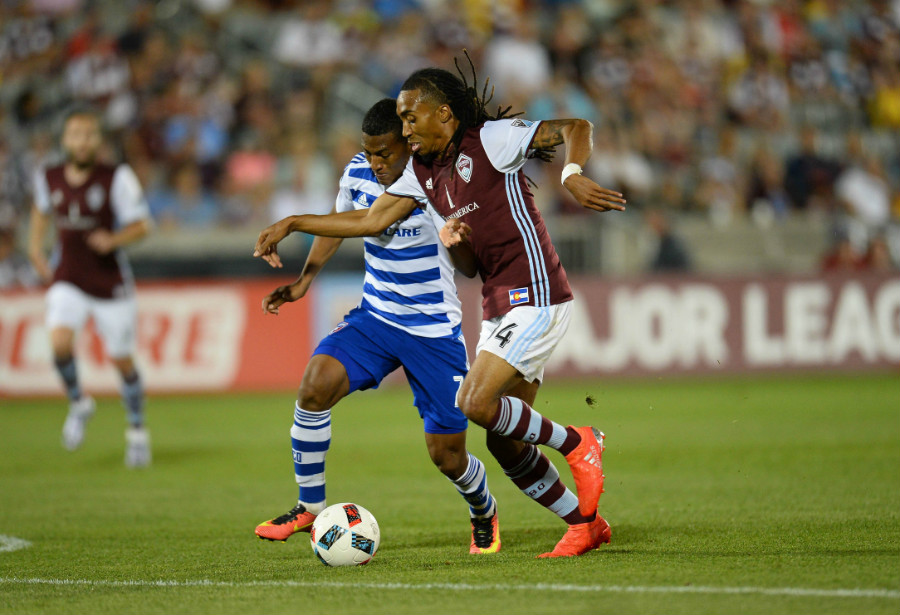 Texas native Dillon Powers said earlier in the week that "the stakes are really high and that's how we want it." Well, the Rapids got what they wanted Saturday.
Marlon Hairston stripped ex-Rapid Atiba Harris in route to a 44th minute goal, but Dallas equalized in the 82nd minute to steal a point in a 1-1 draw, keeping their three-point gap over Colorado in the Western Conference and Supporters' Shield tables.
"I think it was a fantastic effort," Pablo Mastroeni said. "It was a good display of football from both sides. That's how it goes, you're trying to get to the top of the table against the team that has the most points in the league."
Despite Mastroeni's comments, Sam Cronin felt that the Rapids weren't "as particularly sharp as we've been all season." Cronin and Michael Azira were solid in the midfield as always, but the passing wasn't quite up to scratch, as turnovers gave Mauro Diaz, Tesho Akindele and company ample chances to put one past Tim Howard.
"You've got to give credit to them," Cronin said. "They're top of the league for a reason."
Hairston changed that trend though, picking up the ball in the midfield and giving Colorado the 1-0 lead just before halftime. It was Hairston's third career goal and second in as many weeks.
"Right now, it's big for confidence for me," Hairston said. "I had another good opportunity today. It was a tough deflection, great defending and to see it not go in, but I knew if I got one more opportunity that I'd try to take advantage of it."
Last weekend, Hairston sunk Sporting Kansas City with a 78th minute goal that sealed Colorado's first win since June 18.
This week in practice, Pablo Mastroeni stuck with his midfielder and told him to take advantage of those one-on-one opportunities, should they present themselves. Practice made perfect, and Hairston delivered on what's been a 2016 of improvement. More importantly though, Mastroeni is noticing.
"I think Marlon coming into his own," Mastroeni said, "Understanding the game a little, bit better gaining confidence, imposing the threat with his pace, and tonight it was visible in the goal."
Dallas played the second half desperate for fresh legs, with head coach Oscar Pareja bringing on two subs in a minute. Pareja's tactic worked, as Victor Ulloa leveled the match with a 30-yard rocket to the top right corner just two minutes after stepping on for Carlos Gruezo.
"It was deserved by him," Pareja said. "He's a kid who represents this program."
Ulloa is one of six homegrown players on the FC Dallas roster, and one of three who played against Colorado.
Aside from Ulloa's equalizer, the majority of the game for Colorado was about forcing Dallas into areas that were favorable for the Rapids.
"We got a lot of pressure on them and kind of dictated where we wanted the game to be played," Mastroeni said.
Colorado has now drawn four of their last five matches, yet remain second in the table with 38 points.