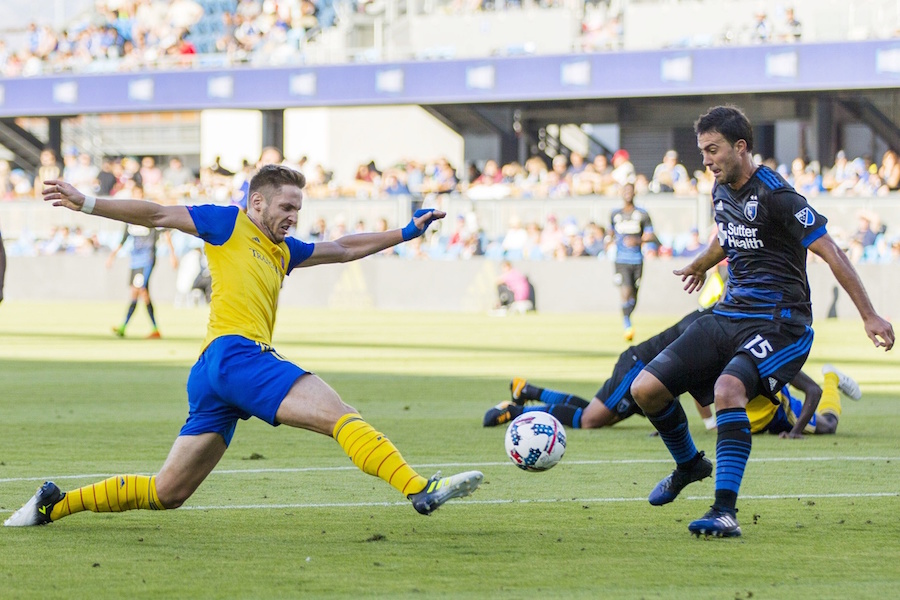 Nick Lima's 59th-minute screamer was the difference as the Colorado Rapids dropped a hard-fought 1-0 contest against the San Jose Earthquakes at Avaya Stadium.
After earning their first road point of the season in a 1-1 draw at Toronto FC last weekend, Rapids head coach Pablo Mastroeni would only make one change to the starting lineup, replacing Kortne Ford with Jared Watts in the backline.
The Rapids looked the better of the two sides in the first 45 minutes, with the first chance of the match coming at the 25th-minute mark when defender Axel Sjöberg's header would be saved off the line by Quakes keeper David Bingham. Fifteen minutes later it was Kevin Doyle who would send his attempt over the bar following a great lead-up play on the wing from Eric Miller and Marlon Hairston.
Moments before the break, the Rapids were lucky not to give up the first of the match. Forward Chris Wondolowski's free-kick from just outside the box would deflect off Mike da Fonte and go sailing over Zac MacMath's goal.
Former Earthquake Alan Gordon would replace the cautioned da Fonte to start the second half, meaning that Doyle would go out wide, Hairston would shift to right back, and Miller would switch sides to left back.
The game seemed to open up in the second stanza, with both sides creating a pair of half-chances in the run of play. Just before the hour-mark, the home team would finally break through, as Lima would tally his second of the season with a belter from 30-yards out beating an outstretched MacMath.
The Earthquakes came very close to doubling their lead in the 71st-minute, but Marco Ureña's empty-net shot would go wide after a lovely through-ball from Chris Wondolowski. Five minutes later, it would be Wondolowski who kept Colorado's hopes alive after missing a sitter from inside the six-yard box.
Despite pushing numbers forward, the Rapids were unable to find the equalizer, suffering their eighth loss on the road along the way.
The Rapids (6-12-2; 20 points) return home for the second meeting of the season against Vancouver Whitecaps FC on Saturday night. Kickoff at Dick's Sporting Goods Park is scheduled for 8:00 p.m. MDT.