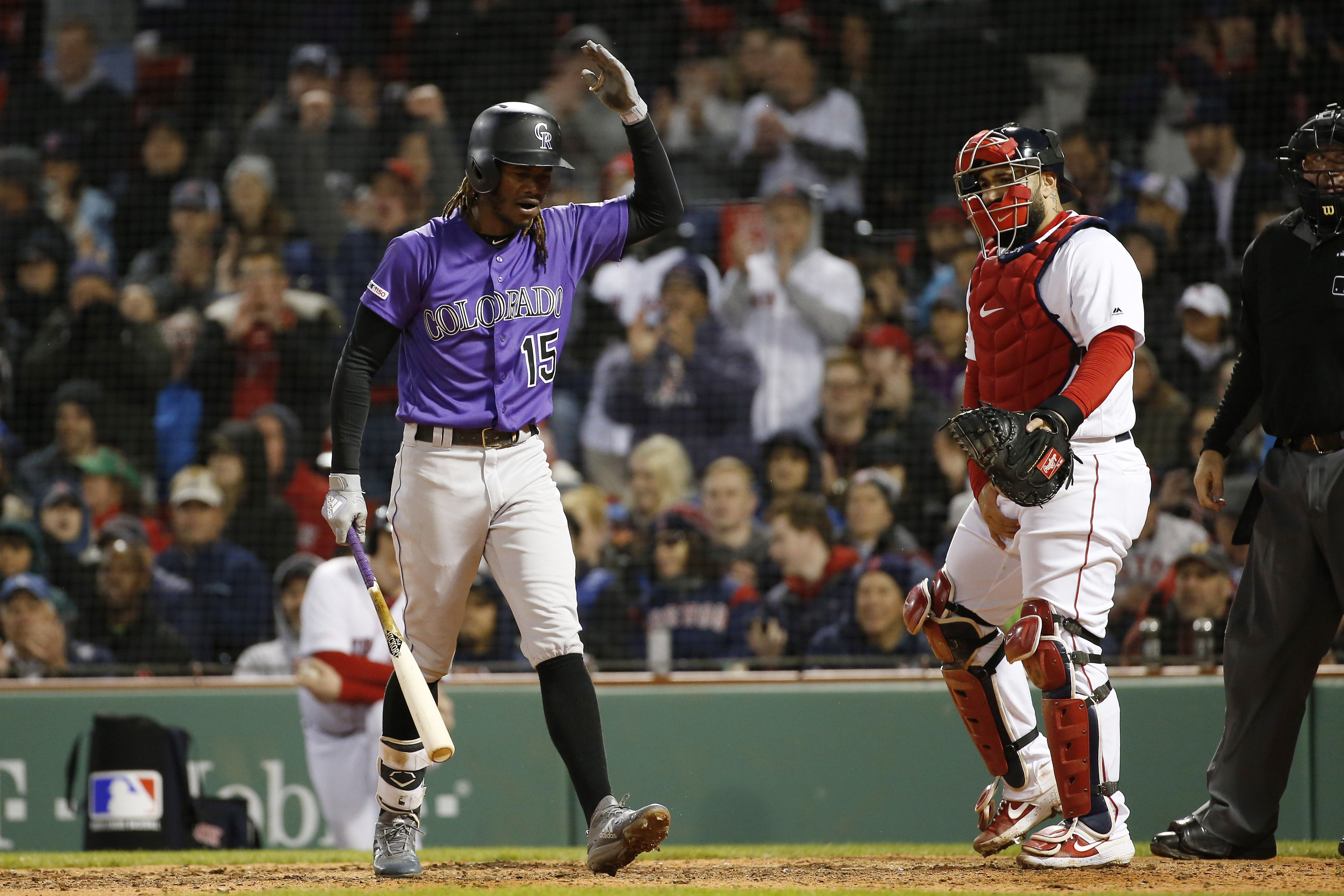 Entering Fenway Park for the first time since 2016, the Colorado Rockies faced off with a red-hot Boston Red Sox club that exposed both the bright and dark spots of the visitors' exploits in a 5-4 win in extra innings.
First, it was Chris Sale. The slow starter brought his best stuff of the year, shifting through the Rockies order with ease. His efforts culminated in 17 strikeouts in just seven innings, tying Randy Johnson for the most punchouts by an opposing pitcher in Rockies' franchise history. The first six hitters all failed to even put a ball in play.
"(Sale) was on tonight," Bud Black said. "That was legit. He's a premium strikeout pitcher, as evidenced by what he's done the past couple years." 
In all, Rockies' hitters struck out 24 times in the game and walked only twice in 11 innings. In the National League, their newly-heightened strikeout total of 402 is third most. The 24 whiffs were the most in an extra-inning game since Milwaukee did it in 2003. 
The lofty number of hitters that went down on strikes continued an alarming trend with the club.
On the road, both this year and last, the Rockies have failed to get into a groove. After a paltry .225 batting average as a team last year on the road, they've dipped to .214 through 21 road games so far in 2019.
In those games, they've failed to score more than three runs in 10 of them, going 1-9 in those instances.
Things were rough early once again for Kyle Freeland as well.
In the first three innings, the southpaw allowed three solo home runs, all no-doubt shots. Two of the three long balls came off offspeed and breaking pitches, a struggle in recent starts for Freeland.
Already down 3-0 with Sale having a vintage performance, the club looked dead in the water once again. Led by Freeland and Arenado, the bright spots began to emerge, capped by a breakthrough seventh inning. 
Freeland settled down after his early woes and didn't yield a single hit in the final three innings of his outing en route to his first quality start since April 18th. The scoreless stretch kept the team in the game long enough for Arenado to take over:
A Monster shot!#NolanBeingNolan 😍 pic.twitter.com/Wgc2qbFA2r

— Colorado Rockies (@Rockies) May 15, 2019
"I wanted to be aggressive," Arenado said. "The ball was moving a lot, (Sale) wasn't really missing over the plate and that one pitch he did and I just tried to stay on top of the ball. I really wasn't trying to think about hitting a homer."
Following the road map put forth by Arenado, Charlie Blackmon came through in the eighth:
Things just got Nazty in Boston! pic.twitter.com/icBI6RLGXT

— Colorado Rockies (@Rockies) May 15, 2019
The two have combined to hit 20 home runs in the club's last 26 games after each endured the longest streaks to begin a season without one in their respective careers.
In the bottom half of the eighth stanza, an Arenado fielding error allowed Xander Bogaerts to reach, with the shortstop scoring after a pair of singles. Instead of laying down after their come back efforts were countered, the Rockies continued their ploy for a hard-fought road victory.
That battling spirit, one of the team's leading traits, was evident in their 12-11 victory over the San Francisco Giants last week as well. Against a division rival, the Rockies jockeyed back and forth for control, eventually getting the win in crunch time.
A Mark Reynolds single capped off the win.
"I've got to hand it to our guys, they kept going," Reynolds said. "We never, at any point in the game, felt we were out of it."
Striking out two dozen times in a game isn't a winning formula. Nor is allowing three home runs in the first three innings. With the odds stacked against them, the Rockies climbed out behind their leaders, a welcome sign for their skipper.
"That was a good (win)," Black said. "I'm proud of our guys… we just stayed at it and it was a hell of a game."
Peaks and valleys have been a storyline throughout 2019 for the Rockies. In recent weeks though, their highs have become to take hold.