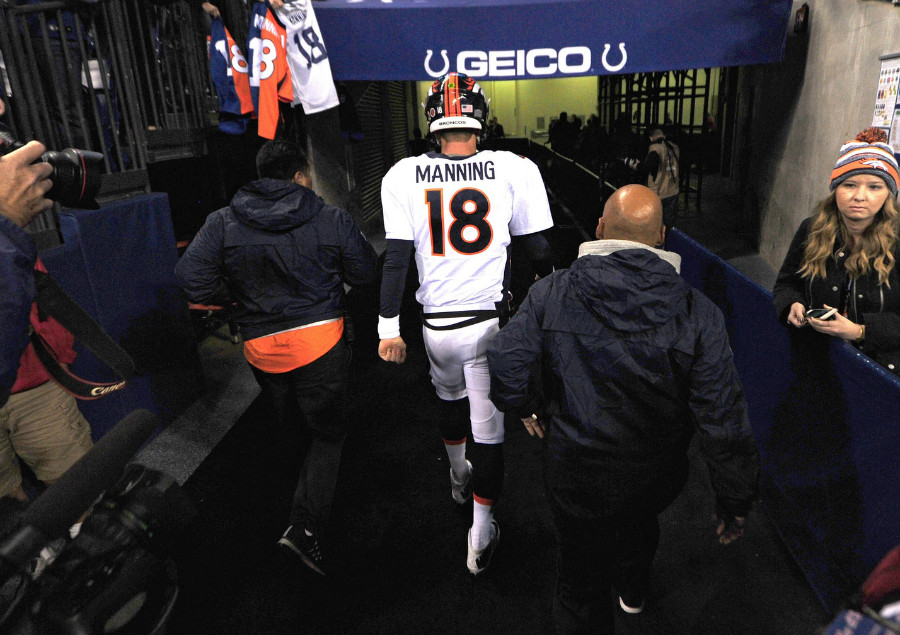 While Gary Kubiak already made the tough decision to sit Peyton Manning this week, that may only be the start. According to Adam Schefter, Manning's plantar fasciitis has now been upgraded to a torn plantar fascia, placing his season in jeopardy.
Update: Peyton Manning has tear of plantar fascia in left foot. Whichever foot, hard to imagine QB Brock Osweiler isn't starting Sunday.

— Adam Schefter (@AdamSchefter) November 16, 2015
Now, to be fair, it's not impossible to play with a torn plantar fascia, but it definitely wouldn't be easy.
Eli Manning played with fully torn plantar fascia in 2009; Peyton Manning's is partial tear, which is more painful to play through.

— Adam Schefter (@AdamSchefter) November 16, 2015
And just like with the plantar fasciitis, the only cure is time. According to Pro Football Talk, the Chicago Bulls' Pau Gasol missed six weeks with a torn plantar fascia back in 2013 (playing with the Lakers); a similar timetable would place Manning's return at the start of the playoffs.
Former NFL head team physician, David Chao explains how this injury could be affecting Manning:
Plant foot plantar fasciitis saps arm strength. Like pitching from flat instead of mound. Tough situation when #Peyton arm already weak.

— David J. Chao, MD (@ProFootballDoc) November 16, 2015
2nd time lower body injury affected PEYTON. Last season quad injury caused problems. Now plantar fasciitis slows push off and weakens are.

— David J. Chao, MD (@ProFootballDoc) November 16, 2015
Now media says plantar fascia on left (not right foot). Still affects throwing. Interferes with follow thru, accuracy & stepping into pass.

— David J. Chao, MD (@ProFootballDoc) November 16, 2015
If you're looking for a glass-half-full opinion, though, while Ian Rapoport and others are reporting that Manning further aggravated his plantar fascia on Sunday, CBS Sports NFL Insider Jason La Canfora is reporting that "There was no new tear," that Manning is dealing with the same injury he was dealing with coming out of the Colts game.
Likewise, Chao says that it's possible a tear could even help Manning get onto the field sooner.
This may be good news. Often tearing of plantar fascia cures the problem. Temporary pain leads to long-term relief. https://t.co/6u1Gm0yavs

— David J. Chao, MD (@ProFootballDoc) November 16, 2015
Though you'd think, as Schefter insinuated, that is only true with a full tear and not the partial tear Manning is reported to have.
So while there are a lot of question marks surrounding the extent of Manning's injury(s), one thing is all but certain: Brock Osweiler is going to start for the Denver Broncos next Sunday against the Chicago Bears.
From that point on, who knows …
If the Broncos decide to give Manning the rest he probably needs, that could easily mean that Osweiler will be under center for the next few weeks, and if that's the case, there's no telling will the Broncos will be heading into the playoffs.
Would the Broncos make a switch back to Manning if Osweiler was been playing well?
If Osweiler flops, will they push Manning back too soon?
At this point, I'm preparing for everything.