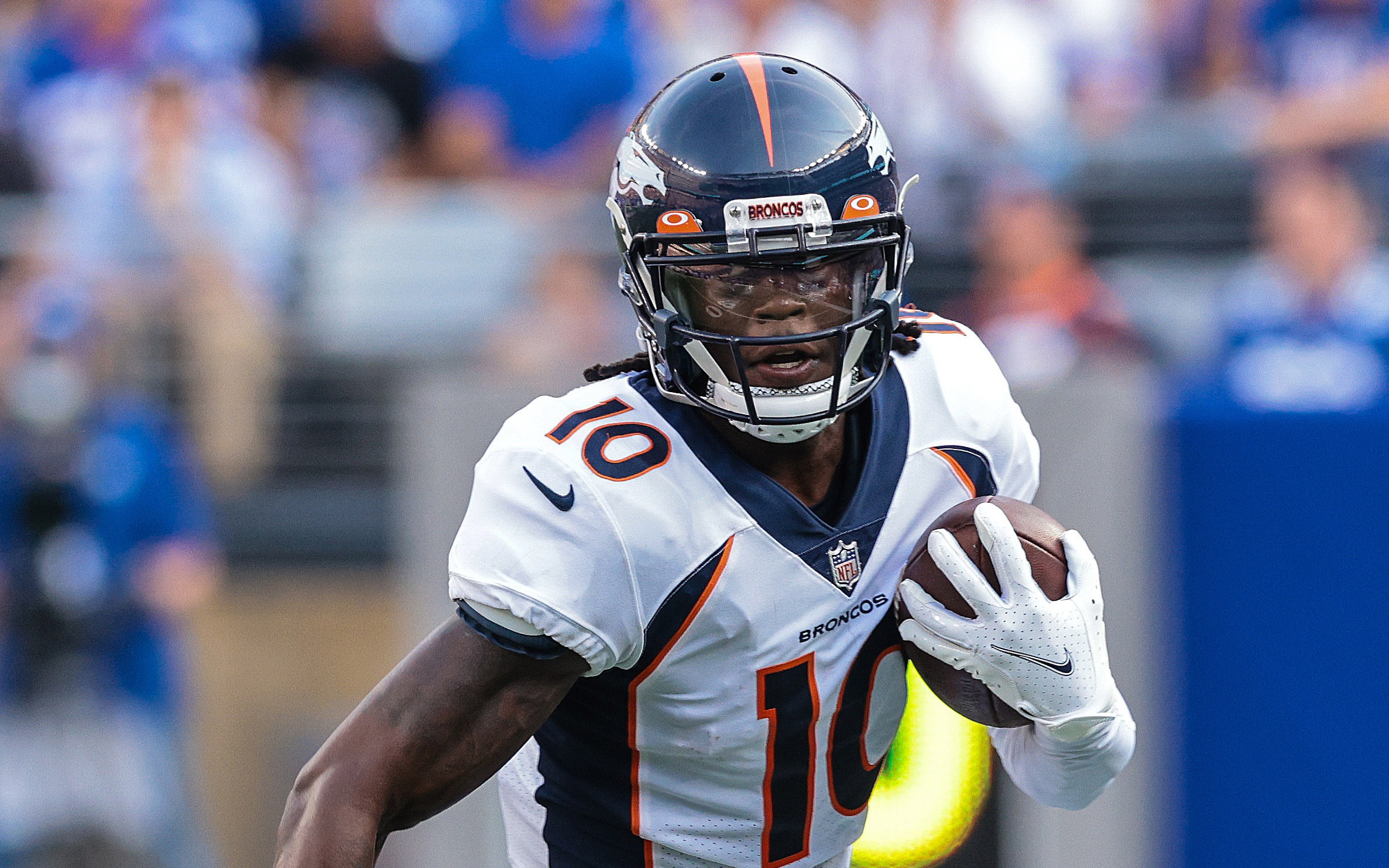 Jerry Jeudy was ready for a breakout year.
And then, he was injured about one half of a game into the 2021 season.
Jeudy caught a crucial pass on 3rd and 7 from Teddy Bridgewater, and it went 20 yards. But at the end of the play, he was rolled up on by a Giants defensive back, with his ankle taking a lot of pressure and seemingly bending unnaturally.
#Broncos WR Jerry Jeudy was carted off the field after suffering a bad ankle injury.

Warning: This video is graphic. pic.twitter.com/ze9leuaRRU

— Pro Football Network (@PFN365) September 12, 2021
When the game came back from injury timeout, Jeudy was carted off the field with his face in his hands. Not only in agonizing pain, but in frustration and sadness, too.
From the video, it looked like Jeudy may have suffered a broken ankle. That would be season-ending, obviously, and a basically worst-case scenario.
But, there's good news at the end of this awful tackle. Jeudy had his ankle x-rayed already and it was negative. So, no break in there, at least.
#Broncos WR Jerry Jeudy has a high ankle sprain, source said. X-rays negative.

— Tom Pelissero (@TomPelissero) September 12, 2021
Of course, it seemed like a severe ankle sprain, so it's likely or at least possible Jeudy will miss multiple weeks as he rehabs. For any wide receiver, healthy legs are crucial. An ankle is an injury which can hamper them for an entire season as the player continues to push himself to his limits and tweaks it here and there.
For Jeudy, specifically, his footwork is phenomenal. He loves to make multiple sharp, quick cuts to keep defensive backs on skates and get himself open. A high ankle sprain will likely mean less ability to move laterally with quickness, but hey, his season isn't over so it's a win in the end.
The Broncos rallied after Jeudy's injury and pushed themselves into the end zone when Bridgewater found Albert Okwuegbunam and the backup tight end dove to get the ball over the goal line.
And, Denver scored 24 unanswered points on their way to a 27-7 victory by the Broncos in New Jersey on Sunday afternoon.