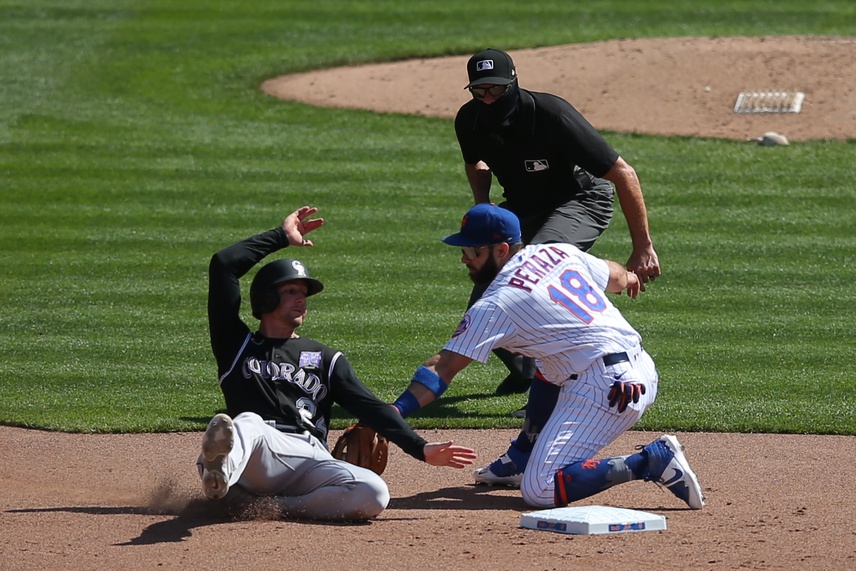 The Colorado Rockies left for their latest road trip with a plan to improve their hitting away from Coors Field. Six total runs and three losses in four games later, it's safe to say the new approach isn't working yet.
The Rockies, who had an intense batting practice session prior to their usual one upon arriving at Citi Field on Monday, took the series opener against the New York Mets before dropping three straight to fall to 3-20 on the road this season. Ryan McMahon and Elias Diaz hit homers and Garrett Hampson added an RBI triple to support Austin Gomber, who allowed two runs in eight innings, giving up just four hits and striking out eight.
But things fell off for Colorado from there. The Rockies had the unfortunate task of facing Jacob deGrom on Tuesday, which also marked the return of Kyle Freeland from the injured list. Freeland was on a pitch count and performed reasonably well, allowing a run in four innings while striking out five, but he struggled to throw strikes consistently. deGrom, meanwhile, torched the Rockies for nine strikeouts in five innings of one-run ball. Only McMahon got to deGrom, hitting a solo homer in the second inning. It wasn't enough; the Mets went on to win, 3-1.
After a rainout on Wednesday, the Rockies–held two just two runs in 14 innings–were swept in a getaway-day doubleheader on Thursday. Germán Márquez took a six-inning complete-game loss in the opener, allowing just one run on three hits and a walk. He struck out six. Colorado finished with just three singles in that game. In the nightcap, the Rockies were locked in a close game before a rare poor relief performance from Jordan Sheffield, who issued a pair of bases-loaded walks in the bottom of the sixth inning to put the game out of reach.
What (else) went wrong
In addition to the obvious offensive struggles (the Rockies as a team went 12-for-80 with 26 strikeouts over the last three games of the series), Colorado also has to worry about the condition of its star shortstop. Trevor Story exited the second game of the doubleheader with tightness in his elbow. Given all of the context surrounding Story and this season as a whole, trade speculation ran rampant before the team's announcement of an injury.
The Rockies will approach Story's situation carefully heading into the weekend road series against the Pittsburgh Pirates, per manager Bud Black (via Nick Groke of The Athletic).
What went right
Nobody put up any numbers of note offensively, so Ryan McMahon's 4-for-14 performance, which included a pair of homers, looks great in comparison. One of McMahon's homers was particularly impressive because it came on a 100 mph fastball from the aforementioned deGrom, who was otherwise completely dominant. McMahon is now tied for second in the National League in home runs with 13, and he's already accumulated 10 Defensive Runs Saved across two positions (he's plus-7 and second base and plus-3 at third).
As a result, McMahon ranks in the top 5 among NL position players in WAR and is quietly putting together a case to be named to the league's All-Star squad.
What's next
The Rockies, now 19-32 overall, will face another team who ranks among the dregs of baseball. The Pirates, who sit at 18-31, are in the news for all the wrong reasons after being swept at home by the Chicago Cubs and losing 9 of 10 overall. Colorado, with its next six games coming against the Pirates and Texas Rangers, has a chance to create a bit more respectable of a situation for itself.