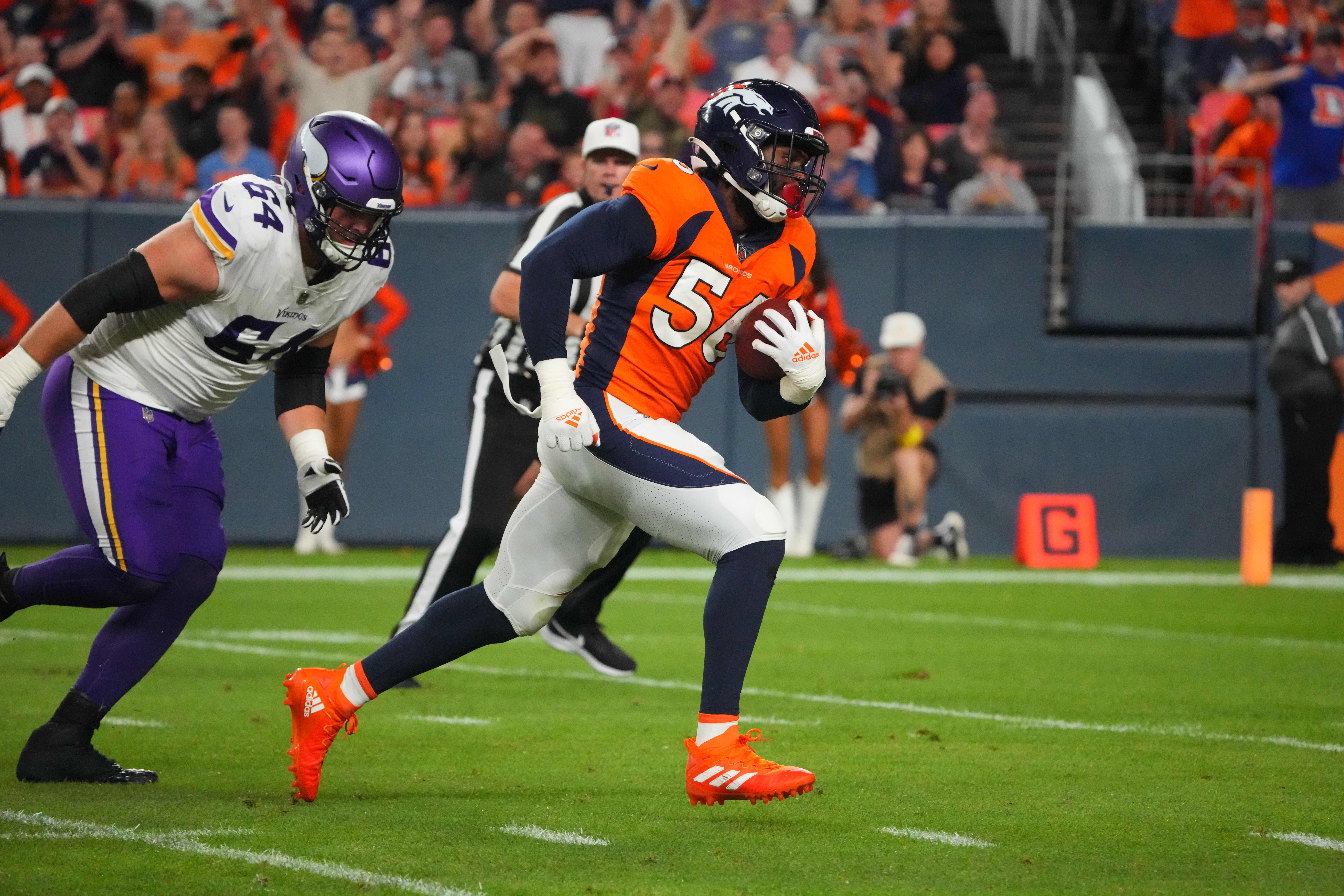 The Denver Broncos preseason is officially coming to a close, following their romp over the Minnesota Vikings in their third exhibition game.
With final roster cuts just a couple days out, several players found themselves playing for a roster spot. Who might've earned one, and who might've dialed up the heat on their own seat? Let's take a peek.
Who's Rising for the Denver Broncos?
McTelvin Agim
Entering the game Saturday night, McTelvin Agim had long odds to make the Denver Broncos roster, but that might have changed with the performance Agim produced.
Agim only recorded two tackles, but they couldn't have been any bigger.
His first tackle came on Minnesota's first possession of the game, and resulted in a fumble, back inside the Vikings' 5-yard line. The running back happened to recover his own fumble, but it was still a big play.
Then, later on in the game, he hit Sean Mannion's blindside to force a fumble, which was returned for a Broncos TD.
SCOOP THERE IT IS!

📺: My20 pic.twitter.com/0Me6dHdL0U

— Denver Broncos (@Broncos) August 28, 2022
Agim also had a pressure on Kellen Mond midway through the fourth quarter, despite being held pretty severely on the play. No flag was thrown.
Add in two pass deflections at the line-of-scrimmage that nearly led to a pair of Denver interceptions, and it's hard to draw up a more impactful preseason performance. Time will tell if it was enough to earn him a roster spot.
Run Game
Through two preseason games, the Denver Broncos accumulated a paltry 71 rushing yards on 39 carries. On Saturday night, they rushed for 148 yards on just 25 carries.
It was a dramatic shift.
The offensive line performed much better, with Calvin Anderson shifting to his more natural position of left tackle — a sign Billy Turner might be ready to return to the fold at right tackle in Week 1 — Glasgow anchoring as the backup center, and Luke Wattenberg turning in a strong outing at guard.
Once this line adds Tom Compton and Netane Muti to the mix, the depth concerns will be greatly alleviated.
The difference wasn't just the line though, as Denver's backs were much better too.
Mike Boone was a revelation, making opposing defenders look foolish as he beat them around the edge and shattered their ankles into a fine powder, with his dazzlingly elusive dance moves. Boone averaged 8.8 yards per carry
Boone is going off tonight pic.twitter.com/2GmeVka0QA

— Laurie Fitzpatrick (@LaurieFitzptrck) August 28, 2022
Devine Ozigbo also had a terrific debut in orange and blue, leading the team with 59 rushing yards. Of the team's running backs, he should be the favorite to land on the practice squad.
Seth Williams
Another player that was on the hot seat entering this game was Seth Williams, who seemed like the odd man out in a crowded receiving room.
He made the most of his opportunity on Saturday though.
SETH. WILLIAMS. ✈️

📺: My20 | @8_sethwilliams pic.twitter.com/wwZT7YHYU0

— Denver Broncos (@Broncos) August 28, 2022
Williams came up big with a 45-yard diving grab from Brett Rypien, which catapulted the Denver Broncos into Vikings territory. He then quickly followed that feat up by catching a pass across the middle and securing it, despite taking a hefty shot from a defender at the catch point.
Ultimately, Williams ended the day as the Broncos' leading receiver, and with Brandon Johnson sidelined for the foreseeable future with a high-ankle sprain, an opportunity for Williams might've just opened up.
Young pass rushers
The Broncos have a bevvy of young pass-rushers, and each and every single one of them showed out on Saturday night.
Nik Bonitto was the star of the show, as he closed out the game with a remarkable three-play stretch. Bonitto recorded sacks on both second and third down — recording a forced fumble on the first — pushing the Vikings back into a 4th-and-27. He brought the heat again on fourth down, pressuring the quarterback out of the pocket, where Agim and his big mits were waiting for him.
Nik Bonitto ending Broncos preseason with a bang.
3 plays, 2 sacks, 1 FF, 3 total pressures. pic.twitter.com/8hFrqxGczr

— Frankie Abbott (@FrankiesFilm) August 28, 2022
Bonitto also showed improved discipline as a run-defender, and came up huge on an early goal line stand for Denver, making two tackles, before Minnesota finally broke the plane on fourth down.
With Bonitto in a starring role, Browning played the part of 'best supporting actor', causing constant chaos in the backfield, and eventually taking a fumble to the house for a touchdown.
Lastly, was Jonathon Cooper, who needed a big day and got one. Early on, he had a nice pressure on a boot that forced a throwaway from the quarterback, and later on in the game, he came up with a tremendous third-down sack, which forced Minnesota to attempt a 58-yard field goal. In many cases, that sack would've resulted in points off the board for the Vikings.
Delarrin Turner-Yell
It's been a rough summer for the Denver Broncos' first fifth-round pick from 2022, but he was terrific against Minnesota.
Delarrin Turner-Yell was an explosive force in the run game, and he nearly stuffed the Vikings on a pivotal fourth and goal. Ultimately, his slobber-knocking blow wasn't enough to keep the back out of the end zone, but if he had been just a split-second earlier, it would've been one of the more impressive goal line stuffs of the preseason, across all 32 franchises.
Turner-Yell also had a pivotal fourth-and-goal sack that helped wrap the game up for the Broncos. That means he was one split-second away from having two fourth-and-goal stuffs.
Who's Falling?
Special Teams
It's a safe bet that the Denver Broncos special teams unit is going to catch a reaming from Coordinator Dwayne Stukes for their lackluster showing against the Minnesota Vikings.
The gaffes started early on Saturday, as Jalen Virgil was caught trying to do too much on the opening kickoff, overextending himself, muffing the kick, and pinning the Broncos back at their own three-yard line.
Later on, while covering a perfectly placed punt, Jacob Bobenmoyer gained possession of the ball deep in Minnesota territory — which should've backed them up deep in their own territory — only to carry the ball into the endzone, resulting in a touchback.
It should also be noted that Kendall Hinton misplayed a punt, resulting in the Broncos starting another drive at their own three.
On a sunny note, McManus has been money since a miss in the first game that has been overturned by penalty, going 7-for-7 in the preseason.
Cornerbacks
A lot of troubling trends reversed themselves for the Denver Broncos this week, with the rushing attack and pass protection improving, and the run defense stepping up, but one that continued was the porous play of the depth cornerbacks.
Damarri Mathis allowed quite a few completions and struggled to make tackles in the run game, in what was his worst showing since the pads came on at training camp.
Bless Austin was penalized twice, once for illegal contact and again for defensive holding, the second of which undid a sack from Eyioma Uwazurike.
Faion Hicks also had a rough day and was made to look like a child ambushing their big brother on one failed tackle attempt, which led to a big Minnesota gain.
Donnie Lewis Jr. appears doomed, and getting burnt on a deep route from Ihmir Smith-Marsette won't help his odds.