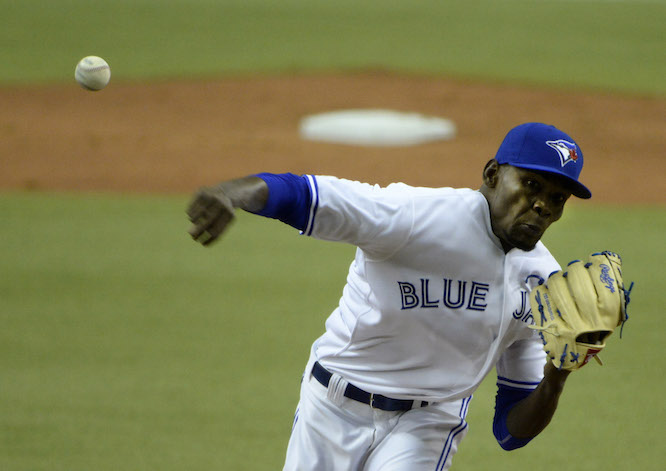 The headline-making trades coming out of the Centennial State of late have been less than spectacular. First with the Nuggets sending Ty Lawson to Houston for what amounts to a set of spare tires, then with the Rockies dealing Troy Tulowitzki for an older, less-productive and equally-costly version of the shortstop, plus three pitching prospects, fans in Colorado might be wondering why they're seeing stars shipped away for parts.
Jose Reyes, 32, was the big name from Toronto's side of the Tulo trade, which wasn't too pleasing to Colorado fans for reasons outlined above. Reyes, a four-time All-Star and 2011 NL batting champion, is considered by most talent evaluators to be on the wrong side of the hill and his production has been steadily declining. Behind the name Reyes, the Rockies did gain three pitchers, Jeff Hoffman, Jesus Tinoco and Miguel Castro.
Rockies fans don't want another Ubaldo Jimenez deal, in which the parts received in return never turn into bona fide Major League talent (at least within the Rockies organization). How these latest pitching prospects pan out, and whether or not Colorado can move Reyes (before Friday's trade deadline or at the end of the season), will ultimately decide the quality of the Tulo trade. An initial evaluation of the pitchers they received in this deal is not promising.
Hoffman, a right-handed pitcher out of East Carolina University, is considered the linch pin of the deal. Drafted ninth overall in the 2014 MLB June Amateur Draft by Toronto, the 22-year-old is currently in the Toronto minor league system, seeing action with the High-A Dunedin Blue Jays and the Double-A New Hampshire Fisher Cats this year. His combined ERA is 2.93.
Hoffman has a triple-digit arm, but has injury concerns, having undergone Tommy John surgery while a junior at ECU. Hoffman was impressive in his limited action in New Hampshire, posting a 1.54 ERA and 0.94 WHIP in 11.2 innings pitched. He has been moved to the New Britain Rock Cats since being traded.
Tinoco is a 20-year-old RHP from Venezuela who is in his third year in the minors. Now with the Asheville Tourists following the trade, Tinoco was 2-6 with a 3.54 in full-season A Lansing so far in 2015. He began his minor league career in the Dominican Summer League in 2012 before being promoted to the Gulf Coast League. He remained in Rookie ball through 2014, playing in both the Gulf Coast League and the Appalachian League before making the jump to Lansing this season. Tinoco struggled in his first three years, going a combined 2-19.
Castro is yet another RHP and is the closest to being Major League ready, having started the season with Toronto as their closer before being demoted to Triple-A. The 6-foot-5 reliever from the Dominican Republic accumulated four saves with the big club but also accounted for two losses and two blown saves in 13 games and 12.1 innings pitched. Castro has also struggled since being sent down to Buffalo, prompting an assignment all the way down to Dunedin for three games, posting a 4.58 ERA in 13 games.
It's hard to say the Rockies accumulated a glut of wealth in trading Tulowitzki, especially considering Colorado's problems developing pitching talent and maintaining a stable bullpen. Hoffman, Tinoco and Castro offer little assurance that those problems are in the rearview mirror at this point in their respective careers.